There was a time when forwarders became smaller and smaller. Low ground pressure and flexibility was more important than productivity. But whether you like or not, money rules. The large forwarders came back and in Sweden, according to a previous article, large forwarders are the most common. Let us introduce you to yet another example – the Komatsu 895.
Komatsu 895 forwarder
Komatsu Forest has its roots in the Finnish machine manufacturer Valmet, and to some extent Volvo BM. Later it became Partek Forest, and finally, in 2005, it eventually became a part of Komatsu – Komatsu Forest.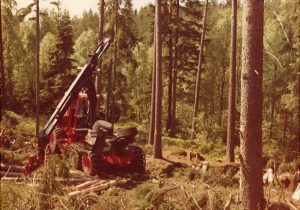 Komatsu Forest believes in the future. They are building a brand new factory close to the headquarters in the north Swedish town Umeå. A remarkable project in many ways. It will be the most modern factory for CTL-machines (Cut-To-Length) in the World.
Sturdy machine
Of course I wanted to pay a visit to one of those giants. So, I went to one that is owned by the Swedish state forest Sveaskog and operated by Mikael Pettersson.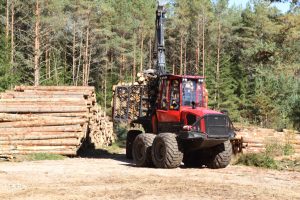 Some facts and figures on the Komatsu 895
(Source: Komatsuforest.com)
Weight
From: 6WD: 20 400 kg, 8WD: 23 600 kg.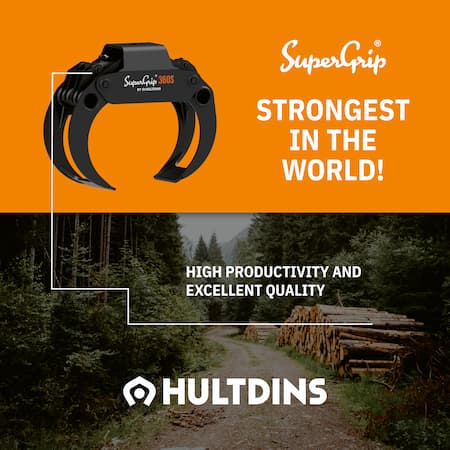 Loading capacity: 20 000 kg
Engine
AGCO POWER, 6-cylinder diesel engine with turbo and intercooler. Conforms to the requirements of EU stage V (Europe), Tier 4F (North America, MAR-1 (Brazil and Stage II (other countries).
Engine type: Stage V: 74 LFTN-D5, Tier 4F: 74 LFTN-D4, MAR-1: 74 CW3, Stage II: 74 LFEN-A2.
Engine displacement: 7,4 liters
Power max: Stage V and Tier 4F: 214 kW DIN at 1850 rpm, MAR-1: 193 kW DIN at 1900 rpm, Stage II: 210 kW DIN at 1850 rpm.
Torque: Stage V, Tier 4F and Stage II: 1280 Nm at 1500 rpm, MAR-1: 1000 Nm at 1500 rpm.
Fuel tank: 220 liters.
AdBlue tank: 22 liters.
Transmission
Computer-controlled, hydrostatic mechanical transmission. 6/8-wheel drive. Transfer case with 2 positions (high and low). Disengageable drive operation. Differential locks front and rear.
Driving speed: 0 – 23 km/h.
Tractive force: 262 kN.
Ex. of other equipment: SpeedShift, over-revving protection.
Hydraulic system
Single-circuit load sensing system with variable piston pump.
Flow: 0 – 360 l/min at 2000 rpm.
Working pressure max: 24,5 MPa (245 bar)
Hydraulic oil tank: 150 l
Other: Pressure filter for hydrostatic circuit. Dual return oil filters for hydrostatic and working hydraulics. Hydraulic oil level warning. Sight glass level check. Clogging indication for return oil filter. Visual alarm in cab.
Crane and grapple
Crane: Komatsu 165F
Reach: 7,5 / 8,5 / 10 meters
Lifting torque gross: 165 kNm
Slewing torque: 43,4 kNm
Rotator: G121 / G141 / G171 ProTec 2
Grapple: Komatsu G36
Crane tip: ProTec (standard)
Ex. of other equipment: 165F Combi (combi crane with 10 meter reach), SmartFlow.
Electrical system
Voltage: 24 V
Battery capacity: 2 x 180 Ah
Alternator: 2 x 100 A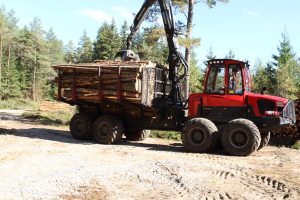 More information and film
Read the whole specification for the Komatsu 895 here.
Here is a film from the visit:
and previous articles about large forwarders:
Ponsse Elephant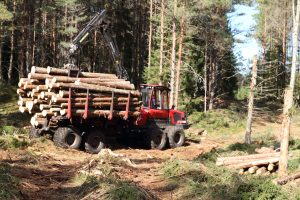 Photos and film: Per Jonsson