I normally don´t look back in time. I prefer to look forward as I think the future is much more exciting. But sometimes you just happen to bump into the past. That happened to me today when I visited the forest site where I felled my very first tree with a chainsaw in 1978.
Back to the roots – just like forestry school all over again
I have mentioned before that I do other things than write here at NordicWoodJournal.com. One of those things is that I follow up felling operations to make sure that the jobs are done according to the certification standards.
Today I went to a site where the name of the place seemed familiar. I immediately thought "That´s where it all started" but didn´t think more of that. The estate in question is large. When I was heading in that direction, I tried to remember the route to the site I was thinking about.
"Past the main building, a few hundred meters and then turn left into a small forest road."
I was following GPS coordinates, as I always do when I´m doing this work, and it was as if the GPS was reading my mind. I was directed by the GPS exactly as I remembered. When I arrived at the end of the forest road, I recognized the place where the timber trucks turn around. Then I also saw that the site we thinned in 1978, me and my classmates, now is a clear cut.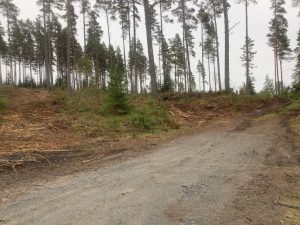 The starting point
So, here I was at the spot where I for the first time in my life felled a tree with a chainsaw – my Husqvarna 340 SG. It was a special feeling even though this clear cut looked like any other.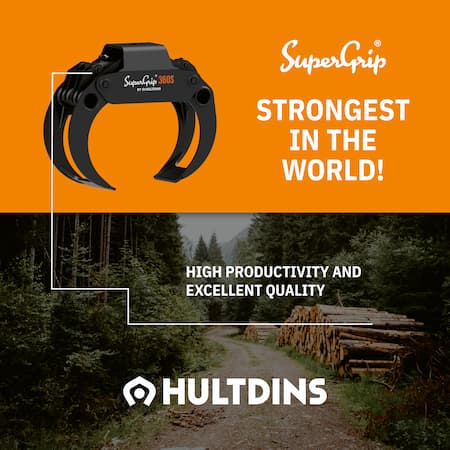 I found a stump with quite clear annual rings. I counted back 43 years to see how thick that tree was back then. Maybe it was my imagination, but I think I saw that the tree had gained volume after that year. See for yourself on the pic below …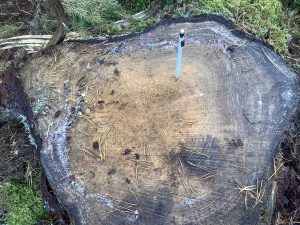 It was nice, but now I´ll start looking forward again.