Nobody would have missed that we are in the middle of a pandemic. Those who missed that probably have other kinds of problems that might even be worse. The struggle against Covid-19/Corona have, more or less, wiped out all the forestry trade fairs this year. So, there has been no major meeting points for suppliers and customers for logging equipment. But there have been meeting points …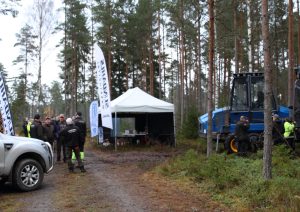 A day in the forest
The ongoing pandemic has caused many problems, but also a lot of creativity. The lack of trade shows has forced the machine suppliers to demonstrate their equipment in other ways. The creativity has been big.
Home demos
Maybe the most creative ideas have been those who offer "home demos", meaning that the machine dealer comes home to you with a machine for demo and test driving. Especially for suppliers of small machines, such as Malwa, this is quite easy as the machines are easy to transport.
Forestry demo days
The most common method to display your logging equipment in a pandemic safe way is, however, to organize demos in the forest. Here in Sweden, we simply call it "forest days" or "demo days".
One or two machines are displayed, maybe under a specific theme like "thinning". During the autumn I have visited two such forest days.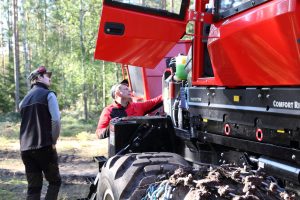 In September Komatsu Forest showed their 835 TX in my neighborhood. Nice weather, nice forest, hot dogs and one machine attracted a number of machine operators and contractors.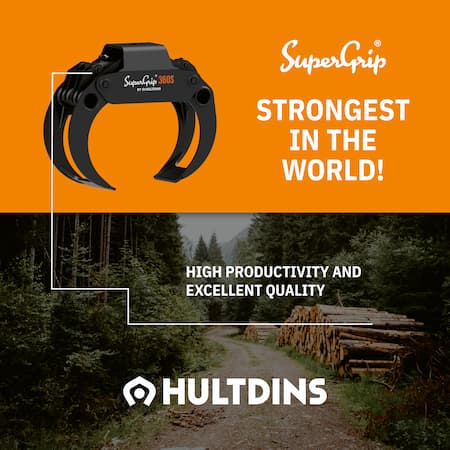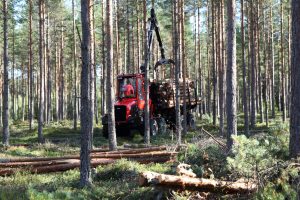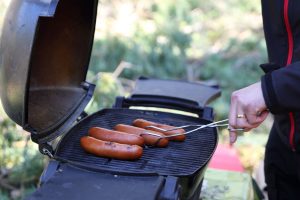 In November, Rottne showed their smallest harvester, Rottne H8, and forwarder Rottne F10D XS not far from me so of course, I had to go there as well. This time the weather could have been better but coffee, two harvesters and one forwarder made the site crowded – with the pandemic safe distancing of course.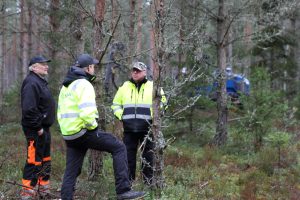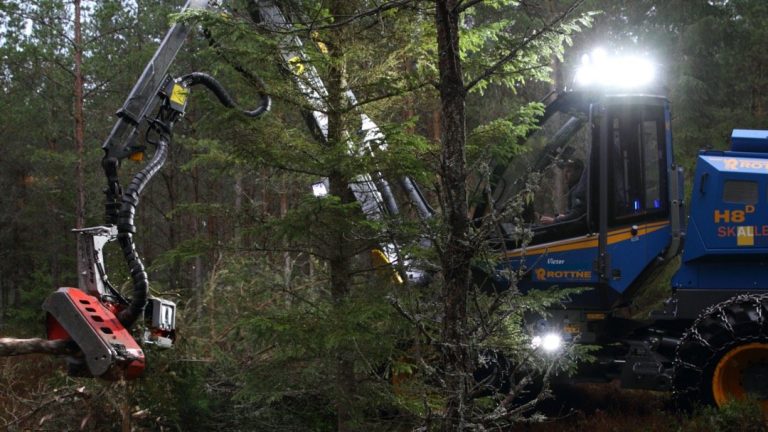 Time to talk
I have been an exhibitor at big forestry shows around Europe and in Canada. These kinds of fairs are good as they attract potential customers from large areas, in some cases from the whole World. The attraction of good fairs is a large number of exhibitors and the width of the displayed products. "Here you can see everything within logging equipment and forestry …" On a big show, competitors help each other to attract the visitors – whether they like it or not. The size of the show itself is the main attraction …
But a large number of visitors can also be a bad thing as you will not have time to talk to all you wish to talk to. You simply miss contacts because you don´t see them in the crowd. When I was working at the Elmia Wood show as an organizer, I recall one of the largest exhibitors telling me that they calculated an average "talk time" per visitor in their stand to two minutes. He claimed that this was ok as they really just wanted to check the interest to be able to follow the contact up after the show.
Smaller show – more time to talk
It´s logical that if you have 10 visitors per hour instead of 1 000 you will have more time to talk to each of the visitors. Also, if you organize your own forest demo day you will not have any competitors as neighbors.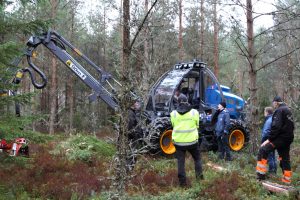 The machine supplier will have time for deeper discussions with the customers/visitors and may even get the opportunity to close a deal or two. The visitors have more time to ask questions on a small show. The possibilities for a test drive are much better on a small show (it could be impossible on a large show).
Another good thing about the small shows is that the visitors have more time to talk to each other. Machine operators mainly spend their time alone in their cabin and accumulate a need to meet other people. On a large show, they have to run around to see everything and don´t have time to chat. But on a small show, they will have time for just that as there isn´t so much to see.
Small or big – which one is the best show?
It´s obvious that both kinds of shows have their pros and cons. I would say that the best solution is a combination, just as it was before the pandemic times arrived.
The big and wide shows where you can see "everything" will always attract the curious people, those who don´t know exactly what they need and wants to learn about what´s available on the market.
When you visit a small show or a "forest day" as the ones mentioned in this article, you are probably interested in something specific. You already know what you need and what´s available on the market but you want to go deeper in a particular machine or machine system.
So, I sincerely hope that the day will come when we will see all kinds of shows again.
Photos: Per Jonsson