Again, we are turning our eyes towards a sturdy forwarder. This time it´s a Rottne F20 D that´s in focus. A loading capacity of 20 tons makes this machine one of the largest forwarders on the market.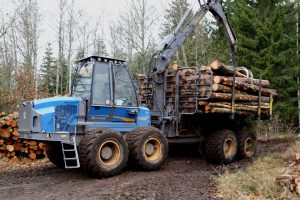 Rottne
Rottne Industri AB is a family-owned company located in the south of Sweden. All production of the Rottne machines happens within the Swedish borders. We, older loggers, will probably never forget their classic, the Blondin (the Blond). The Blondin was the base unit from 1968 to 1988, both for forwarders and harvesters, but also for dumpers. Rottne is, by the way, the town where the main office and factory is located.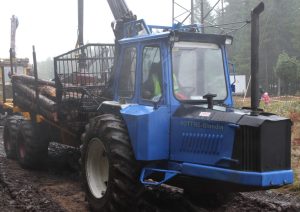 Rottne F20 D
After the Blondin there has been Rottne Rapid and Solid, and nowadays just F and H, as in Forwarder and Harvester. In today's range, there are six forwarders from 10 to 20 tons loading capacity. Read more about them here.
The top of the line is the F20D that we focus on in this article.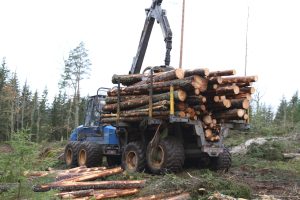 Facts and figures
(source: Rottne.com)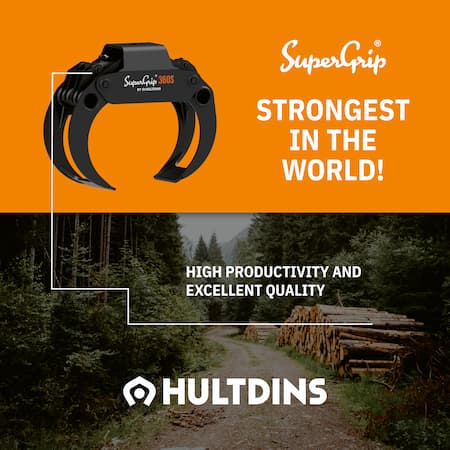 Here are some facts about the Rottne F20D:
Engine
Fuel                                    Diesel or HVO
Fuel tank                            210 liters (56 US gal)
AdBlue tank                        10 liters (2,6 US gal)
Type                                   JD 6090C 1550 Power Tech PSS, Stage V
Output                                207 kW (278 hp) at 1700 rpm
Torque                                1232 Nm (908 lb ft) at 1500 rpm
Cylinder volume                 9 liters (549 in3)
Transmission
Type                                   D5 controlled, hydrostatic/mechanical with full capacity control. Automatic gearbox. Balanced bogie system.
Tractive force                     270 kN (60 700 lbs)
Speed, gear 1                     0 – 6 km/h (0 – 3,7 mph)
Speed, gear 2                     0 – 12 km/h (0 – 7,5 mph)
Speed, gear 3                     0 – 20 km/h (0 – 12,4 mph)
Brakes
Type                                   2-circuit electrically/hydraulically operated negative wet disc brakes. Automatic work brake. Spring assisted parking and emergency brake.
Wheel equipment
8 WD                                  750/55 x 26.5 / 710/50 x 30.5
Chassis
Type                                   Central joint with slew bearing and mid lock. Wide load bunks. Front headboard and first bunk hydraulically moveable.
Steering angle                    +/- 43°
Max steering torque          93,5 kNm (68 960 lb ft)
Horizontal angle                 +/- 22°
Hydraulic system
Type                                   Load-sensing system, entirely separated from the transmission.
Pump capacity                    270 liters (71 US gal) / 1500 rpm
Working pressure               3 – 22 MPa (440 – 3 200 psi)
Degree of filtration            10 micron
Tank volume                       130 liters (34 US gal)
Electrical system
Type                                   24 volt electrical system with CAN-bus technology
Battery                               2 x 145 Ah
Alternator                           150 A
Machine control system    Rottne D5, with a 9" color touch screen
Working lights                    17 pcs
CAB
Type                                   Spacious, vibration-proof safety cab. ISO certified.
Noise level                          67 dBA
Climate system                   ACC
Crane
Type                                   Jib arm crane RK 160 with dual slew cylinders and telescope 2,2 m/double telescope.
Lifting torque                     156 kNm (150 100 lb ft)
Angle rotation                    370°
Reach                                 8,5 / 10 m (28 / 33 ft)
Torque                                45 kNm (33 200 lb ft)
Weight and dimensions
Service weight from           23 000 kg (50 710 lbs)
Width                                 3 050 mm (120 in), 3 000 mm (118 in)
Length                                10 870 mm    (428 in)
Transportation height        3 920 mm (154 in)
Ground clearance              753 mm (30 in)
Loading capacity                20 000 kg (44 100 lbs)
Loading area                      4,8 – 8,4 m2 (52 – 90 ft2)
"We reserve the right to make changes to the technical data and equipment. Images and specifications do not always show the machine in standard version." Rottne Industri AB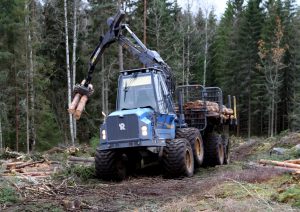 More information and film
You will find out more about the Rottne machines on their homepage here.
And here is a film about the F20D.
Rottne F20D - Full size CTL forwarder
Film and photos: Per Jonsson