We already wrote about examples of how to adapt to certain situations. In the last article here at NordicWoodJournal.com an example of how to make demos during a pandemic was presented. Here is a brilliant solution to use forestry machinery for other things than forestry: The Ponsse firefighter. 
Equipment and webinar for fire fighting
Ponsse presents a rig that can be mounted as a package on a (Ponsse-) forwarder, connected to the hydraulics and then be ready for use. It´s meant to be used for fighting wildfires in the terrain. It´s actually very smart as a forwarder is built to cope with forestry terrain. Why hasn´t anybody thought about that before?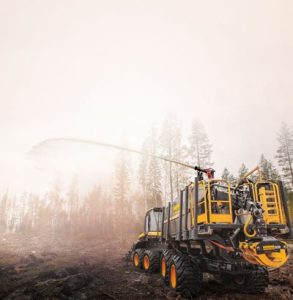 Webinars
Ponsse doesn't only offer the hardware for this. They also organize webinars in different languages on different occasions. Totally six webinars in Finnish, English, Swedish, Russian, Portuguese and Spanish. Here is the link to the schedule.
Other use of forestry machines
It's always interesting to find other use for forest machines. Normally the downside of this kind of machinery is that it can only be used for forestry – almost. This is an excellent example of another use. In April we wrote about the "Tow harvester", an old Rottne Blondin that has been adapted for towing. You can read that article here.