Wood-Mizer expands the LX series with a compact "entry-level" sawmill for those who mill logs occasionally and in low volumes. An economical alternative with a simple design but still with the standards that Wood-Mizer customers are used to.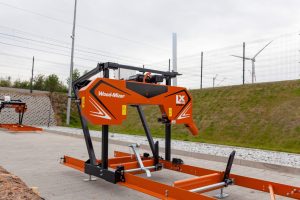 Wood-Mizer LX50START
Wood-Mizer offers a wide range of sawmills for both portable and industrial use. Here at nordicwoodjournal.com, we have written about the Wood-Mizer LT70 as a petrol-powered portable mill and as the heart of a complete sawmilling line. But the Wood-Mizer range offers so much more.
The success of the LX50CLASSIC showed that there was a demand for cheaper sawmills. Beginners and users who mill small volumes. House and forest owners, and other non-professional users who just want to make some boards quickly and inexpensively. The Wood-Mizer LX50START is intended for those.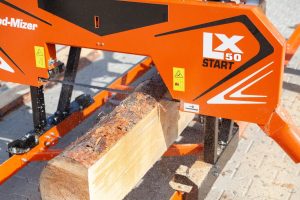 Details on the LX50START
The LX50START sawmill head is fitted with a manual feed system for up/down and forward/backward movement, which allows for a stable and intuitive operation. The sawmill blade cleaning system keeps the blade, blade wheels, and guide rollers clean by effectively removing sawdust, resin, or bark. The blade tensioning mechanism and the blade guide arm reduce vibrations and secure high sawing precision.
The bed of the LX50START consists of three segments of a total length of 3,2 meters (10,5 ft). The bed can be extended with more segments for sawing longer logs. Each additional segment is 1,33 meters (4,36 ft).
The sawmill blade is 1 millimeter thick, 32 millimeters wide, and 3340 millimeters long (3,34 meters/11 ft). The max log diameter is 60 centimeters (23,6 in) and the max cutting diameter is 55 centimeters (21,65 in). Max cant width is 40 centimeters (15,75 in).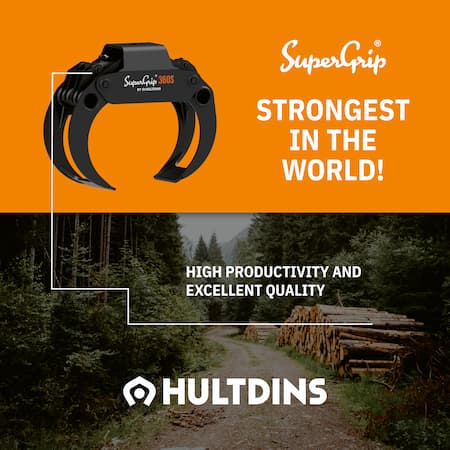 Three engine options are offered to the LX50START: A 4 kW (5,4 hp) electrical engine, a 7 hp gasoline engine, or a 14 hp gasoline engine.
More information
According to Wood-Mizer, the LX50START has the same high-quality standards as all Wood-Mizer sawmills and provides sawing with the same precision and reliability.
Read more about Wood-Mizer and their product on the European site here, and the global site here.