In February we wrote about the new Stihl MSA 300 battery saw, and recently we tested it. Now, Stihl has also presented updates on the MSA 160, 200, and 220 models. Not only that: A new helmet and communication kit is also launched by Stihl.
Updated equipment from Stihl – battery chainsaws
Many professional chainsaw users have been a bit annoyed by the (thumb-) side-mounted throttle trigger lockout on the smaller Stihl battery saws. The updated versions of MSA 160 C-B, MSA 200 C-B, and MSA 220 C-B will for sure silence those critics. From now on the trigger lockout is on the top of the rear handle, just like it should be (according to many), which is the most visible improvement on those saws.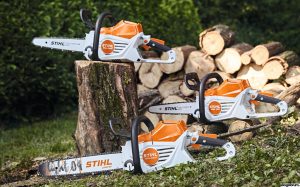 The biggest news is to be found on the MSA 220 C-B. It has become a new cutting system with a Light04 saw bar and a new saw chain called PS3 PRO. This system has a 1,1-millimeter gauge, 3/8-pitch, and a standard bar length of 14". Stihl guarantees 20 percent better cutting ability compared to previous systems. The sister site Skogsforum.se has tested the MSA 220 with the new cutting system and lets us know it appears promising. More on that in a separate article later.
PS3 PRO saves energy and nerves
One problem with the 1,1-millimeter gauge chains is that the chain might hop off. It has commonly happened during our previous tests with that type of saw chain. But the new PS3 PRO chain seems to stay on track. This improvement is most likely due to the drive links being higher, meaning they go deeper into the saw bar. A chain that stays on is good for the mood.
A benefit of the 1,1-millimeter gauge is that the chain cuts easier through the wood, making it more energy efficient. Maybe one of many actions to make the batteries last longer.
Specs on the new Stihl battery saws
In this table, you can see the specifications for the three updated Stihl saws.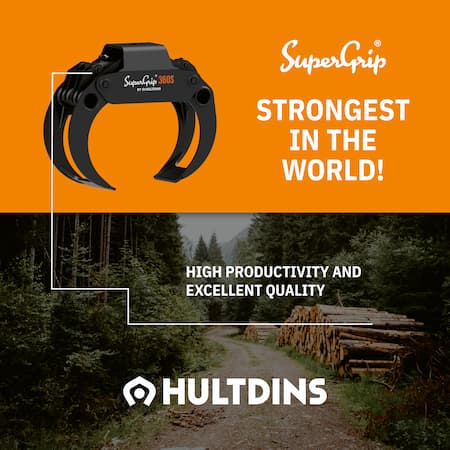 | Specification | Stihl MSA 160 C-B | Stihl MSA 200 C-B | Stihl MSA 220 C-B |
| --- | --- | --- | --- |
| Motor | Brushless | Brushless | Brushless |
| Voltage | 36 V | 36 V | 36 V |
| Weight (without battery) | 3,1 kg (6,8 lbs) | 3,1 (6,8 lbs) | 3,1 (6,8 lbs) |
| Weight/effect ratio kg/kW | 2,1 (4,6 lbs) | 1,7 (3,7 lbs) | 1,5 (3,3 lbs) |
| Chain speed meters / minute | 14 (46 ft) | 16 (52 ft) | 24 (79 ft) |
| Sound pressure level, LP | 84 dB(A) | 84 dB(A) | 89 dB(A) |
| Sound power level, LW | 95 dB(A) | 95 dB(A) | 100 dB(A) |
| Vibration, left/right, meters per second | 2,7/2,9 | 4,6/3,9 | 4,8/3,6 |
| Saw bar length | 30 cm (12") | 30 cm (12") | 35 cm (14") |
| Recommended battery | AP 300 S | AP 300 S | AP 300 S |
| Running time with AP 300 S | 62 minutes | 50 minutes | 40 minutes |
Safety first
Another piece of news from Stihl is a new helmet and communication kit called Advance X-Vent ProCOM. It combines ear and head protection with an advanced communication system.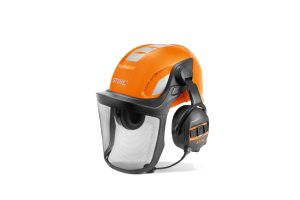 The new communication system allows up to 16 persons to communicate within a range of 600 meters (1.968 ft). Parallelly, phone conversations could be made, and music could be listened to. The helmet is also equipped with a metal visor with a good light transmission which gives an excellent working environment.
A big effort has been put into making the Advance X-Vent ProCOM helmet as comfortable as possible. Light weight, good balance, good ear protection, and good ventilation are some of the features that make this helmet pleasant to use.
More info
More on this and all about Stihl could be found here on the Stihl homepage.