Estonian manufacturer Kinetic now delivers a combined concept, a potentially interesting alternative of a machine for forest owners who want to do their young thinnings themselves. The base machine is Kinetics eight-wheeled forwarder T8 H 8×8 which can be turned into a small harvester.
The harvester head is a stroke delimbing JOBO ST 50 unit from Finnish Syketec. In addition to shifting from grapple to harvester head, the bunks are lifted away from the rear wagon and replaced with a weight. The machine in this combi design also features extra oil cooling for the hydraulics and a shift valve that you won't find on the forwarder.
Anyone who has a Kinetic forwarder can easily equip it to make it a combined machine, and if you order a new Kinetic combo, everything is already prepared and ready at delivery.
The price for a Kinetic forwarder with cab and 5.5-meter crane is around SEK 560,000 (approx. 55 000 USD) and if you upgrade to a combined model totaling around SEK 750,000 (approx. 73 000 USD) for the entire set-up of harvester/forwarder, including assembly. This can be quite an investment for a private forest owner, but as machines like this normally have high secondhand prices, the users will find great value in this setup and achieve a reasonable overall economy.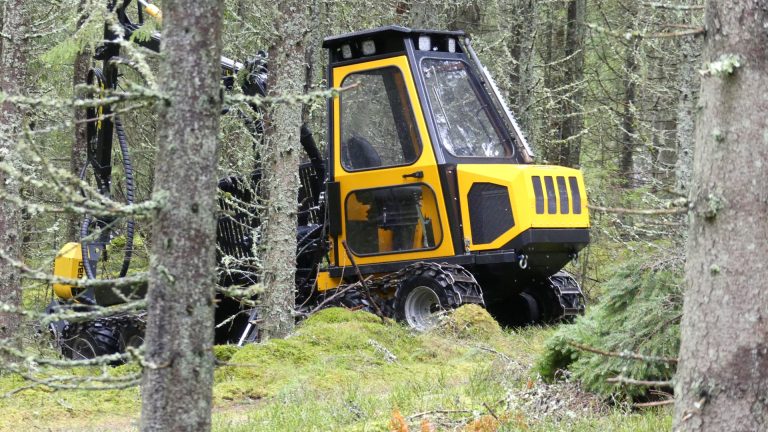 Thinning without strip roads
Kinetics eight-wheel forest machine is no more than 1.6 meters wide. It basically allows you to drive wherever you want in a thinned stock without chopping down any extra trees. The Swedish importer has tried to run the combined concept in different ways but now stick to driving the forwarder on every other or every third "road" where the harvester is driving, depending somewhat on how much timber is to be removed. There will then be one or two secondary roads, so called "ghost trails" between the strip roads, so that the main strip roads can be optimally planned with regard to stand and terrain.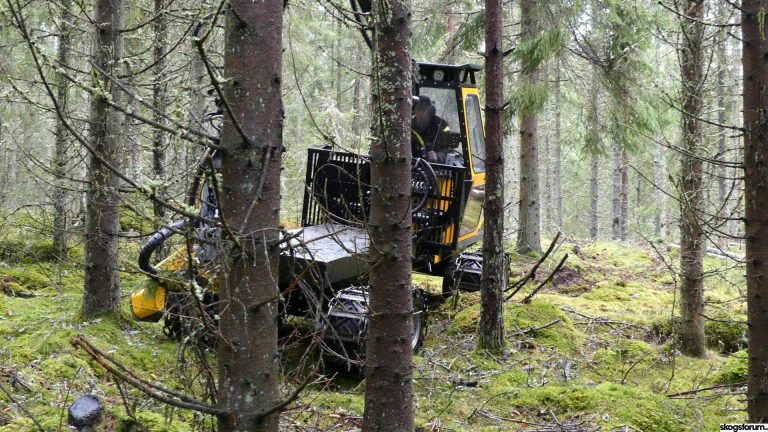 Slow-motion thinning with a stroke delimber?
Can it be handled with a stroke delimber or must it be roller feeding? An eternal issue that has been extensively discussed over the years.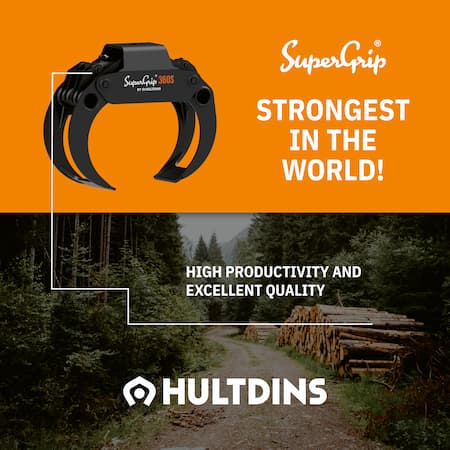 Anyone who has driven a slightly larger harvester with a high-capacity wheeled felling head, like LogMax 928, Kesla 16RH, EGS 406 or similar, would surely go mad if they sat behind the levers of a stroke delimber. But this comparison is irrelevant in this context as the stroke delimber should be compared with walking around with a chainsaw on your own! That's a more accurate comparison, regardless if it's the combined machine from Kinetics or a similar machine. In this comparison, you increase productivity compared to using a chainsaw while at the same time sparing the body from the hard work.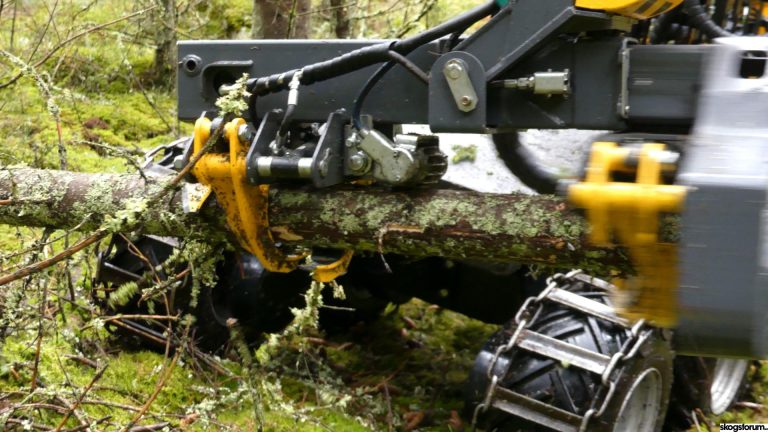 How much can you produce with a stroke delimbing harvester?
The stroke delimber units also have the advantage that they're technically quite straight-forward and that it doesn't take years to reach reasonable production levels. It's possible to cut 20-30 trees per hour depending on the forest and the driver. (Maybe 40 if the conditions are really good and the operator experienced.) Reasonably, you will land at around 1.5-3 m3fub/hour depending on the average strain. It then takes about 15-20 hours to drive through a hectare of first thinning with the harvester.
Can Kinetic be useful in second thinnings?
The Kinetic forestry project we visited was a second thinning project in 40-year-old spruce stand. The forest had been carefully thinned once before and the timber had been forwarded with a tractor and grapple loader. A cautious second thinning was now being performed, fully focusing on suppressed trees, and in this case the felling and cutting capacity is sufficient.
What the machine cannot handle right now shouldn't matter anyway, because it's to be left for the final felling. The JOBO unit can handle up to 30 cm in diameter and delimbs from 25 cm down to 2 cm according to the manufacturer's specifications. The machine has lavette-type support legs which provide a good stature and makes it possible to work the 5.5 meter long Country crane at maximum extension. The crane is also manufactured in Estonia.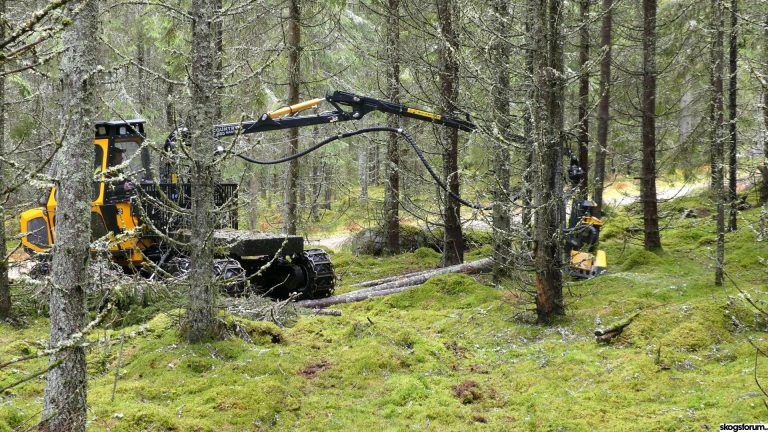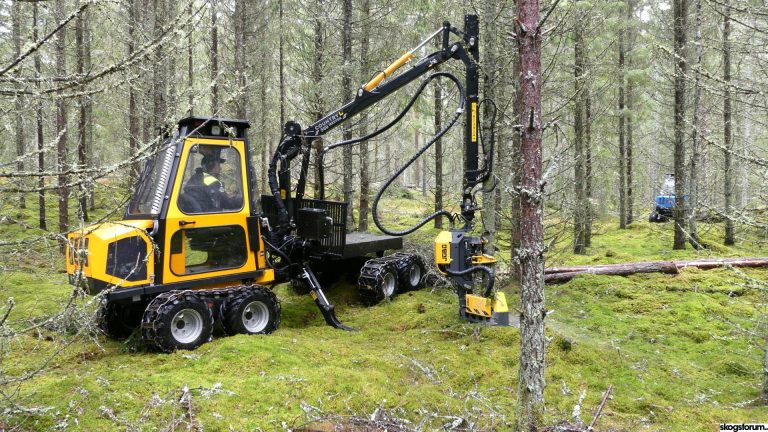 Move behind the car?
Now, perhaps many of the Kinetic buyers work mostly in the home forest and don't have much need to move the machine around. Nevertheless, if the need should arise, the entire combi concept, ie the forwarder and the weight and harvester assembly, can be moved on a trailer behind a Pickup truck or heavier car.
Some more pictures can be found at the bottom of the article. And here's a video showing both the harvester and forwarder work:
Kinetic T8 H Kombi i andragallring
Facts about Kinetic T8 H Kombi
Width: 1,6 m
Length: 5,19 – 5,79 m
Machine weight: 1 890 kg (with cabin but without crane)
Max load weight: 3000 kg
Load area: 1 m2
Motor: 3 cyl 26 hk Yanmar diesel
Tires: 26 x 12.00 -12, 12-lager
Drive line: 3 gears front & 1 back, variator. Chains in bogies.
Drive type: Constant drive on 8 wheels
Speed: 0-25 km/h
Crane
Country 550
Max length: 5.5 m
Extension: 1.3 m
Lift crane 3.5 m: 618 kg
Lift crane 5.5 m: 390 kg
Grip: 0,12/0,17 m2
Weight: 375 kg
Support legs of lavette type
Harvester head
JoBo ST50 Bambi (from Syketec, Finland)
Max felling diameter: 30 cm
Delimbing diameter: 2-25 cm
Weight: 205 kg
CanBus steering system
Automatic feeding
Preselect length (6 x 6)
Prepared for stump treatment
Learn more about Kinetic on the manufacturer's website
More information about the JOBO unit on their website.