NordicWoodJournal.com has had a look behind the scenes of a modern forest machine manufacturer: Eco Log in Söderhamn. Eco Log is open with what they do and we have been allowed to document the entire assembly process of the Eco Log harvesters.
For those who have not seen the inside of a modern forest harvester, we can reveal that it's a highly advanced construction with a lot of hydraulics. There are very few types of machines that can withstand the same amount of stress that an off-road forest machine must endure during its lifetime. Nordic forest machine manufacturers are the world leaders in optimizing the use of highly sophisticated engineering to make equipment able to handle such heavy loads, long working days and tens of thousands of operating hours. Eco Log is one of these manufacturers.
Machine manufacturing in Söderhamn
Forest machine manufacturer Eco Log has been building forest machines since 2004, in Söderhamn, Sweden. However, the history of forest machine production in Söderhamn is considerably longer than that. Here, a total of four different companies have been building forest machines more or less continuously since the mid-60's when Kockums moved the production of the KL 820 skidder from Landskrona in southern Sweden to Söderhamn.
Pendulum arm machines from Småland
When the Kockum forest machine operations were acquired by Rauma-Repola in the mid-1980's, Skogsjan came in with the manufacturing of its machines. Well, originally, they were Lars Lameksson's LL machines from Småland in southern Sweden, machines that were then further developed by Skogsjan. Innovative machines that we can still see traces of in Eco Log's pendulum arm harvester. More about this further down in this article.
CAT entered the scene
Skogsjan was sold to American Caterpillar in 1997, and the machines consequently changed color from green to mustard "CAT yellow" and were further developed. A CAT harvester was even allowed to appear in a Bond movie in the late 90's. That machine came directly from filming in Spain to the Elmia show in 1999. When the staff tried to clean the dusty machine, it turned out that the dust and dirt had actually been painted by the film crew so that it wouldn't come off during filming. But that didn't make the machine any less interesting!
Caterpillar continued to manufacture forwarders and harvesters (CTL machines) in Söderhamn until 2004, when LogMax "bought back" CAT's forestry machine production to Sweden. LogMax was owned by Stig Linderholm at the time but was later sold to Komatsu Forest in Umeå. Stig retained the Eco Log production and in 2017, investment company Accent Equity Partner came in as part-owners, and they are now sole owners of Eco Log.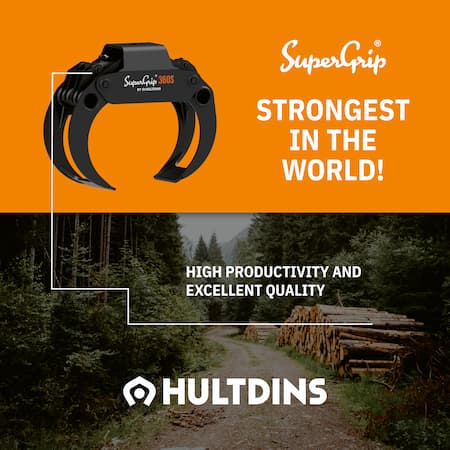 New engines
In 2016 and 2017, Eco Log switched engine supplier to Volvo Penta. First in the harvesters and then in the forwarders. It's a collaboration that Eco Log is very pleased with. Volvo Penta has been very involved in the work of finding optimal driveline solutions for the particular requirements of forest machines, according to Eco Log. Another step in the development is that Eco Log now also gives its customers a choice of having Warratah's harvester heads fully integrated into the machine.
Focus on growth
Eco Log is led by CEO Anders Gustafson who has a history in Bruks, among others. He has now built the organization he wants, and the focus has now turned into growth, according to Anders.
"We have the ambition to grow but not to be the largest. We will make world-class machines for our customers and we will recommend good service," Anders said when we met him in Söderhamn.
Same as when you ask any machine manufacturer, you do not get an exact answer to how many machines have been manufactured by Eco Log, but our estimate is that they produce anywhere between 150-200 machines per year in Söderhamn. Anders didn't even try to deny this estimate. If true, it would amount to about five percent of the world market for CTL machines, so there's still plenty of cake left to take. More than 40 percent of the machines end up in the Nordic countries and the rest are exported. Germany is the biggest market after Sweden, but Eco Log is exporting machines to more than 20 countries throughout the world. Eco Log is available at retailers in the US as well as in Canada, Russia, Uruguay and Chile. At the same time, in most European countries with a somewhat developed forest industry. Eco Log are biggest in harvesters and so, more harvesters are produced than forwarders in Söderhamn.
Eco Log forest machine manufacturing
The Eco Log philosophy of machine manufacturing is to outsource the initial production steps – including welding, sheet metal work and cabin manufacturing – to various subcontractors. Therefore, the forest machine factory in Söderhamn is a mounting factory where the machines are assembled from components supplied by other companies. Anders Gustafson says that this gives Eco Log the right customer focus and thus they can concentrate more of their energy on the customer than on the initial stages of physical production.
Each machine built in the factory is made against a direct customer order and with the specifications that the customer has chosen. Nothing is done against inventory but in order to scale the subcontract flow to the proper size, Eco Log needs to make more long-term production forecasts that are not based solely on customer orders.
Här byggs EcoLogs skördare
Mounting stations and assembly line
Harvester production consists of a number of pre-assembly stations and a final assembly line. In one of the pre-assemblies, the engine and hydraulic pumps are assembled in one package. In another, the rotator crane is built with a crane and cab brackets. And in a third, actual cranes are built. The cabin also has its own station where it is prepared with all cabling and controls.
The start
The first step on the line is to piece together the rear and front frame using pins and cylinders. Then, the pendulum arms, including bogie and wheel motors, are mounted. When this framework is complete, the various pre-assembled packages will be put in place. Everything must be connected with a variety of hydraulic and electrical cables, sometimes in rather limited spaces. It's fascinating that you can pack so much stuff into a forest machine, and then still maintain and replace components when they are worn out.
When everything except wheels and outlet is complete, the machine is sent to the last stage where all liquids are added, and the machine is powered up. It's now run and tested and refilled so that any air is removed from the systems, and so that everything works the way it should. One reason for this testing is that the pendulum arms are not connected to the hydraulic cylinders until all air is guaranteed to be removed from the hydraulic system.
Wheels and harvester head
When the wheels are on, the machine is rolled out into the test hall. The harvester head is also mounted on the harvester. Often this is a LogMax unit, but nowadays Warratah is also offered to customers as an alternative. The machine's various systems and functions are fine-tuned and tested before everything is ready for delivery to the customer.
A wide variety in harvesters
The fact that Eco Log's strongest market is in the harvester segment can be seen in the product range. Today, five different harvester models are offered from the smallest, 4-wheel 550E (which is also available as the 6-wheel thinning version 550T Pro) to the largest 590E. Eco Log builds harvesters with four, six or eight wheels and they design and build their own harvester cranes. According to Eco Log, they are the most powerful cranes with the highest torque in the market among wheeled harvesters.
All harvesters, except the eight-wheeled 688E, are manufactured with pendulum arms. In the 500 series of harvester there are traces of their origins, the LL machines and Skogsjan, and technology that remains true to its origins yet has been kept up to date even during the CAT era. This technology relates to the pendulum arms.
The pendulum arm technology was questioned from the start. Sceptics thought the solution was too technologically advanced and that it wouldn't survive the harsh machine life in the forest. Now more than 30 years later, there are still used SkogsJan harvesters on the market. With fully functional pendulum arms, of course.
Only two different forwarders
Eco Log may have a large selection on the harvester side, but on the forwarder front the range is scarce. There are just two models of which the smallest, the 574, is a 14-ton forwarder. The largest machine, the 594F is a 20-ton forwarder competing in the heaviest forwarder class. This is a size class where there has been healthy growth in recent years in the Swedish market, where forwarders tend to become bigger by the year. Maybe Eco Log is satisfied with producing forwarders in these sizes where profitability is greater compared to if you build smaller machines? Or do they have more forwarder models of smaller sizes in the making? Time will tell.