The sister-site Skogsforum.se tested a mechanical felling wedge ValFix from the German company BaSt-Ing. The test gave both us and our testing loggers some new experiences. Here is a summary of the impressions and a film of the testing.

The felling wedge ValFix
Let´s start by making it clear what exactly we are talking about here. Plastic wedges are often used in ordinary felling operations in the forest. To secure that the saw bar doesn´t get stuck, and also to make the tree fall in the desired direction by hammering on the wedges. This is the normal use of wedges, and the most common.
One might think that a mechanical wedge, like ValFix, should replace the normal wedges in felling operations with chainsaw. This is however not the case. The mechanical felling wedge is complementary and only for use for special felling. When such felling occurs, a mechanical felling wedge can be invaluable.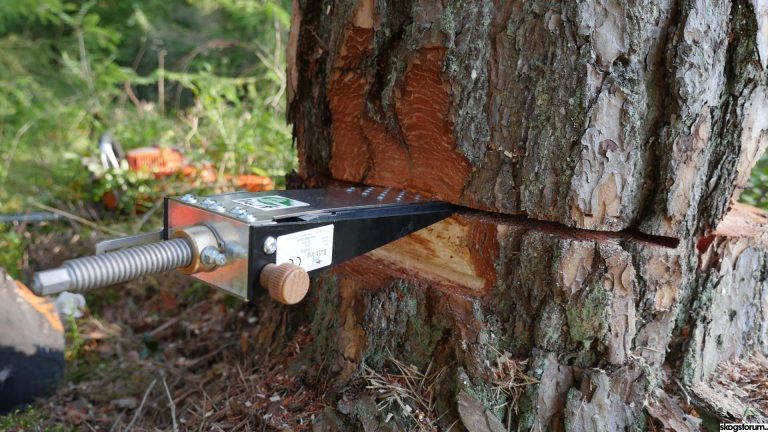 ValFix
According to the manufacturer, the ValFix felling wedge is most functional in combination with a battery-powered nut runner. You could also use a ratchet shaft as the attachment to the screw has a 10 mm head and a ½" socket.
When turning the screw, the inner part of the wedge moves inward as the outer part is stuck in the wood. The wedge then expands upward and forces the tree in the decided direction.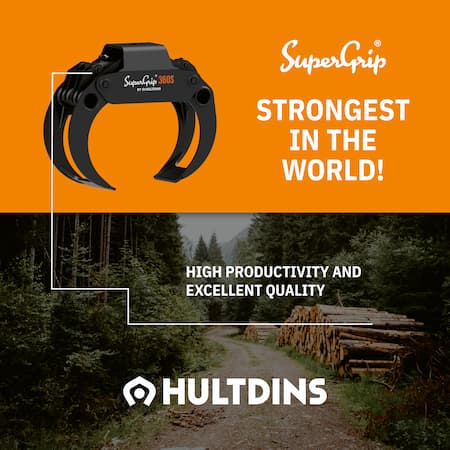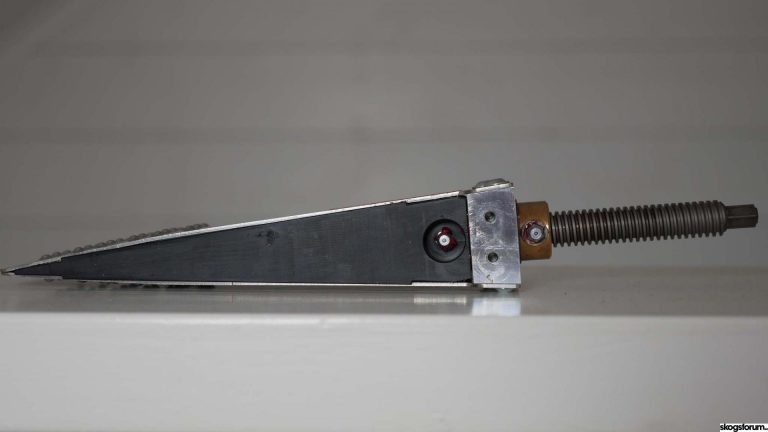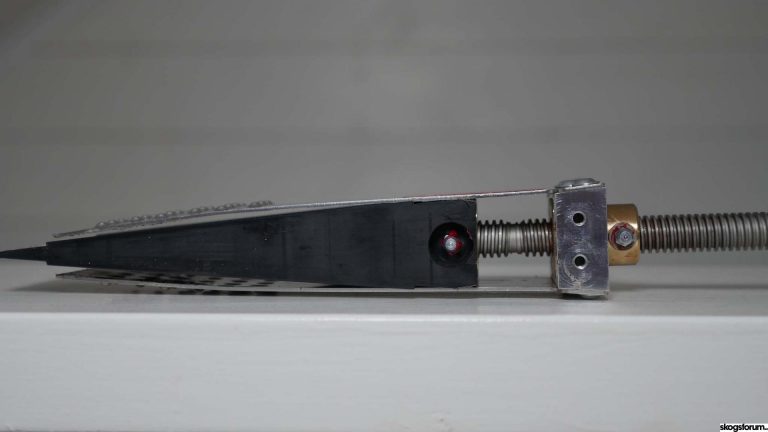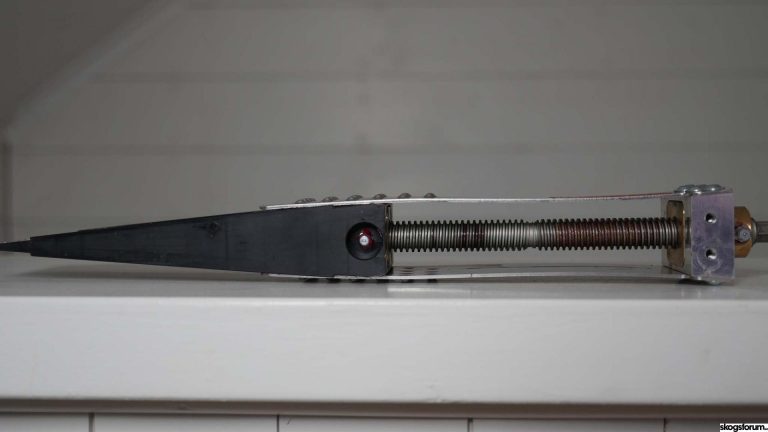 ValFix is the smallest in a series of mechanical felling wedges from BaSt-Ing. It´s suitable for smaller trees (which in the Nordic countries, like Sweden, means big) and for bigger trees BaSt-Ing offers another, larger wedge. It´s important to be aware of this, despite the fact that its lifting capacity is 15 tons, it´s still a small wedge and should be used as a small wedge.
The wedge weighs 1,4 kg. It has a double-acting screw which is a really smart solution. It consists of two threaded rods that are welded together so that the rotation is in two directions. The inner rod is threaded in the inner (plastic) wedge, and the outer rod is threaded in the outer (metallic) wedge. The benefit of this construction is that a short wedge can expand a lot, as you can see on the photos above.
The ValFix wedge has a plastic suspension device and side protection. It soon turned out that the wedge was simpler to use if those were dismantled. If nothing else, it made the wedge small enough to fit into a wedge holster – then you don´t need a suspension device …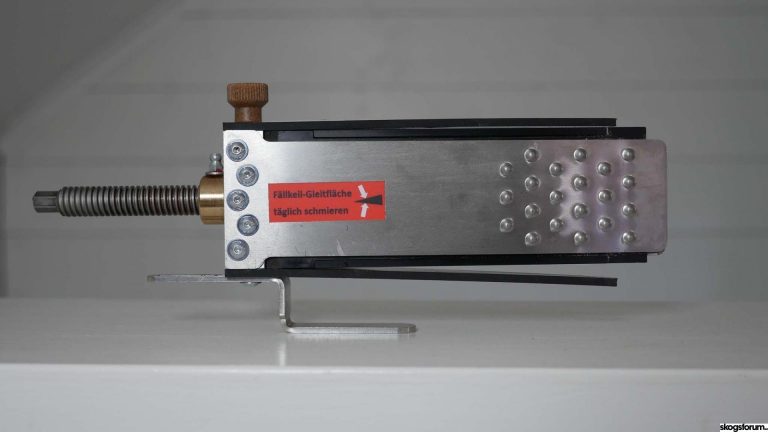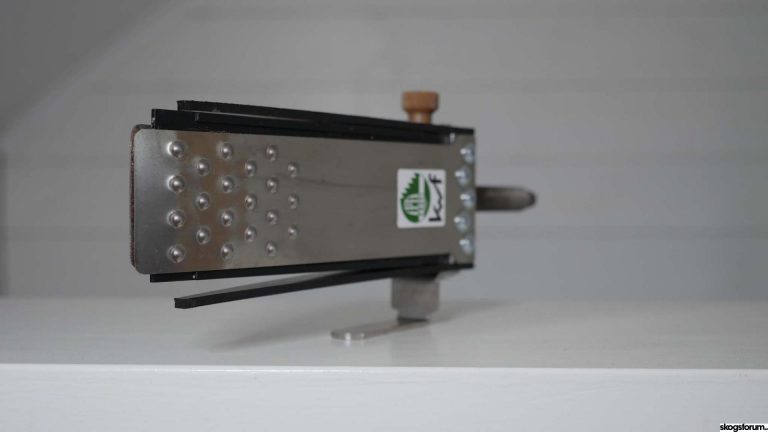 When is a ValFix needed?
If you can´t replace the normal plastic wedges, why should you use something like this? This is a good question, and the forestry business is known to be conservative so, you have to know what you are doing.
When the felling direction is important, and by felling in other directions than the natural for the trees, the ValFix can make life much easier. In conservative forestry, it may take some time to understand, as for us and the testing team, but when you find it out it´s very simple: You can save a lot of energy if you don´t have to use normal wedges by hitting them with a sledgehammer or an ax when the trees want to go in the "wrong direction".
This kind of problematic trees can be garden trees or trees standing on the edge of a site with only one acceptable felling direction. This kind of trees can make any logger tired if he/she has to hit wedges to make the tree fall in the desired direction. Here, the ValFix will simplify the job a lot.
Another point to take into consideration is that hitting the wedges also can cause injuries on both logger and material.
What does it cost?
The ValFix wedge itself costs € 400 (approx. $ 470) excl. VAT and freight. That is of course a lot more than a plastic wedge for less than € 30 but maybe those products shouldn´t be compared at all?
It´s up to the single logger to decide if you have use for this investment due to your own conditions and needs. If you have a lot of work where you use wedges, then this investment may be motivated, and even cheap. If you haven´t had such a tree in a year, then you can stop reading here.
Our conclusion is that the ValFix is no replacement of the plastic wedges. This is a complimentary product to improve the working environment for the loggers and to make it easier and quicker to take down the most difficult trees.
Package with nut runner from Milwaukee
For approx. € 900 ($ 1 000) you can get a package from Bast-Ing that contains the ValFix wedge, a battery-powered sturdy Milwaukee nut runner, holster and a bag for it all. Again, you might think this is very expensive, but keep in mind that if you have any business with machines and/or forestry, and don´t already have a good nut runner, then it´s maybe about time to get one.
During our testing, the nut runner mysteriously disappeared from time to time. It was used for the assembly of a portable sawmill. So, if you don´t already have one, and plan to buy a mechanical felling wedge, you might as well consider the mentioned package deal.
You can read more about Bast-Ing's offers here.
Summary
ValFix felling wedge is an interesting product if you deal with "difficult" trees a lot. In this case the ValFix can save you a lot of energy and improve the working environment. To make a financial calculation is however difficult. But, if you work a lot with this special type of felling and takes into consideration that the nut runner could be used for other things, it could be a good investment.
Film of the testing and some more photos
Here is a film from the testing with some of the things mentioned in this article and some personal reflections.
Valfix, en mekanisk fällkil som hjälpmedel vid fällning med motorsåg