In the fall 2019, Husqvarna released a new battery-driven saw called 535iFR. As you may know, this product is on par with a 35cc gasoline-powered chainsaw, and Husqvarna sells it as an all-purpose machine aimed at forest owners.
Forestry tested the 535iFR earlier. You can read more about this in this article 
During the test, the question was raised about how the saw would work in the hands of a professional forest worker while clearing young forests, and whether it could find a niche for motor manual forest contractors in by offering a fossil-free alternative.
Although the 535iFR is not primarily intended to be run full-time by professionals in forest clearing, Husqvarna agreed to a test where we used the battery clearing saw, five batteries (BLi300) and five chargers to charge the batteries overnight. Now, the test is complete. Read on to learn what the pros had to say.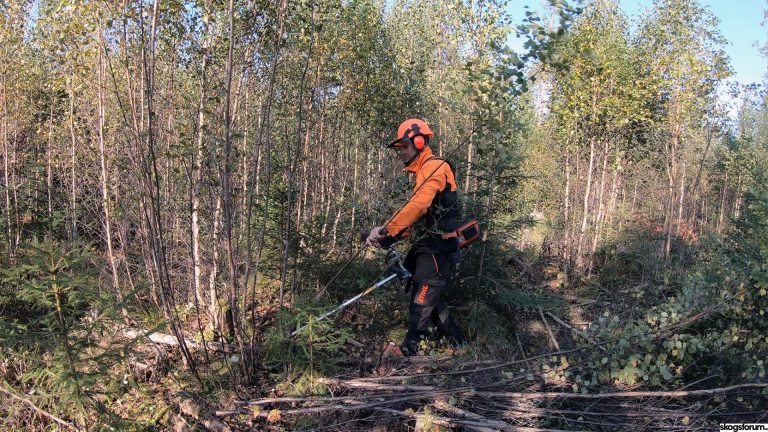 Light but heavy
Henrik Andersson performed the test for us, which felt reasonable given that he previously tested the 535iFR in rougher terrain. His first feedback was great news for the 535iFR. It's wonderfully easy to work with and the best sign of this is that Henrik didn't experience shoulder pain during any day he ran the battery-powered cleaning saw.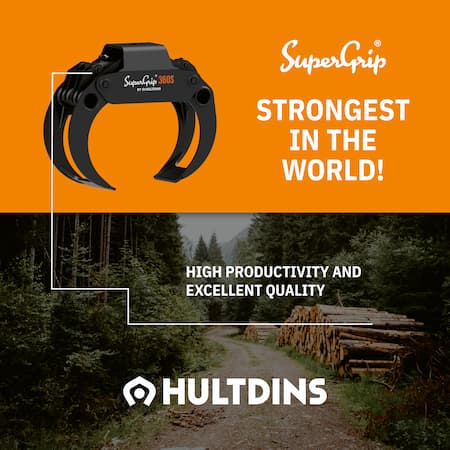 There is only one catch, and that's the need to and difficulty of carrying the batteries to the base camp. During the test we had up to 500 meters to carry the equipment both morning and evening, from the car to the basecamp and back. The batteries were carried in a backpack and together they weigh almost 10 kg. Together with the saw, harness, helmet, lunch bag and extra clothes etc, it's a considerable extra weight to be carried to and from the site.
On top of this, the batteries weigh just as much even when they are empty, so it's the same weight that you will be carrying back in the afternoon. According to Henrik, this affects the job as the length between base camp and the car increases.

Perhaps a smart solution can be found to the problem, but in this test, where the gasoline system was simply replaced by a battery system, it was noticeable. If you work with clearing close to the road, then this is no problem. It's up to each professional to assess this based on their situation.
Charging at home was no problem at all with the smallest QC80 chargers and overnight charging.
Young forest clearing requires energy
An interesting thing came to light that we did not see coming. Young forest clearing at a high pace requires more energy than coarse clearing. The reason, most likely, is that you're working at a higher tempo, almost always with the blade at high speed. On average, a BLi300 battery as consumed every fifty minutes. This was despite the fact that Henrik was running in power mode 2. On rougher stock, a BLi300 lasted for over an hour before it ran out of juice.
This forces us to recalculate a little regarding battery needs. If you are a professional working with the 535iFR in young forest clearing, at least 6 batteries are required to cover an entire day.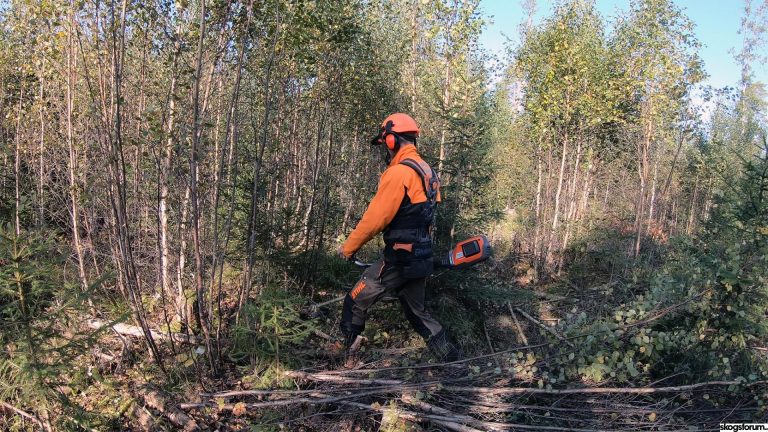 Electric overnight in the forest
As usual when we test things it's important not to go too easy on the test equipment. It should be tested at least as hard as when you do actual work on any given day. When the distance between the car and the base camp is as in our test (approx. 500m or more), the clearing crew usually leaves the saws in the area overnight to avoid having to carry equipment around unnecessarily. This was also the case with the 535iFR. It stayed overnight in the autumn rain and it didn't seem to affect it at all. No loose contact or anything like that during the test. It's clear that Husqvarna knows that the products will be actively used in the forest.
Equal in weak forests
The test was conducted in weak, young forest areas. On trunks up to 4-5 cm, the 535iFR has no problem whatsoever to be just as productive as a gasoline saw. It's when you get to that fertile wetland that it takes longer as the battery saw isn't as effective on thicker trunks. Thus, we reach the same conclusion as in the original test and a receipt that Husqvarna knows what they are talking about: it's equal to a 35cc gasoline saw but not to larger clearing saws.
However, an advantage for the 535iFR in these areas is that it doesn't emit any exhaust gases. This is noticeable when working on leaf areas higher up that create a roof over your head. When comparing in tests like this one, it's obvious that exhaust fumes from gasoline saws smell quite a bit.
Summary
Husqvarna is serious about the 535iFR. It's very well built and can withstand hard work in the forest. A step forward, as we have previously written. If you, as an entrepreneur, wish to go the environmentally friendly route, you can already do so today with the above mentioned saw. You must keep long transportation distances in mind, as well as the fact that it's not as efficient on heavier stock. In return, you get a very lightweight solution that spares your shoulders and doesn't emit gases. If you can charge a premium for fossil-free work, and at the same time solve the transportation issue between the car and the base camp, it may be something to consider. For teams who have many sites far from the road, it will be difficult with the current system design.