A few weeks ago, we wrote about Jürgen in Germany who has presented an idea for a new harvester concept. He is a good example of people who think outside the box, who believe in their ideas and make something of it. Here is another one.
Christer is a man that already had some headlines. His Fiberpack bundler, that later became one of John Deere´s products as the 1490d, was one of his inventions. Later he also built the remote controlled harvester "Besten", the Beast, that was shown at the Elmia show in 2005, and later purchased by Gremo. In 2013 he presented a 10-wheeled harvarder with a unique quick coupling system with which a switch between grapple and harvester head was done in seconds, without the operator leaving the cabin. Now he has done it again.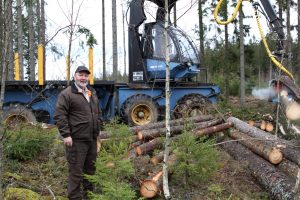 Fiberdrive 9.5
The Fiberdrive 9.5 is a concept harvester for in first hand thinning. The prototype actually has a loading space that unloads by tilting it. This theoretically makes it a harvarder, but it´s meant to be a harvester.
Unique steering
There are some interesting solutions, such as the steering that is not linked in the middle of the machine as on as god as all other forest machines, but on both sides. Christer calls it "saloon door steering". When you see it on the film clip here below you will understand.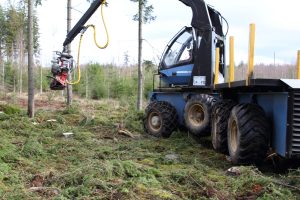 Eight pendulum arms
The levelling system is also interesting. All the eight wheels have their own pendulum arm. Thru a computer the wheels automatically keep the chassis level at all times. Of course, the machine can also be equipped with tracks.
There will be more
This was a short presentation. In a few weeks we will go a little deeper in another article, and have a look at the Fiberdrive 9.5 in a thinning.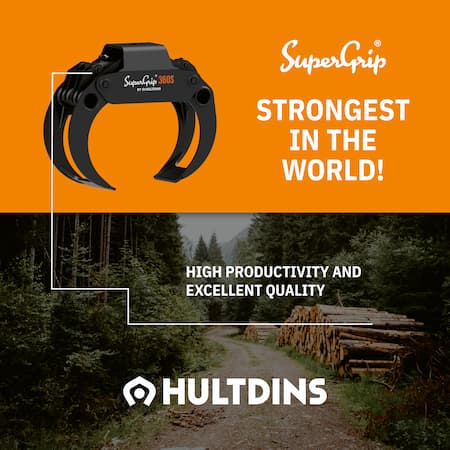 Here is a film clip of the Fiberdrive 9.5
Fiberdrive 9 5 - ett nytt skördarkoncept