Many private forest owners want to use their own logging equipment when managing their forest. Normal logging equipment such as skidders, forwarders and harvesters may be too expensive for some forest farmers. An alternative could then be to adapt equipment that you already have, e.g. a farm tractor.
Adapting your tractor
A good thing about farm tractors compared to purpose-built forest machines is, that the tractor could be used as base unit for many different applications. You can work on the fields with it, or mount a snowplow on it, or transfer it into an excavator. It´s a multitasking machine.
Many tractor manufacturers adapt their tractors themselves, in the factory, before delivery. Others use specialized companies to do the job. It´s also quite common that resellers of tractors order this kind of customizing from those specialists.
Specialists in adaption
Leif Jacobson runs a company, Ölmstad Smide AB, in south Sweden who are specialized in adapting farm tractors for forest use. The company modifies approximately 200 tractors per year.
— In the old days you could bring your tractor to the forest without thinking of anything special, says Leif. If a stump or a branch found its way up to the engine and broke something it was no big deal. The tractors were sturdy and spare parts were cheap.
— Today it´s different, he continues. Modern tractors are advanced and more sensitive for physical violence from branches and other obstacles. Many details around the engine are made of plastic, quite often even the fuel tank, and can´t take a hit from something under the tractor. There is a lot of electronics that also can be damaged.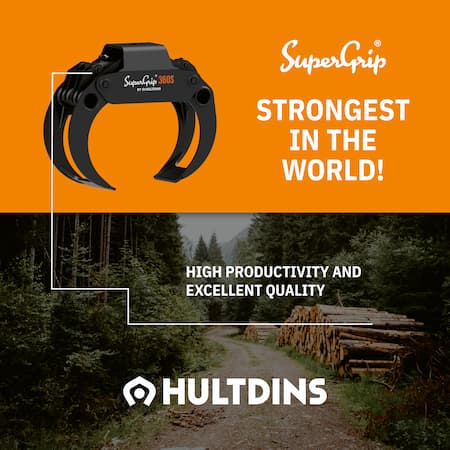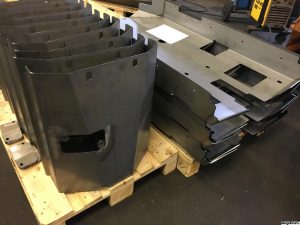 Belly plates – a must
The most common adaption is to mount belly plates under the tractor to protect against branches etc. Also, if you slide over stones or stumps the belly plate is good to have. The risk of breaking something or getting stuck is much less if you have the plates. It´s a cheap adaption as the costs for breaking electronics or plastic detail could be high.
Front covers, roof covers, lamp protection and steel fuel tanks are other items that Leif and his staff manufacture and mounts on tractors for the adaption.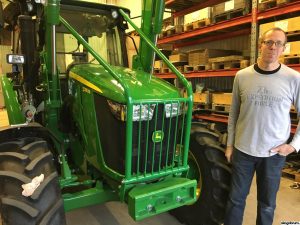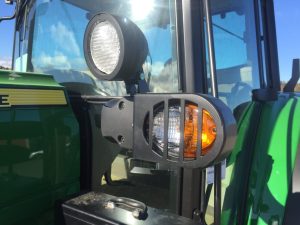 Interior
To transfer the tractor into a somewhat comfortable "forest machine" there have to be modifications done also in the cabin. The seat has to be able to be turned backward. The cabin, if possible, should be made more spacey.
To make the operator's seat 180o reversible, space has to be made in the cab. This is done by moving controls and interior from their original places.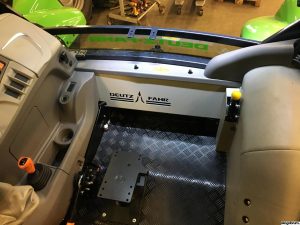 A window wedge moves the rear window further away from the operator which gives some more space, e.g. for the crane controls.
To avoid that the chair collides with the steering wheel when turning the chair to the working position, a foldable steering wheel could be mounted in the tractor. The steering wheel could be switched according to the season – The original wheel during the field season and the foldable in the forestry season.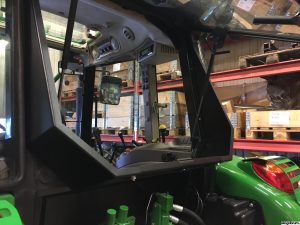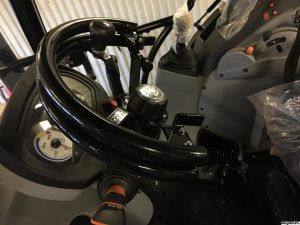 Different solutions for each tractor
As the company works with different tractor brands and also customizes solutions for each customer, most parts for the adaption are manufactured during the adaption process. The only parts that are in stock are the most common cover plates.
The company has a modern machine park where all kinds of metalwork can be done. Every component that is manufactured gets a drawing that is saved in a computer. Thanks to that, spare parts can easily be made. Many components also fit on different tractors so it´s handy to have the drawings easily accessible.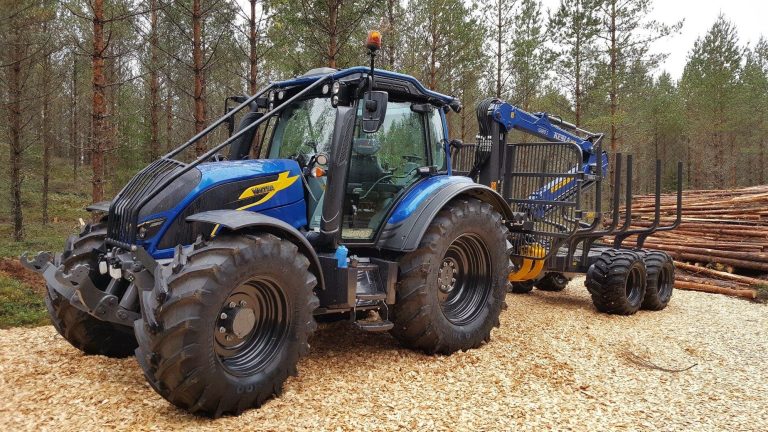 Log trailers
If you want to dig deeper about log trailers for tractors you will find more on that theme here.
Photos: Leif Jacobson and Torbjörn Johnsen