What are the differences in capacity and power between the battery powered saws Husqvarna 540i, Stihl MSA 220 and Echo DCS-1600? That was what the sister-site Skogsforum.se wanted to find out when they planned the test in 2020. It took some time, but here are their impressions.
This is a summary of an article signed Fredrik Reuter at Skogsforum.se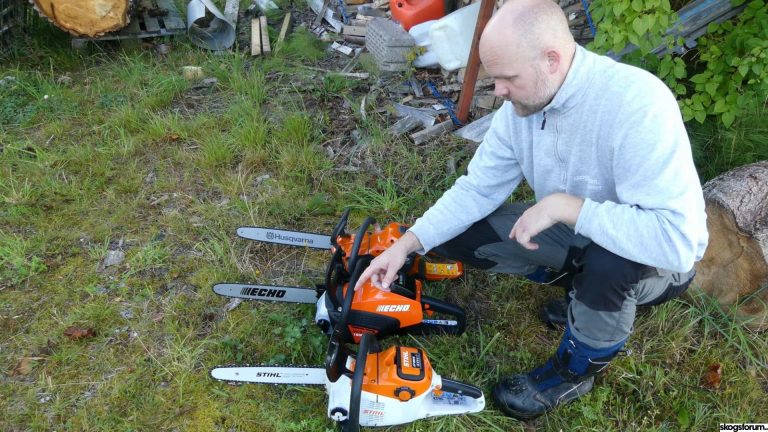 Husqvarna vs Stihl vs Echo
We borrowed three battery saws from three different suppliers. All three were respective supplier's top-of-the-line model, delivered with the most powerful batteries. Apart from weighing and measuring the saws, a subjective assessment of design and equipment was made. We have measured battery lifetimes, but most of all we have cut discs – many discs!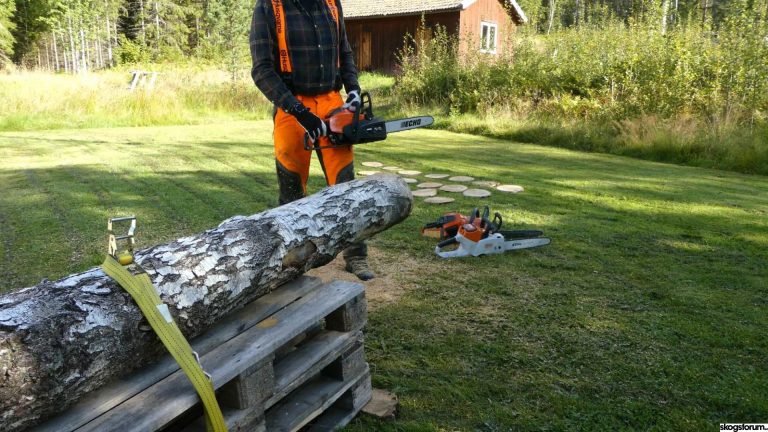 The Husqvarna and Echo saws have 1,1-mm chains as standard, and the Stihl 1,3-mm. All three saws had 14" bars. To be able to compare properly, 1,1- and 1,3-mm bars and chains for all three saws were purchased. This turned out to be essential as interesting differences were revealed. More on that later in the article.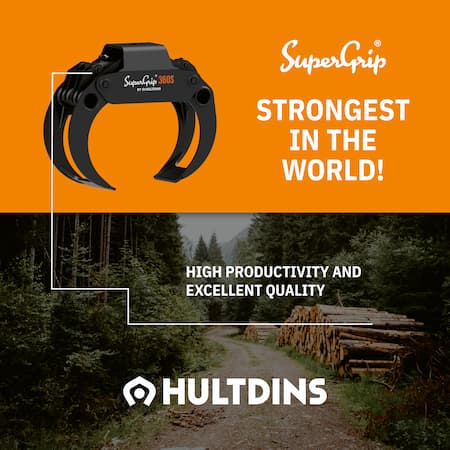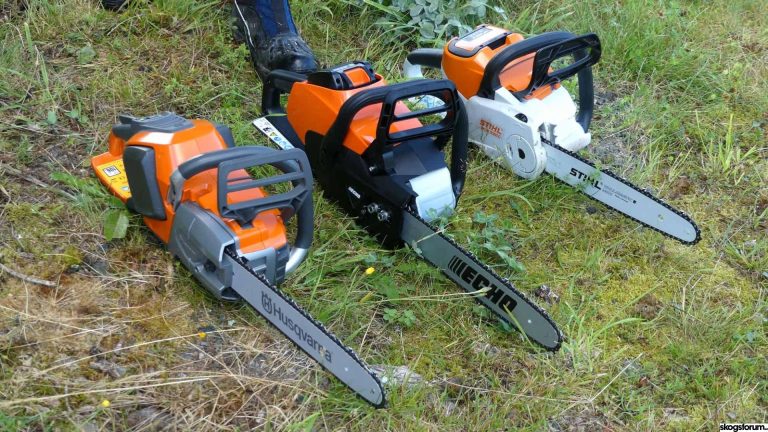 The battery saws according to the manufacturers
As mentioned above the Husqvarna 540i is the top-of-the-line battery saw by Husqvarna. In combination with the BLi 300 battery, it´s one of the best battery saws on the market today. According to the manufacturer, it corresponds to a 40-cc gas driven saw.
According to the handbook, the weight is 2,6 kg without battery and cutting equipment. Standard cutting equipment by delivery is 1,1-mm chain and bar. The bar length varies between 12 – 16" as where 14" is standard length.
The BLi 300 battery is Husqvarna's largest battery at 36V and 9,4 Ah. The weight of this battery is 1,9 kg according to Husqvarna.
Stihl MSA 220 is a new model from Stihl that has evolved from the previous MSA 200. It´s the top-of-the-line battery saw from Stihl today, even though the MSA 300 has been launched, but is not yet available on the market.
The MSA 220 weighs 3,6 kg according to Stihl, but that´s including 1,3-mm and 14" chain and bar. Also, Stihl offer the 14" bar as standard and the chain is a PICCO SUPER with 3/8 pitch. AP 300 is the battery that is used with the MSA 220. It delivers 36 V, 7,8 Ah and weighs 1,8 kg.
Japanese Echo launched a battery powered saw named DCS-1600 in 2020. Echo as chosen a 50 V system to be compared to Husqvarna and Stihl who have 36 V. The DCS-1600 weighs 3,1 kg without battery, cutting equipment and oil. Echo claims that the DCS-1600 corresponds to e 40 cc gas driven saw. Standard cutting equipment is a 14"-, 1,1 mm bar and a saw chain from Oregon. The battery that was used during the test is called LBP-560-200 and delivers 4 Ah at 50 V. The weight of the battery, according to the manufacturer, is 1,8 kg.
Test weighing – RFF
As it should, all the test saws are weighed "RFF", Ready For the Forest. The weighing take place with the same scale with the saws equipped to start working. Chain, bar, full (oil-) tank and with battery. As we started the testing with 1,1-mm bars and chains, all saws were equipped with that during the weighing.
The weights
Husqvarna 540i XP             5,62 kg
Echo DCS-1600                   5,75 kg
Stihl MSA 220                     5,45 kg
The conclusion is that all three saws weigh around 5,5 kg. The lightest was the Stihl MSA 220 and the heaviest the Echo DCS-1600.
Testing the chargers
A test of the charging seemed relevant to compare the three charger's and their charging times.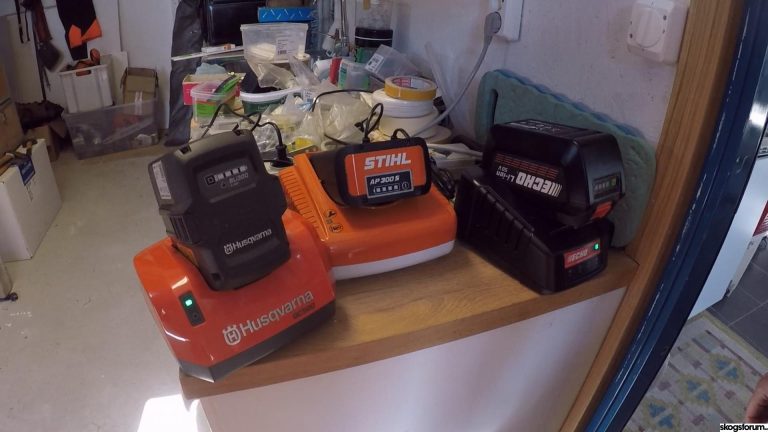 All three manufacturers supplied us with so called bench chargers for charging one battery at a time. All three chargers were the manufacturer's respective top-of-the-line models.
In average, the charging times differs. Stihl needs approx. 30 minutes to charge a battery as Echo and Husqvarna needs an hour. On a few occasions the batteries became so hot during disc cutting that the charger entered a rest-mode to let the battery cool down. This resting time was not taken into account in our tests.
Disc cutting
The main part of the testing was disc cutting of birch. Fastest through the log and number of cut discs were the parameters that were measured. All three saws were tested with both 1,1- and 1,3-mm bars and chains. (Normally, Husqvarna and Echo has 1,1-mm as standard and Stihl 1,3-mm.)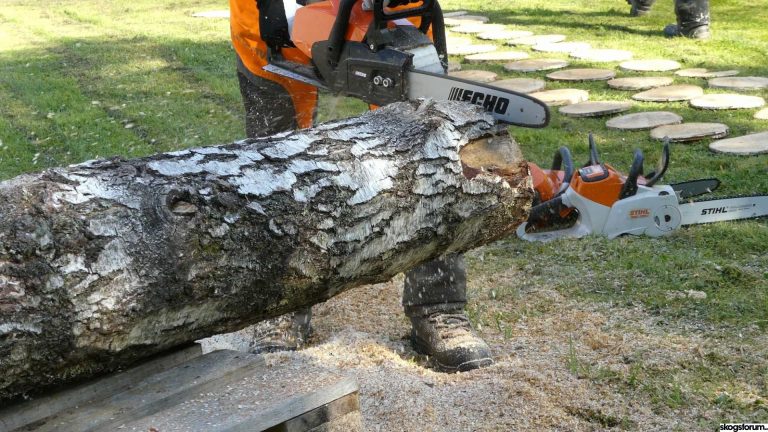 The bar gauges are what make this test interesting. It turned out that it differs a lot between different gauges and chains for respective battery saw.
The results, how many discs each saw could cut on one charging and consumed power per square meter, whith respective 1,1- and 1,3-mm bars and chains, you will find in this table:
Cutting capacity
| | Husqvarna 540i XP | Echo DCS-1600 | Stihl MSA 220 |
| --- | --- | --- | --- |
| 1,1 mm gauge | | | |
| Number of discs | 53 | 29 | 33 |
| Log diameter (cm) | 27 | 26 | 27 |
| Total area (m2/sq.m.) | 3,03 | 1,66 | 1,89 |
| Wh per m2 | 111,4 | 120,5 | 148,7 |
| 1,3 mm gauge | | | |
| Number of discs | 65 | 49 | 58 |
| Log diameter (cm) | 23 | 21 | 23 |
| Total area (m2/sq.m.) | 2,7 | 1,7 | 2,41 |
| Wh per m2 | 125,2 | 117,8 | 116,2 |
| | | | |
Number of discs: Total number if discs cut, from full battery to empty.
Log diameter: The log diameter incl. bark in centimeters.
Total area: The total area in square meters of all cut discs, from full battery to empty.
Wh per m2: Consumed Watt-hours per square meter discs.
We also measured cutting times for respective saw and gauge. Here are the average results of that test:
Cutting times
| | Husqvarna 540i XP | Echo DCS-1600 | Stihl MSA 220 |
| --- | --- | --- | --- |
| 1,1 mm gauge | | | |
| Average time (seconds) | 6,950 | 6,990 | 10,190 |
| 1,3 mm gauge | | | |
| Average time (seconds) | 5,664 | - | 5,30 |
Please note that the log diameter in this table is not the same for 1,1 as for 1,3 mm gauge. However, within respective gauge, the diameter is the same.
Unfortunately we have no measurement for the Echo saw with 1,3 mm gauge.
Outcome of the test
In the tables above some exciting facts are revealed. Echo DCS-1600 is fairly consistent in its performance. The difference between different gauges is not so big.
Husqvarna and Stihl stand out as Husqvarna performs best with 1,1-mm gauge and clearly worse with 1,3-mm gauge. As for the Stihl, it´s the other way around. It has the best cutting times with the 1,3-mm gauge and the worst with 1,1-mm.
Husqvarna 540i XP has the best battery capacity, Stihl MSA 220 ends up on second place and Echo DCS-1600 has the shortest battery time. When recalculating to Watt hours (Wh) for the batteries we find that this is true as Echo has 200 Wh, Stihl 280 Wh and Husqvarna 340 Wh.
The best charger is Stihl in this test. Their charger is in average much faster than both Husqvarna and Echo.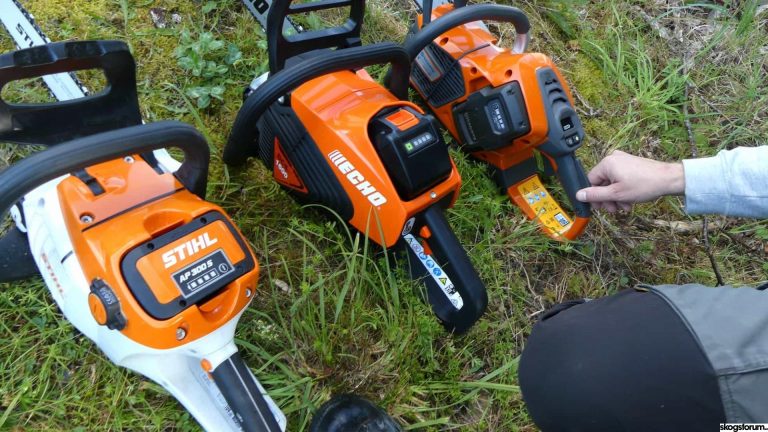 As for ergonomics, the first price goes to Husqvarna. First of all the body of the saw has a smooth design but most of all the Husqvarna saw has a "normal" throttle trigger lockout. The Echo and Stihl saws have a thumb button on the side instead. Even if this might be a bit faster, as you don´t have to move the thumb very far to reach it, it is very unusual and uncomfortable if you are used to normal chainsaws.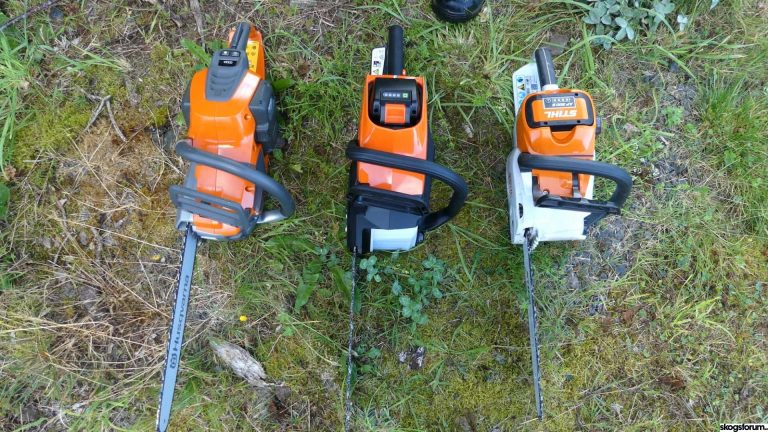 As for design all three saws are of highest quality. Stihl stands out with their tool-less solution for chain tensioning. We never tried this before but can't find anything negative with that solution. It functions well and the only downside is that you need some extra tools when switching saw bar.
1,1- or 1,3-mm gauge?
As mentioned above, Husqvarna and Echo delivers their saws (in this test) with 1,1-mm bars and chains. With Stihl MSA 220, 1,3-mm bar and chain are delivered. It simply seems to be a optimization of the cutting system for respective saw which was confirmed in our tests.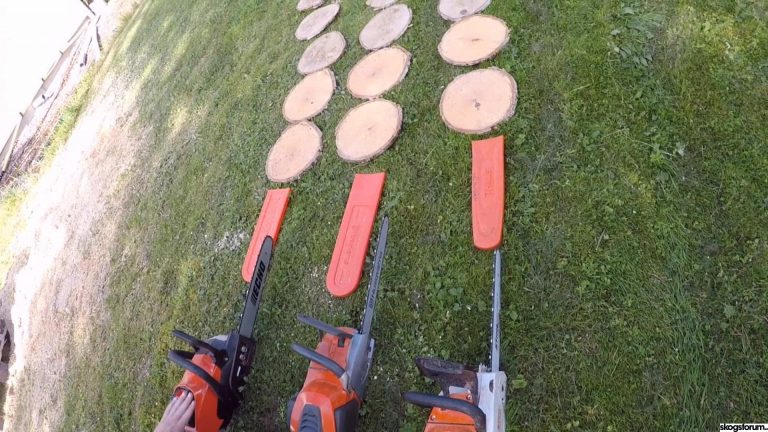 As in previous tests we strongly recommend using these saws with 1,3-mm gauge and chains. The risk that the chain hops off increases a lot for each mm the gauge shrinks. The stability is better with 1,3-mm and the chain is easier to sharpen as there is more material to grind.
Prices for battery saws
We will not mention any prices here as it may differ between different markets. You will simply have to ask your local dealer or check the net where you live. Hopefully this test can help you in your decision to find the right equipment for you.