To avoid getting too heavy abstinence for forestry machines and logging equipment, we hereby wish to present a sturdy harvester – The Rottne H21D equipped with a LogMax 7000C harvester head.
Rottne Industri AB
Rottne Industri AB, the small and independent forest machine manufacturer in south Sweden who has managed to stay in the founder's family. In the 80's and 90's when Finnish concerns bought most of the machine manufacturers, Kockums, ÖSA, Mini Bruunett, Timberjack, Lokomo, SMV and some more, Rottne stayed on their own.
Already in 1968, they introduced a machine that would become one of the most famous brand names within CTL machinery – Rottne Blondin. "The Blond" was manufactured until 1988 in many versions; Forwarders, processors, harvesters, dumpers and probably more. It was a simple machine, based on a Ford tractor. The simplicity made it cheap to own as there were not many custom-made components involved.
However, by mid 80's the technology race in the forest machine business had passed Rottne Industri AB, so they had to do something. And they did …
Today
Today Rottne is fighting in the major league among the large harvesters with the H21D. Except for the colors, there are no traces left from the Blondin. The Rottne harvester range is the H8, H11 and top of the line H21D.
The forwarder range contains no less than six models: F10, F11, F13, F15, F18 and F20.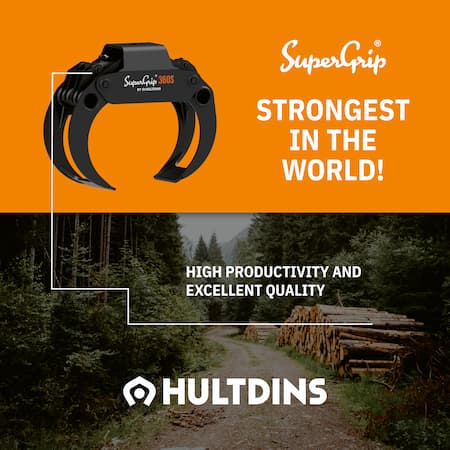 You can read more about all the Rottne machines here.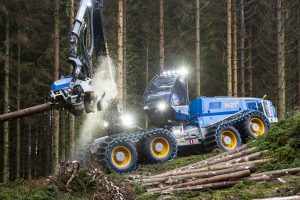 Rottne H21D in figures
(Source: Rottne.com)
Length                                9 233 mm (364")
Length incl. crane              13 610 mm (536")
Width                                 3 000 mm (118")
Height                                4 119 mm (162")
Transportation height         3 722 mm (147")
Ground clearance               690 mm (27")
Weight, 6 WD                    24 200 kg (51 600 lbs)
Weight, 8 WD                    26 700 kg (56 880 lbs)
Engine                                John Deere 6090 HFC09, Power Tech PSS, Final Tier 4/FT4)
Output                                227 kW (305 hp) at 1 700 rpm
Torque                                1 351 Nm (996 lb ft) at 1 500 rpm
Cylinder volume                9,0 liters (549 in3)
Diesel tank                         500 liters (132 US gal)
Transmission                    DS controlled, hydrostatic/mechanical with full capacity control. 3 gear steps. Manual differential locks.
Brakes                               2-circuit electrically/hydraulically operated negative wet disc brakes. Automatic work brake. Spring-assisted parking and emergency brake.
Wheels                              
6 WD, front                        750/45 x 30.5
6 WD, rear                         700/70 x 34
8 WD                                  750/45 x 30.5, 780/55 x 28.5
Chassis                             
Type                                   Articulated frame
Steering angle                    +/- 43o
Max steering torque           106 kNm (78 180 lb ft)
Horizontal angle                 +/- 24 o
Hydraulic system
Pump capacity, loader        298 liters (79 US gal) / 1 700 rpm
Working pressure, loader  3.0 – 25.0 MPa (425 – 3 625 psi)
Pump capacity, head          357 liters (94 US gal) / 1 700 rpm
Working pressure, head     3.0 – 30.0 MPa (425 – 4 350 psi)
Type                                   Load-sensing system with double pumps, entirely separated from the transmission.
Degree of filtration            10 micron
Tank volume                       217 liters (57 US gal)
Electrical system
Type                                   24-volt electrical system with CAN-bus technology.
Battery                               2 x 145 Ah
Alternator                           150 A
Machine control system    Rottne D5
Bucking system                  Rottne Forester
Display                                15"
Working lights                    22 pcs
CAB
Type                                   Spacious, vibration-proof safety cab. ISO certified.
Noise level                          63 dBA
Swivels                               +/- 90 o
Tiltable                               15 o, 14 o, +/- 11 o (front, back, side)
Climate system                   ACC
Crane
Type                                   Parallel jib arm crane, RK 250, with tiltable swing base and 2,2-meter (7,2 feet) telescope.
Tiltangle forward               21 o
Tiltangle backward            20 o
Lifting torque                     325 kNm (239 700 lb ft)
Angle of rotation                250 o
Reach                                 11 meters (36 ft)
Torque                                62,4 kNm (46 020 lb ft)
Harvester head
Brand/Model                      LogMax 7000C
Feed rate                             5,3 m/s (17,4 ft/sec)
Wheel opening                   713 mm (28,5")
Pruning diameter                40-50 mm (1,6-22,4")
Cutting diameter                650/690/750 mm (26"/27,5"/30")
Weight                                1 627 kg (3 587 lbs)
Film
Here is a film about the H21D in action.
Rottne H21d 2020 Stage V - Log Max 7000c