Now we have the timber on the ground, felled either by chainsaw or by your processor. Time to get it out to the roadside before the snow comes. What do we need for that? Well, there is a lot to choose from …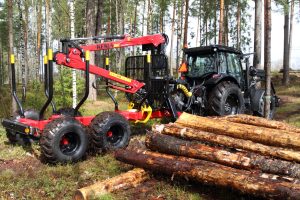 Tree farmer equipment
Tractor
Farmers normally have at least one tractor. In that case, all you have to do is to adapt it for forest use. You will probably need some extra covers and protection as the forest environment is more challenging than the fields. In many cases, there are forestry adaption kits available for the major tractor brands. There are also companies specializing in this kind of adaption, like the one we wrote about in a previous article that you can read here. Your tractor dealer will for sure have an idea about how to adapt your tractor and where to get that service in your neighborhood.
If you decide that you need a new tractor there are many brands, models and sizes to choose from. Here below we have linked some of them. (Click on the name to get to the manufacturer's homepage)
Valtra,  Kubota,   John Deere,  Fendt,  Deutz-Fahr,  Zetor,  New Holland,  Massey Ferguson,  Kioti,  Case IH and  Branson.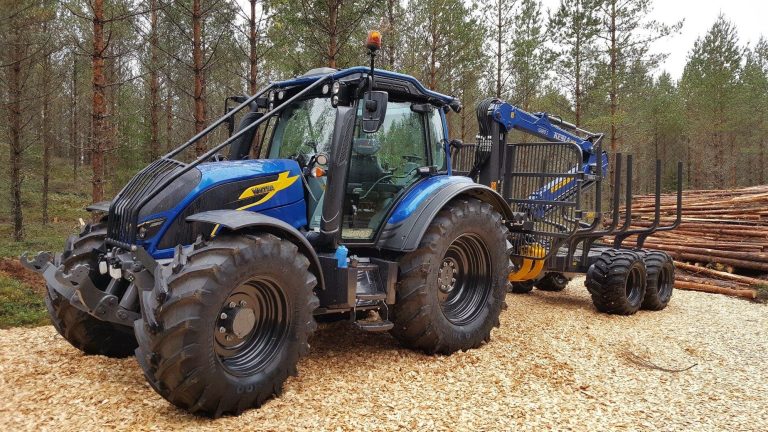 Log trailers and grapple loaders
If you already have a tractor, (maybe you bought one for your processor?) or an ATV, you will have quite a variety of log trailers and grapple loaders to choose from on the market. As for the felling equipment, it´s all about what type of logging you are working with and what budget you have for it. Of course, the frequency of use of the equipment is another important factor. If you intend to use it some days per year you might consider a cheaper option.
The trick is to find the right combination of tractor and log trailer, which is possible if you start from scratch by buying both. Make sure that the tractor is big enough for the trailer that you choose. It´s important that you can cope with the terrain in an efficient and safe way with a loaded trailer. Safe – both for you, the equipment and the trees that are left standing.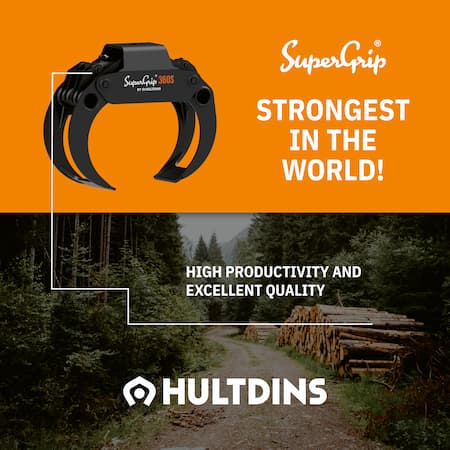 A variety of options
In another previous article, we listed 42 log trailers with grapple loaders that are available on the international market. The smallest are suited for quads or mini tractors, the biggest are close to professional forwarders. You will find this article and the list here.
Secondhand forwarder
Just as for the processors, a used professional forwarder could be an option. If you don´t already have a tractor, a secondhand forwarder can be a cheaper alternative than a new tractor and a new log trailer. But again, just like with the processors, there are things that you should think about:
These are old machines that have been used full-time for many years, meaning that they can be more or less worn out. Tires, bogies, bearings, hoses, pumps, electronics, computers and engines are expensive parts to buy.
Professional forwarders, just like harvesters, are sometimes complicated machines with lots of electronics and hydraulics that doesn´t feel well by being parked for a long time. A machine that has been standing for years might need a lot of persuasions to get back to its normal capacity.
Professional forest machines often have customized parts for their brand and models which makes some parts very expensive.
Many older machines run out of spare parts. The market for professional forest machines is small and the manufacturers have limited possibilities to keep spare parts in stock for more than 10 years. There are scrap dealers that offer used spare parts for some years after the manufacturers gave it in, but eventually, there are no parts to get. Be sure to find that out before you buy any machine.
Traction aid and wheel tracks should be properly checked before a deal is closed. A set of tracks and chains to an old machine could cost the same as the whole machine.
A benefit of an old forwarder is that you can use it for other purposes. With a crane, grapple and a loading area, you can do a lot.
Here below is a photo of the classic Rottne Blondin, "the Blond", which basically is an adapted Ford tractor. The older models had as good as no electronics or other complicated parts which means they were simple and reliable. If you are lucky enough to get your hands on one of these, you will have a good machine for bringing out your wood. However, those machines are getting old. The last one was produced in 1988 so there are not many left out there and if you find one it could be quite worn out.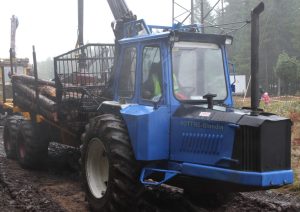 Next article
I promised you at least three articles on the tree farming equipment theme. This was #3 so it could have been the last. But – something that we don´t use much up here in northern Europe (Sweden, Norway and Finland) is skidder. It´s actually the only type of forestry machine I haven´t operated myself. So, be patient and continue keeping a lookout here at NordicWoodJournal.com.