2021 was a record year for Swedish sawmill production according to a press release from Swedish Wood. Even the high expectations of 18,8 million cubic meters were exceeded and eventually landed at a little over 19 million cubic meters. Now, the market is stabilizing, but the demand for wood and wood products is still high.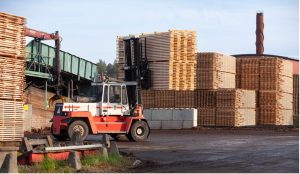 Production record for Swedish sawmills
The Swedish sawmills has worked hard to meet the high demands for lumber that we have seen both in Sweden and globally. Now, the pressure on the wood market has decreased and we see a more balanced situation.
2021 – a swinging year for the wood business
2021 goes down in history as the year of many turns and broken records. 2022 will be interesting to follow. The spring is expected to offer a continued high demand for wood products. But also in the longer term the market looks good, not least in connection with the introduction of the climate declarations for new buildings.
"Even when looking forward we believe in an increased demand, as for an example wood building will continue taking market shares." says Mathias Fridholm, director at Swedish Wood and continues. "From the 1st of January this year it´s law on climate declaration for new buildings, which should mean that the interest in wood building will increase even more. To use wood is an important step in the climate change process," he concludes.
Read the press release here (in Swedish).