This week is the first week of the moose hunt in South Sweden. For an editor who wants to visit sturdy machines in the forest, that is not a good week as "everybody" is out hunting. Also, going into the forest when bullets are flying around doesn´t seem like a good idea. So, if nothing else, I can write about something that happened to me last year at this time.
Moose hunt has begun
Last year when the hunters were in the woods, and I was entertaining myself by switching the tires of my car into winter tires in the village, my fiancée called me from the house 50 meters away. She said: "There are three moose behind the stable!"
I was working in front of the stable and took a sneak peek around the corner. There they were, mother, father and child – cow, bull and calf.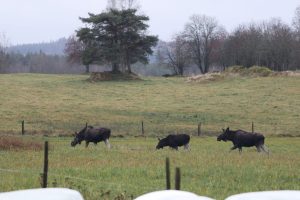 My camera is never far away so I took some pictures of the three. They were eating in peace and didn´t seem to give a damn about that the hunters were out in the forest looking for them. "We are here, so why worry", they seemed to think.
My fiancée's cows that also were behind the stable, seemed to wonder who these figures were. "What are they doing on our field, eating our food?!"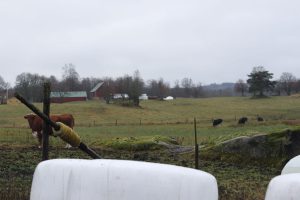 A runaway attempt
Suddenly the calf (I couldn´t tell if it was a girl or a boy) decided to take off and started running. The parents ran after it and started jumping and pushing it to turn around, which eventually happened.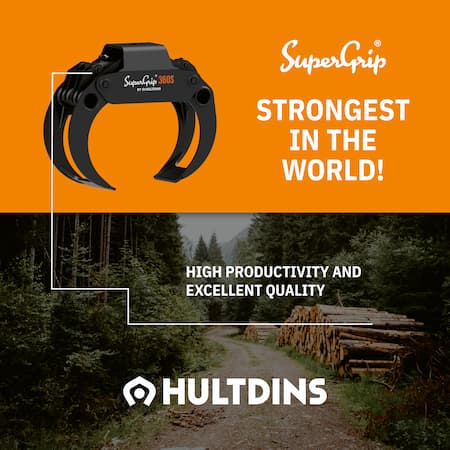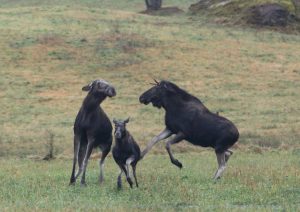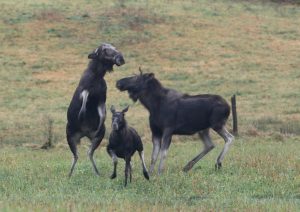 Bringing up children may not be so easy also when you are a moose. I still wonder where the calf wanted to go. To play with the cows…? Anyway, the family went back to eating.
I felt that already had got my pictures, so I started to advance towards the three to get an even better angle. Eventually, they noticed me, "Bloody hell, a paparazzi!!" and they decided to leave.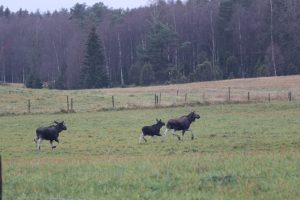 It was hunting season
For your information, the bull was shot a few days later. I hope the rest of the family don´t blame me for making them run off to the forest again.
It was amazing to see this so closely and to see relaxed moose. Normally when you see them, they are under a lot of stress to get away meaning that you just see them running. This time I watched them for over 15 minutes in peace. I haven´t seen that since I was a harvester operator at night, and two moose spent over an hour within the working lights of the machine. I guess they found it practical to get light while eating … That time, I did not have the camera with me – unfortunately.