The sister site Skogsforum.se sometimes get chainsaws sent to them with the message "please test those and write about them for the Swedish market". Recently this was done by the Echo importer for the Nordic countries, a company called Ariens. As I was working in a nice young spruce thinning at the time, the decision was made to test the Echo's there and to compare them with my Husqvarna 550 XP Mrk II and a Stihl MS 201 C-M.
This is my version of an article signed Torbjörn Johnsen at Skogsforum, who also took the photos and filmed. More articles from the testing will follow.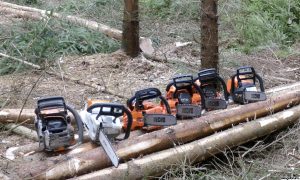 Test of Echo chainsaws
Echo, or the agent Ariens, enters a tough market. First of all, we have the local brand Husqvarna/Husky and then the German Stihl who are also very active on this market since decades. Both Husky and Stihl are very strong in all chainsaw segments, including battery saws. To challenge those giants shows guts. To make life even more complicated for Echo, we decided to compare the four Echo saws with my Husky 550 XP Mrk II and a Stihl MS 201 C-M.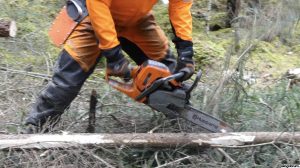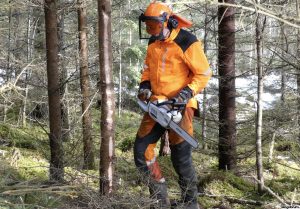 Six different Echo saws
We had access to six Echo saws of which we tried out four this time; DCS1600 (battery saw), CS362 WES (35,8 cm3), CS390 ESX (38,4 cm3) and CS501 SX (50,2cm3). We will make a short article and film about each of these models later. In this article we will present a summary of our impressions.
Echo CS621 SX (59,8cm3) we haven´t tested yet. The Echo CS7310 SX (73,5 cm3) have been tested by another colleague and an article about that will turn up shortly.
The World's first clearing saw?
Echo chain saws are manufactured by the Yamabiko Group in Japan. Echo is one of the brands, another brand is Shindaiwa. The company has manufactured 2-stroke engines since 1955. In 1963, their first chainsaw was launched, four years after Husqvarnas first chainsaw. Worth mentioning is that the first clearing saw, RM 1, was launched already in 1960. Maybe the first clearing saw ever?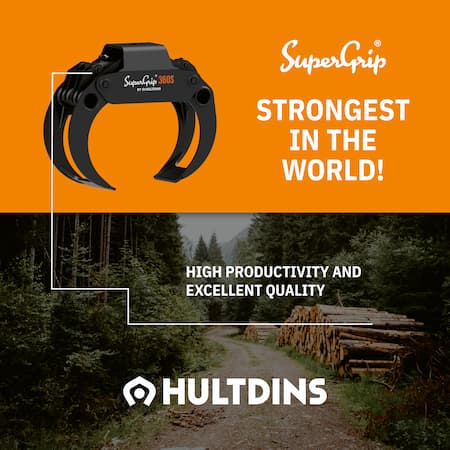 Today the Yamabiko Group has three divisions: Outdoor, where the chainsaws are, Agriculture, where you will find equipment for weed and pest control, and Industry that make generators, industrial welding equipment and similar. So, we are not dealing with a rookie within machinery.
The impression of the Echo saws is good. We are used to that Japanese products offer a good quality when it comes to cars, motorbikes and boat engines. Even if our test was quite short (two days) we have no reason to believe otherwise for the Echo chainsaws. They should definitely not be compared to cheap copies from China.
No electronic carburetor setting
The Echo saws are simple, robust and logical even if the technology not always is the latest. One example of that is that most models have a simple toggle switch for the ignition. Functional, but out of date, and very easy to touch by mistake. None of the Echo saws we tested have automatic carburetor setting like Stihls M-Tronic or Husky's Autotune. According to Echo, only the semi pro saw Echo CS 420 EMS that is equipped with similar technology today.
This was somewhat frustrating as you will see in the film below. Two of the saws (the CS 390 and the CS 501) did not go on full rpm. We tried to set the carburetors with a screwdriver but didn´t manage. It turned out that a special tool was needed and that you were not supposed to do that setting yourself.
A special "D-driver"
For an old logger like me, this feels very strange. To set the saw according to your own wishes is a must. According to the importer, Ariens, the saws are set for the max torque, that is for felling and cutting, but not for delimbing. Fair enough, but the supplier has to bear in mind that chainsaw users often work in different types of forest. In our case it was a young thinning of Norwegian Spruce meaning that there was a lot of delimbing. Then you have to be able to give gas properly.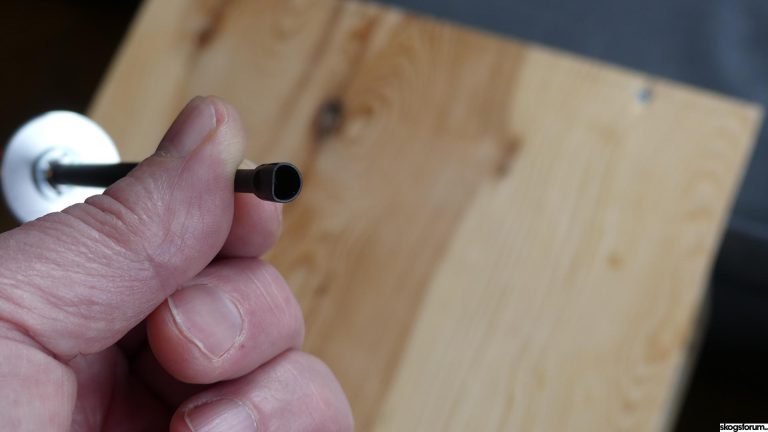 A piece of friendly advice to Echo is to use normal screws on the carburetors instead of the D-formed ones, at least for the professional models. A screwdriver for the carburetor should of course be included in the toolset for each saw.
One detail that Husky users might notice is that there is no aiming line for felling on the Echo's. For me this is no big deal as I somehow normally manage to aim without looking at the line on my Husky. If you really want a line to aim with, there is one on the Echo's that will do, on the starter.
Sharpen your chain!
The first thing I noticed when working with one of the Echo saws was that the chain was unsharp. It was brand new, as the rest of the saw, which in most cases (not all) means that the chain is unsharp, or at least not sharp enough. I still worked one tank with the saw, which was stupid. You should never work with an unsharp chain!!
It doesn´t matter how many horse powers, cubic centimeters or cubic inches you´ve got – If the chain isn´t sharp you still have to work unnecessary hard. Even a heavy saw will be easier to work with if the chain is sharper. As mentioned above most chains are not sharp enough when they are new. So, to save your back – make sure to have a good file around and use it.
So, we did sharpen the chains on all the test saws and suddenly it was much nicer working with the Echo saws.
Chain sprocket covers, nuts and chain tensioning
The four Echo saws that we tested all had plastic chain sprocket covers. On the larger ones, that we didn´t test, the CS 621 SX and the CS 7310 SX, the covers are made of metal. Echo uses different nut sizes for the chain covers which may not be a big deal if you only use one saw model and have the right tool. But if you use different saws for different tasks, e.g., a small saw for small trees and a big one for big trees, it can be a bit annoying. The oddest one is the CS 362 that uses 10-millimeter nuts. The CS 621 and the CS 7310 have 19-mm nuts and the rest have 13-mm (1/2") nuts. The nuts on the CS 362 and the CS 390 are not secured in any way when loosening them which means they could easily get lost. Make sure to have spares around. On most chainsaws today, including the rest of our test saws, the chain cover nuts are stuck to the cover and won´t go anywhere.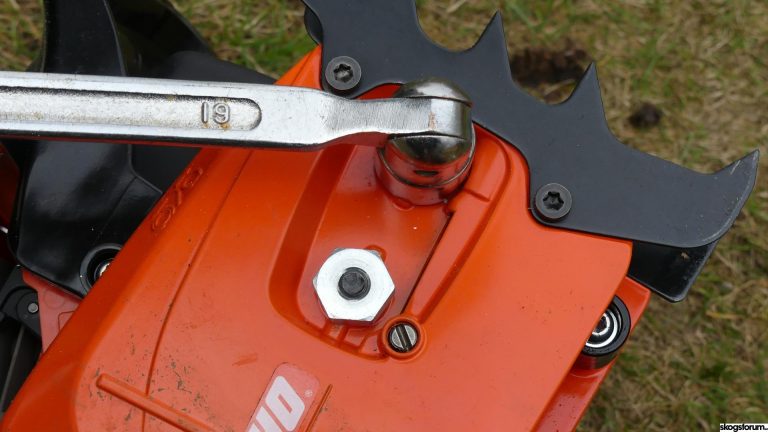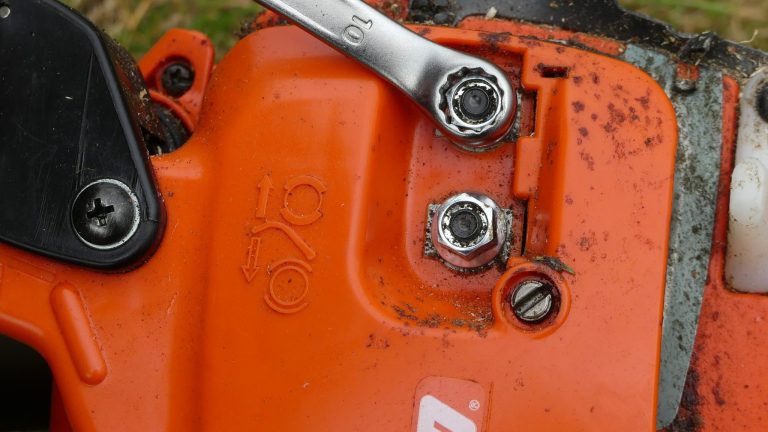 Weight, power and vibrations
When comparing the technical specifications of the Echo's and the corresponding Husky and Stihl professional saws, there are some differences to Husky's and Stihl's advantage. Their professional saws have a better weight-/effect ratio, meaning more horsepower per kilo. The difference is not very big but clear.
There is also a difference when it comes to vibrations in the handles according to the technical specifications. Here, Echo is slightly higher (more vibrations) than Husky and much higher than Stihl. The Echo saws have more vibrations in the handles which is negative if you are to work full time with the saw. However, we didn´t notice the difference on the 40- and 50-cc saws, but on the smaller CS 362 WES the vibrations were clear.
In total the differences are small and maybe they are compensated with a lower price compared to Stihl and Husky?
Handles and layout
Echo's design when it comes to handles and the body of the saw reminds a lot of the Husqvarna saws. If you like the ergonomics in the Husky saws you will most likely like the Echo's. The handles are good to hold, especially the back handle of the CS 390 and CS 501 feels comfortable. The balance in the Echo's is good, both with full and empty tanks. The smooth design makes it easy to delimb efficiently. The low weight is of course also a plus. Air filter and spark plug are easy to reach without any other tools than your hands. I Almost forgot: They all started easily directly from the boxes.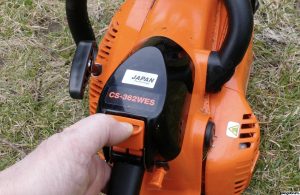 I would say that with the right carburetor settings, the CS 390 and CS 501 are very nice saws to work with. The smaller CS 362 has a bit too much vibration if you are to work fulltime.
The battery saw DCS 1600
As for the battery saw, the DCS 1600, it was my first experience using electrics instead of petrol. My impressions are mainly positive. The saw was extremely quick on the throttle (or whatever you call it on a battery saw). It was light, silent and had no exhaust which gives a very good working environment. At the beginning I had some difficulties with the throttle trigger lockout that is placed on the side, instead of at the top of the rear handle which is most common. I did, however, figure it out and then it was no problem.
The battery lasted 35 minutes which is a bit short if you are used to a gas saw. If you are to work a full day you will need quite a bunch of batteries.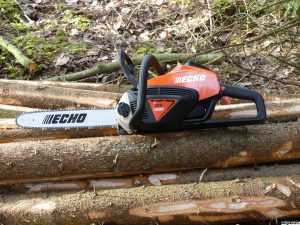 Summary
It may seem that we are unfairly critical in our assessments about the Echo saws, but I don´t think we are. We have pointed out the differences that we notice compared to two of the most popular and well-developed chainsaws on the market – Stihl MS201 C-M and Husqvarna 550 XP Mrk II.
It´s up to each and every one to judge if the details we point out are important enough for you. It´s also about what you are going to use the saw for. Fulltime job? Firewood cutting? Some exercise on the weekends? There are so many factors to take into account.
More articles and film
We will write more about each of the Echo models we tested. Keep a lookout here at NordicWoodJournal.com.
Here is a film from our two days in the forest:
Fyra Echosågar testas i gallringsskogen
and some more photos.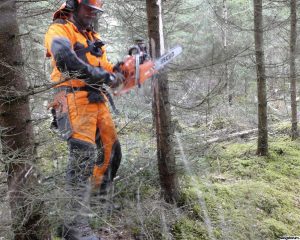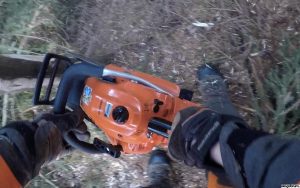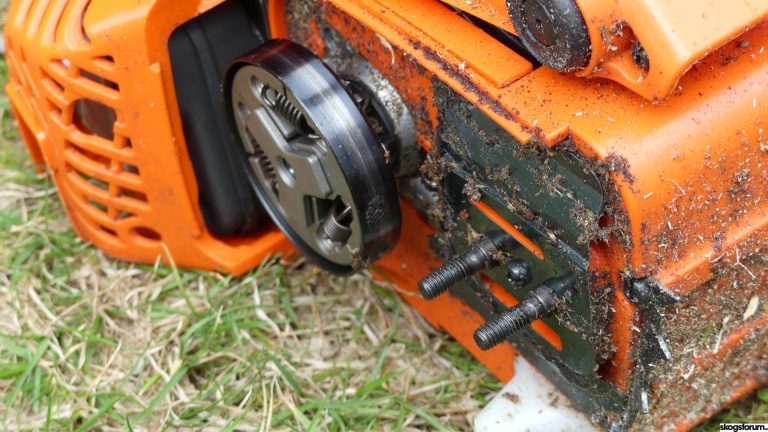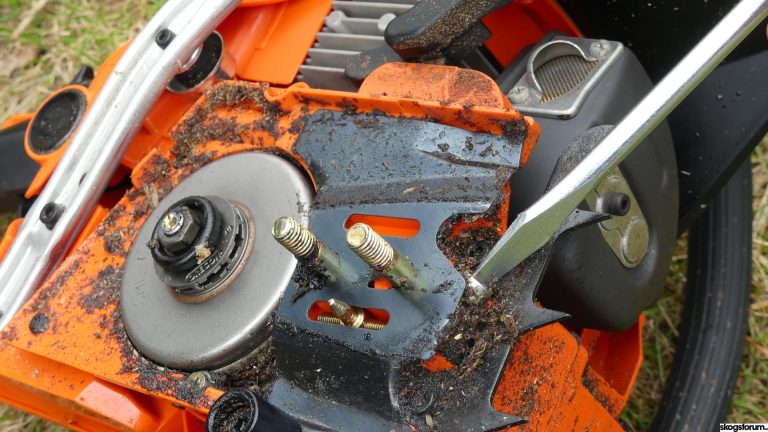 Film and photos: Torbjörn Johnsen