The Swedish company Hultdins has a unique position as a supplier of several components to forest machinery. In their factory in Malå in North Sweden, grapples for forwarders and saw units for harvesters are produced. Hultdins are probably most famous for their grapples, but it's the saw unit SuperCut that has conquered the forestry World. Every other tree that's harvested in the World is felled by Hultdins SuperCut.
This is a translation of an article at Skogsforum.se signed Torbjörn Johnsen.

Hultdins
Apart from saw units, the company manufactures grapples for forwarders and other types of log- and material-handling machines. Also, grapple saws and different types of hydraulic dampers are made here. In recent years, dampers are not only used on large forest machines but also on log loaders for larger log trailers. One such example is the loader Mowi P81DT.
A growing company
From having been a well-known grapple manufacturer, Hultdins has developed into a company where the saw units account for a significant part of the turnover. Approximately 3000 saw units are produced annually and apart from those some 1000 grapple saws where parts of the same technology are used.
The turnover in 2022 was 300 million SEK (Swedish Krona), (approx. 27,5 million USD) which is twice as much as in 2014.

The saw unit – an anonymous but crucial component
The saw unit is rarely shown in brochures, home pages, or in marketing materials for harvester heads, etc. But it is a crucial detail that simply must work, cut after cut, day after day, weeks, months, and years. It's just there and nobody notices it until it breaks down.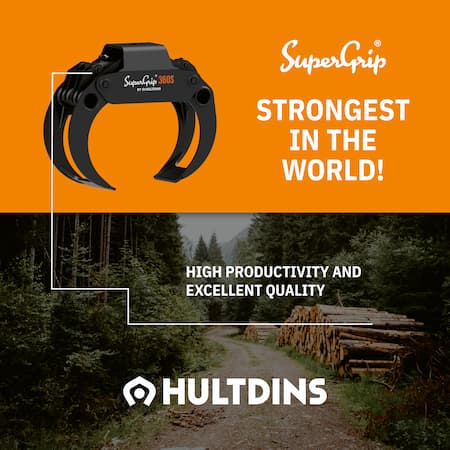 And here is the key to Hultdins' success. They have developed a saw unit with high capacity and a long life cycle, so long that it "sells itself". According to the marketing manager Tobias Bodén Lundberg, the manufacturers of harvesting heads can't afford anything but the best components. This means that Hultdins are busy catching up with the demand for saw units.
Making their own ball bearings
The saw unit controls the felling of the trees and the cutting into lengths or just the felling if it is a felling head. The saw unit contains a hydraulic motor that powers the cutting unit which in its turn is a saw bar with a saw chain. In the saw unit, a hydraulic cylinder is included that via a rack ejects the saw bar. It's a quick maneuver that is triggered by the operator or the computer of the machine. Apart from this, a chain tensioner and lubrication system are also included in the saw unit. Log marking and stump treatment are other functions that are offered as options with the unit.
The design of the saw unit is compact to fit into a harvester- or felling head. A lot of effort has been put into designing reliable bearings for all the moving parts of the unit. As the quality of available ball bearings on the market wasn't good enough, Hultdins started making those themselves.

Everything is made in Malå
Almost all manufacturing of saw units and grapples is done at Hultdins' factory in Malå. Steel blanks are turned, milled, and machined by advanced machines into components that are surface treated and assembled in the following steps. Some contract manufacturing of castings and welding is purchased for the grapples. But as for the saw units, it's all made by Hultdins.

The company's philosophy is strictly quality-driven. Despite that manufactured components are used in extremely demanding environments, complaints are rare. According to Tobias, the troubleshooting that is done is only about updating details and functions that are already as good as perfect.
In return, the Hultdins products are the first choice among most forestry machine and harvester head manufacturers meaning not much effort is put into marketing. Tobias explains that all employees at the company have a good attitude and are aware of all steps in production and understand the consequences if something goes wrong.

Dampers and loading areas
At the factory in Malå, also dampers for hydraulic systems are manufactured. It is an accumulator that evens out hydraulic chocks and damps the movement in, e.g., a fast-moving crane that suddenly stops. The technique could also be used in cabin dampers and for loading areas on forwarders. The latter is something where Hultdins was somewhat of a pioneer with their ALS damping system. A system that doesn't exist anymore, other than for spare part supply for older systems that are still running.

New grapple for large forwarders
The single most famous of the Hultdins products is the grapple "SuperGrip", grapples that are seen in different colors and forest machines all over the World. Not only on CTL (Cut-To-Length) machines but on all kinds of log-, and material-handling equipment, e.g., at sawmills and recycling plants.
Hultdins claims their standard grapples are to be compared to the competitors' heavy-duty grapples. SuperGrip is available in two versions: SuperGrip and SuperGrip II. Furthermore, STD (Standard), S (Extra Strong), R (Slash Grapple), and A (Asymmetrical Grapple) are available as optional grapple versions.

Launching the SuperGrip 500S at the Swedish Forestry Expo
Just in time for the Swedish Forestry Expo, a new grapple for the largest forwarders was launched. Hultdins SuperGrip 500S is the name and it's comparable to the larger 520S but 40 kilograms lighter. Hultdins see an increasing demand with the larger forwarder segment – machines that demand sturdier grapples.
Growing market for grapple saws
The combination of a grapple and saw unit is a grapple saw. Hultdins make several models of grapple saws, made for both loading/unloading and cutting. The grapple saw partly has the same components as the SuperCut. A common use of the grapple saws is in full-tree handling where the stems are cut into lengths at the landing. Another use is for arborist jobs instead of a tree shear, cutting branches of big trees in cities or power lines, etc. Lately, also firewood processors have become a growing market for the Hultdins saw units.
Strong market and high demand
Hultdins has contact with several brands and machine manufacturers, especially in the forestry business, but also within other material handling businesses. As a supplier to brand owners, you early receive signals about the market. Surprisingly enough, there seem to be no clouds in the sky so far.
The faith in the future is strong despite all doomsday news about inflation, raising interest rates, recession, and financial crisis. The order books are full, and the biggest challenge is to get enough personnel to increase production.
Facts and figures about Hultdins System AB
The company was founded by Mr. Valdemar Hultdin in 1928.
Hultdins System AB is owned by the investment company Lifco AB which also owns two other forestry-related companies: Indexator and Haglöf Sweden AB.
Hultdins has approx. 80 employees and all manufacturing takes place in the factory in Malå, North Sweden.
Today, Hultdins products are exported to machine manufacturers and end customers in more than 35 countries.