Production of the Kranman 620S, which is the big brother to Kranman 520S, has been ramped up to serial production by Kranman. NordicWoodJournal.com stopped by Kranman for an overview and test drive. Read all about our visit below.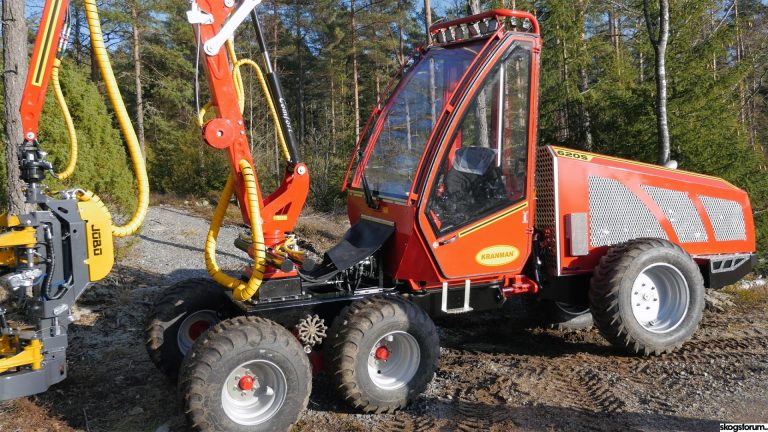 Kranman – a family business
You can't help being impressed by Kranman as a company and by the founder Åke Johansson and his sons Björn and Magnus, who run the company. They possess an almost untouchable level of dedication and an entrepreneurial spirit. There's a constant focus on developing cost-effective and optimized forest machines for self-employed forest owners. The base for all operations is located on their farm on the Swedish west coast, where assembly and welding of their products take place. But things are starting to get crowded and therefore they are building a brand-new space just a few Scandinavian miles from the current factory.
A growing brand
Kranman is a well-known brand in Sweden and the other Nordic countries. Interestingly, Kranman also has many customers abroad. Björn says that they have sold relatively many products to North America, even though their presence "over there" is pretty much non-existent. They export by mail and customers have often found their products on YouTube.
15 years ago, there were almost exclusively ATV wagons. Just over 10 years ago, the first Bison forwarder from Kranman came out. Almost 5 years ago they released the P25 processor, and now there is the 620S, a full-fledged, small harvester with a diesel engine, adapted for privatized forestry.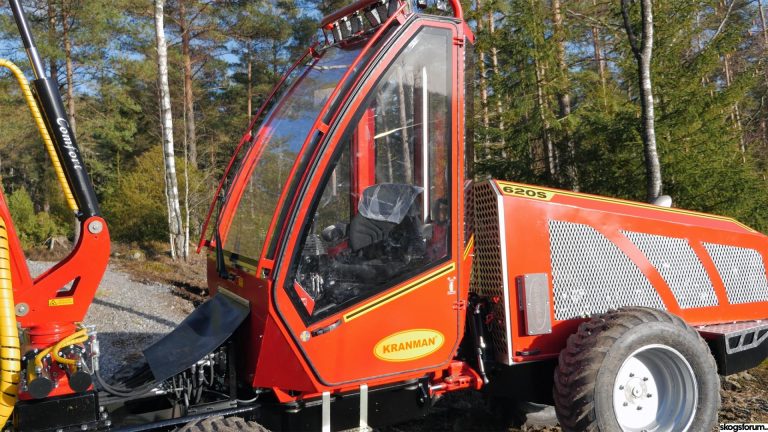 Why the name 620S?
Just over a year ago, Kranman released their first version of the harvester, back then known as the 520S. Now, a year later, there are four models of the harvester. The 520S is still around and is the base model as well as the cheapest option in the series. It sports a gasoline engine and gear pumps, and not a lot of "fluff".
The 620S was developed by Kranman after they realized that there was a strong need for customers to be able to choose more add-on equipment, and a demand for a diesel engine. It's now available in three versions (Base, Comfort and Pro). All have a four-cylinder Kubota diesel of 19 kW. Through the diesel engine, the 620S also has a constant-pressure pump as working pump where the 520S has a "regular" gear pump. The advantage of the constant-pressure pump is that it only sends oil if the machine needs it. The pressure is constant at 190 bar, but no flushing occurs. The new pump is also larger – 23cc – which yields the same effect at a lower rpm.
Low diesel consumption with the 620S
Because the diesel engine is of 19 kW you sidestep the requirements for a particle filter, AdBlue and CommonRail. It's important to Kranman to keep things simple.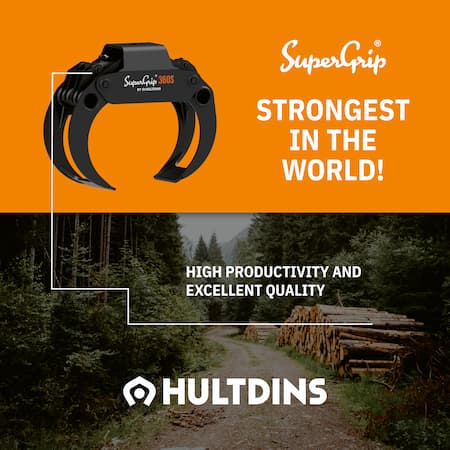 The result of a relatively small diesel engine with good torque and the new constant-pressure pump is that fuel consumption falls drastically, close to half that of the 520S, which has a gasoline engine. Seen over a year, there will be a significant difference.
An example could be that a forest owner clocks 150 hours a year. The 520S then has a gasoline cost of just under SEK 13.000. The 620S, on the other hand, with its diesel engine has a cost of just under SEK 8.500. Per hour, that means that the 520S has a fuel cost of SEK 85 while the 620S lands at SEK 56.
Kranman 620S Comfort, a favorite
So far, the Kranman 620S Comfort seems to be a bestseller. At the time of writing, Kranman has sold 22 harvesters. The majority of these are of the Comfort model.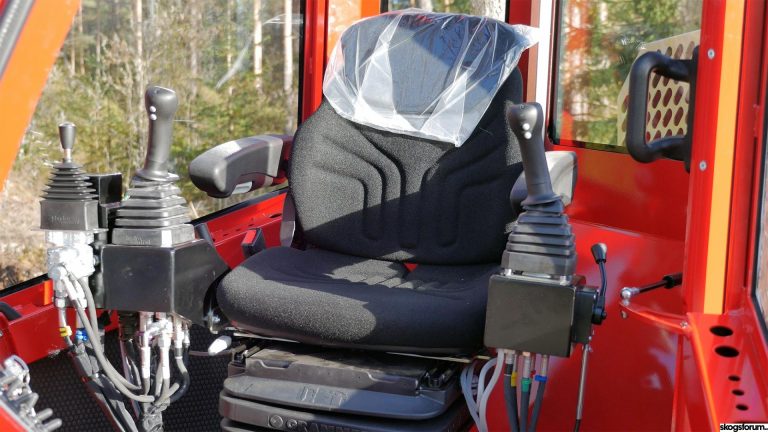 If you break it down, then it might not be that strange. With the Comfort model, you get a Jobo harvester head that can measure more precise lengths as well as diameters. This allows you to easily program a price list to work by. In addition, you get a better cabin with more light, a winch and a swing damper for the head.
How is the Kranman harvester to drive?
NordicWoodJournal.com tested the Comfort model, and because we also tested the original version – the 520S – we can confirm that a lot has happened in a year. In addition to a more enjoyable operating experience with the diesel engine (for example thanks to lower rpm), the crane has become stronger and the waist steering control has received a servo valve. In combination with the hydrostatic drive and a strong, "genuine" harvester crane, this makes it feel like driving a larger harvester.
Of course, if you have worked professionally with a harvester, you might miss a roll-fed harvester head, but for the target group of forest owners it's perfectly fine. As mentioned, the crane is very strong and there is a lot of metal in the base. Combined with fluid-filled wheels and the waist lock, this is a very stable little machine indeed.
The waist steering of the 620S including a waist lock, which is activated automatically when releasing the gas pedal.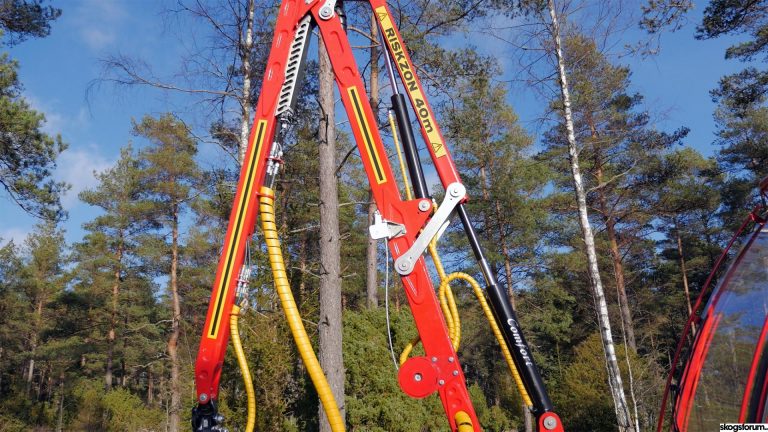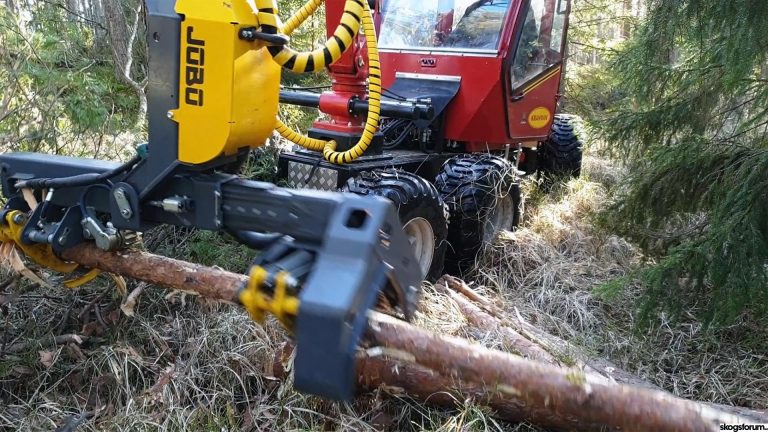 30 cm cutting diameter
Although it can technically cut trees up to 30 cm in diameter, we notice when testing the harvester unit, a Jobo ST50 Bambi, that it is limiting. The unit has an increasing tendency to slip and rise on the trunk. This is not surprising as these trees are starting to approach half a cubic meter in volume (~ 0.35 m3fub). Impressive, however, that the base machine and crane in themselves have no problems handling these tree sizes.
You can definitely get a lot of thinning work is done with this harvester. Of course, you can't compare it to a "big" thinning harvester, but you shouldn't do that anyway. Maximum production in optimal thinning may be around 60 harvested trees per hour. This results in a theoretical maximum production of ~5.5 m3fub per hour in normal first thinning. Thus, also theoretically, one could perform about 1 hectare of thinning per day with the harvester under optimal conditions. With that said, this should not be your expectations. We are talking maximum theoretical production here, to visualize what is theoretically possible.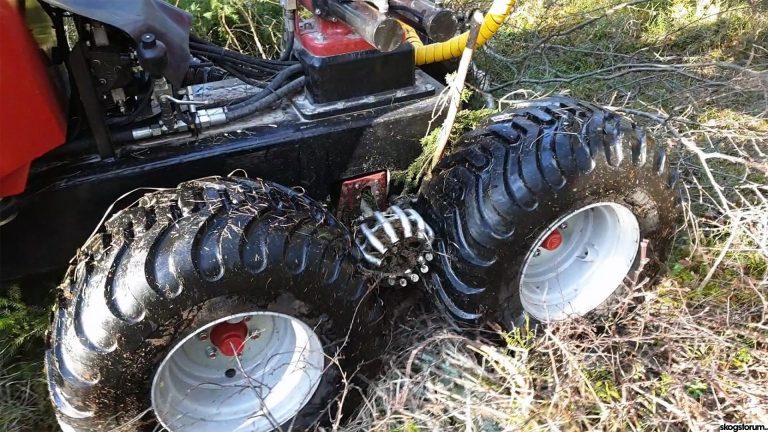 Good stability
Kranman has put a lot of effort into getting a stable base machine. The 620S weighs about 4 tonnes and therefore cannot be transported on car trailers. But there are dolly trolleys to buy onto which you back the harvester up and then release the gear on the harvester's front bogie. The 620S Comfort and Pro also have a gearbox that allows you to drive on the road at a maximum speed of 10 km/h.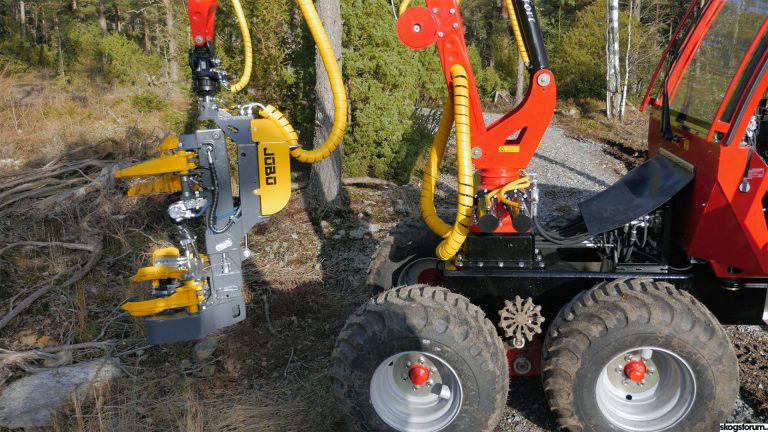 Our test driver has four years of experience of hauling stock in a thinning harvester, and there are things that you can easily point out when testing a new harvester. What's especially fun, however, is that Kranman has answers to most questions. The crane geometry is great and it's easy to see that they invested a lot of time in getting it as near perfect as possible. If you drive a lot in steeper terrain, crane tilting is something few talk about, but which is invaluable. If that's the case, choose Pro.
Cab developed for the operator
The cab is designed from the driver's perspective and there are no problems having full control of both treetops and wheels. Even when I asked about the design of the frame and that it now goes beyond the placement of the hood, they had an answer to that too: "Well, we had to change that a little bit because we noticed that the sheet is otherwise easily buckled."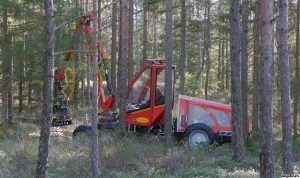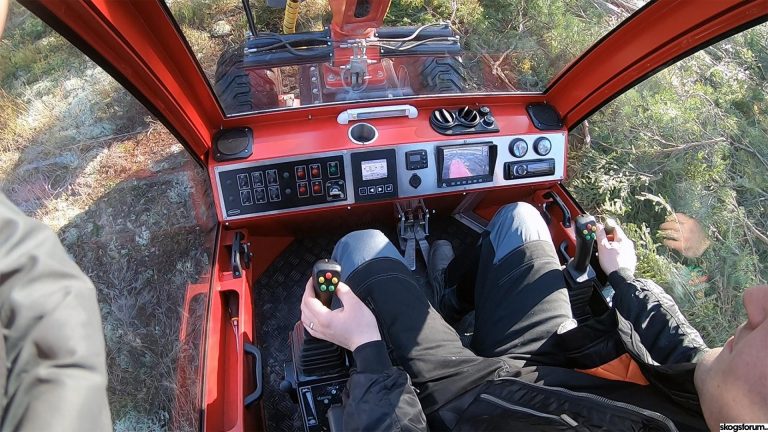 Time for a change?
If you are considering taking the leap from chainsaw to a harvester, the 620S is in a good position to become a good friend in the forest. Learning how to operate it doesn't take that long, and despite computer components, there are very few technical aspects and "other challenges". The learning curve is low. If there's anything you should focus on, it's to prepare good roads for the forwarder (the harvester usually does this, but unfortunately you can easily make it difficult for the forwarder if you have not planned ahead) and that you may need to get a gym card to keep yourself in good shape.