We've visited the very first Komatsu 901XC in Sweden, the 8WD 901 from Komatsu. It has made its way to Ludvigssons Skogsentreprenad AB, in a town called Simlångsdalen on the west coast. The company works almost exclusively with thinning projects, with Derome AB as their employer. Join us to find out what they think of the new harvester, and make sure to check out the video further down.
Hot, Hotter, 8WD
8WD harvesters with two bogies have come in strong recently. Pretty much all manufacturers of CTL harvesters have such a machine in their catalogue – and they're very popular!
The first 901XC has now left the production line at Komatsu in Umeå in northern Sweden, and now they've started to roll out at an ever-increasing pace. Highly believable rumors claim that Komatsu have received orders for no less than 70 of the 901XC's to be made. That's a very respectable number if it's true, especially considering that this is a CTL harvester that hasn't been showcased or demoed to any greater extent – it practically hasn't existed until now. This would mean that many of the 70 buyers have ordered the harvester without even having tested it!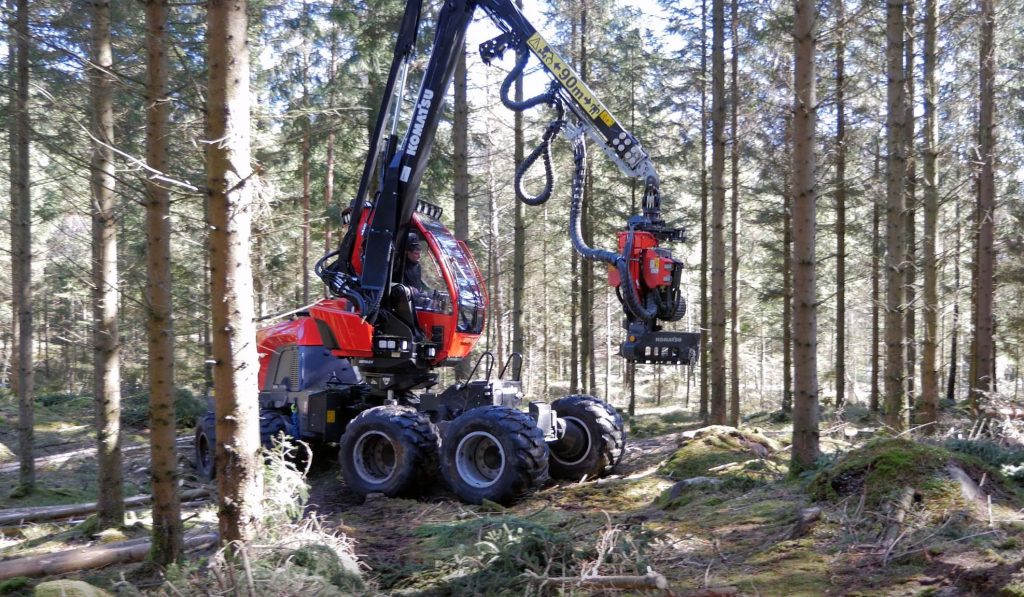 For this reason, it's very exciting to climb into the driver's cabin for a chat with Krister Larsson at Ludvigssons Skogsentreprenad to hear what his thoughts are so far.
Shout-out Gremo!
But before I get to this I can't help but adding Gremo into the mix. The tiny forest machine builder in Halland in southwest Sweden has since, like, forever, stuck to their claim that 8WD harvesters are the way to go. I was looking through old forestry magazines and found this ad from 2004.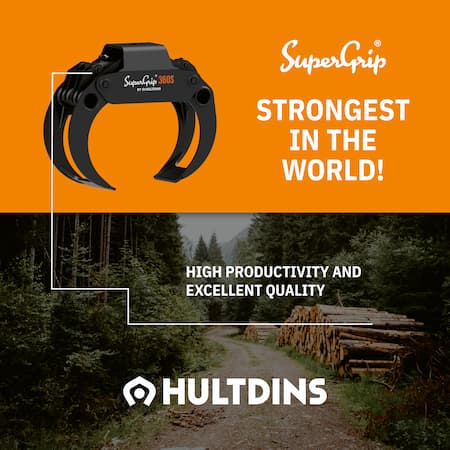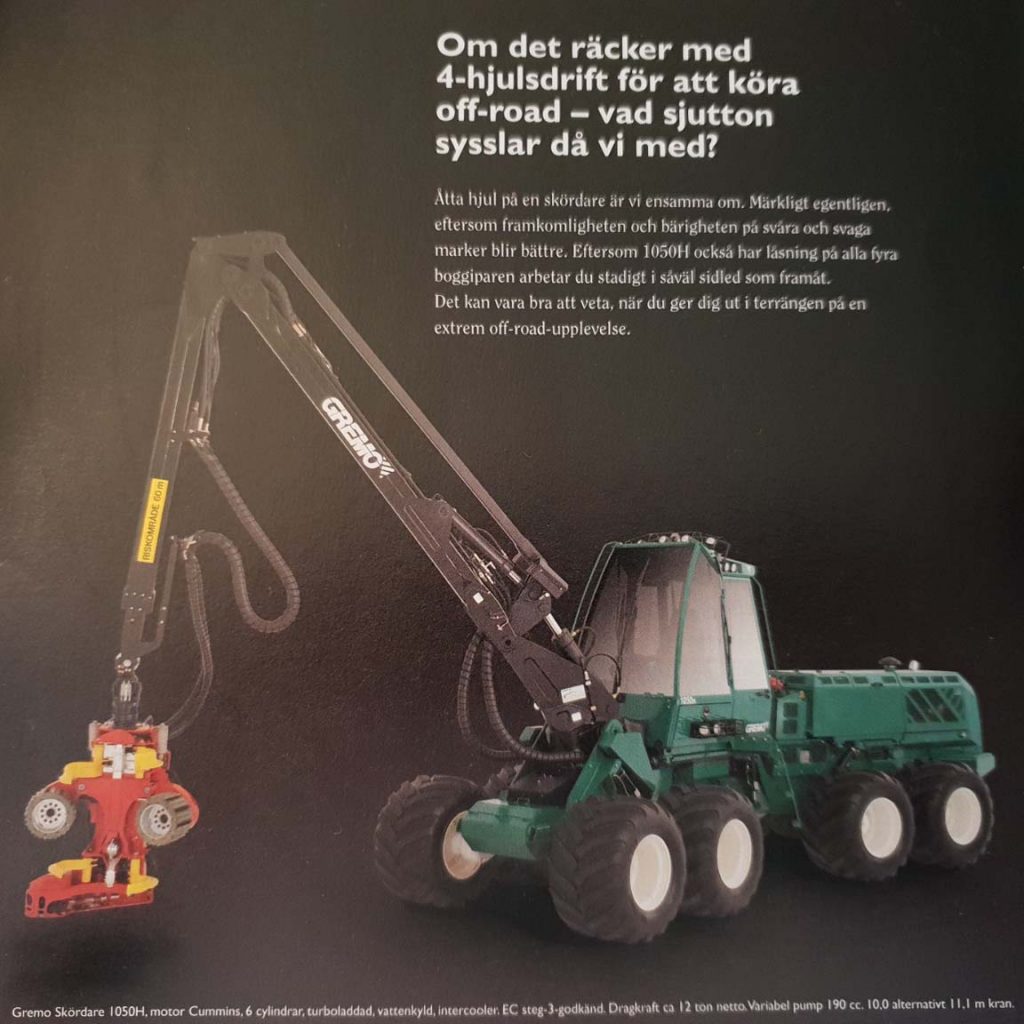 Gremo were not the first with this, but all respect to them for having focused on 8WD harvesters when everyone else has been making harvesters with 4 or 6 wheels.
Stability, accessibility and imprint
These, plus driver comfort, are the main reasons to choose an 8WD harvester.
With eight wheels on the ground the harvester becomes highly stable. From a perspective of strip road operated thinning, this is extremely important! So important in fact that it can't be stated too many times. Why? Well, because if you want to maintain a distance between the strip roads greater than 20 meters, and not have to do too much manual work in between, being able to work safely and effectively at full reach of the crane is crucial. In this case, that's 11 meters. This is something you can't play around with as the result of doing so is that the driver will hesitate to work at full length, as it increases the risk of the harvester raising onto two, three or four wheels (read: tilt risk) – a stress factor. The risk then is that the distance between the strip roads will decrease despite the thinning outtake remaining the same, resulting in an uneven thinning operation.
In this regard, Komatsu has nailed it with the 901XC. As I ride with Krister, who on this day doesn't use any chains, tracks or liquids in the wheels, it hits me just how stable the 901XC is. During normal circumstances he is able to work effortlessly at 11 meters and even move the harvester forward or backwards with the crane at full reach.
I must add that the regular 901 with S82 is not bad either, however I believe tracks and chains are advisable to achieve the same effect. A stiff mid-section and alternating rear axle with stabilization in combination with four bogies probably contribute to this (see example in the video).
Accessibility is also improved with four bogies. The harvester turns into a centipede in the terrain, and with eight wheels you'll almost always find good grip. 901XC also has an improved pulling power. It becomes simple mathematics that more wheels and increased strength also increases accessibility.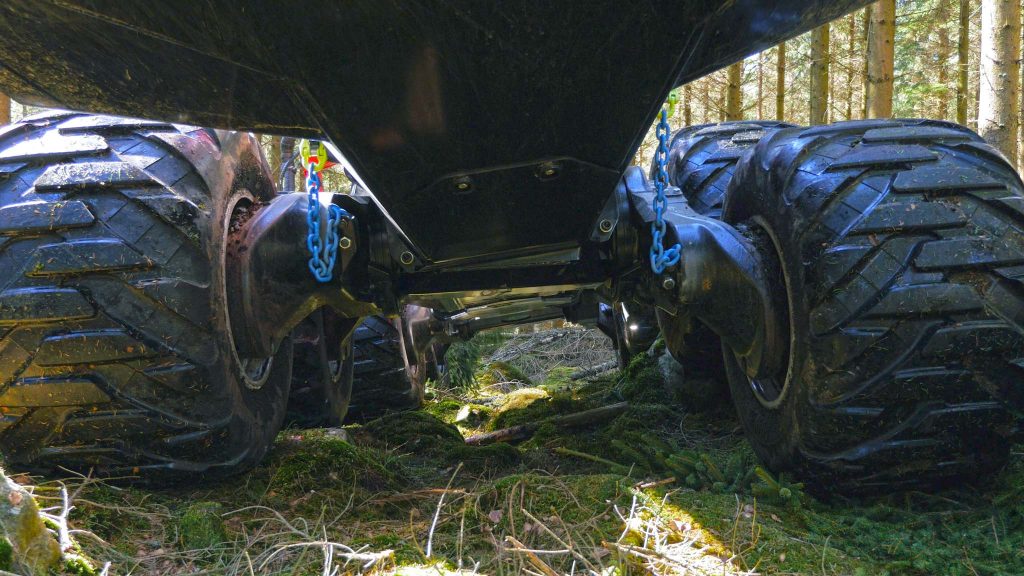 The imprint on the ground is also reduced with eight wheels (using the same simple mathematic formula). A downside, however, is that with eight wheels and four bogies the weight increases significantly. But according to the manufacturer, this does not have a significant impact thanks to the lower ground pressure that is generated through eight wheels, especially when using tracks.
901XC is no 901
When looking through the table below you'll soon realize that the 901XC differs significantly from the standard 6WD 901. 901XC has the (bigger) crane and hydraulics of the 901, but the engine and chassis of the 911. Essentially, a 901 and 911 hybrid.
The reason is probably that Komatsu, like most other manufacturers, are flirting with customers in central Europe (who have shown an interest in 8WD) and the Nordic customers who today have outsourcer who desire operational units that can handle both thinning projects as well as smaller final felling operations. It's not without reason that you can get the 901XC with a C124 harvesting head with one of the double extensions of the crane blocked, allowing for a crane with a 10-meter reach and bigger harvester head.
901XC will be competing with an 8WD wasps' nest consisting of the John Deere 1170G, Rottne H11d, Ponsse Fox (or the Ponsse Scorpion, which is slightly bigger), and Gremo 1050H (which has 22.5"-wheels where Ponsse has 26.5" and the rest all have 24.5")
What do the Ludvigssons say?
So, what do the operators of this very first 901XC in Sweden have to say about it? For starters, it can be stated that they have vast experience with driving harvesters professionally; 20+ years. The driver I spoke with, Krister, compares it to their previous harvester, a 911.4 with Log Max 5000 harvester head. When I visit them in the forest they've only been operating the new harvester for 60 hours. There are a lot of new aspects to learn despite the basics being the same.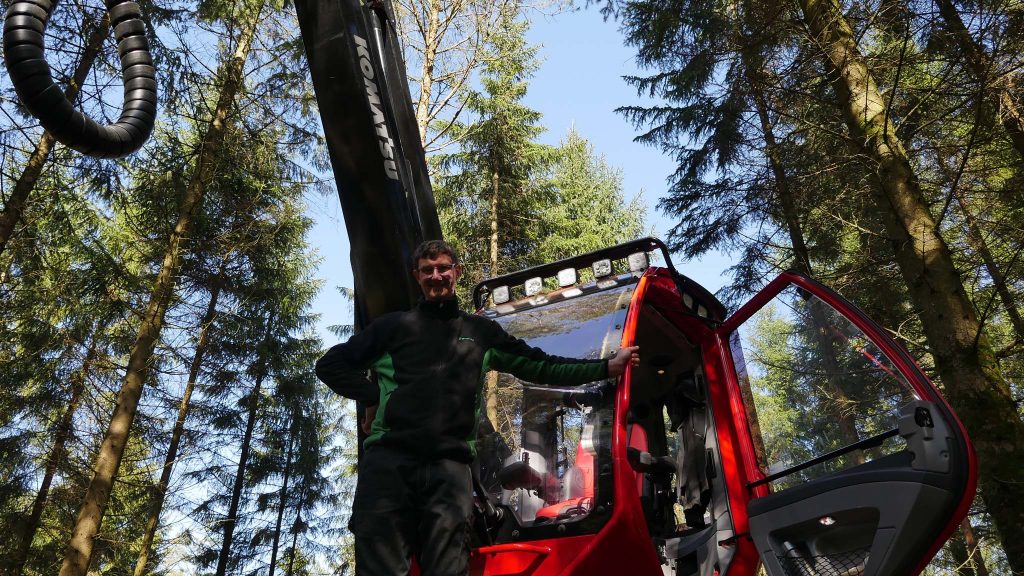 Krister is, however, very satisfied with the 901XC. Despite not being fully integrated yet the 901XC is using less fuel than the 911.4. The harvesting unit – an S82 (Lox Max 4000T) – works very well in his opinion. It's quick, neat and has Constant Cut!
When a product works very well there's always a risk that it sounds like pure advertising when writing about it. But in this case there is no way around it as Constant Cut (Lox Max True Cut) is an excellent harvesting unit. It's based on Parkers purpose-built sawing engine, the F11-iP. This is also where Komatsu and Log Max have taken full advantage of the potential of this sawing engine. Short version of a long story is the following: shorter cutting times and effective sawing with a constant saw chain speed.
Like most others that I have visited who have operated this solution, Krister is surprised at the effectivity of the sawing engine. It's even so good that it can become bad! The reason is that a sawing no longer really is a sawing. The saw chain can be so run down that it is no longer possible to re-sharpen it, yet the Constant Cut will keep on cutting!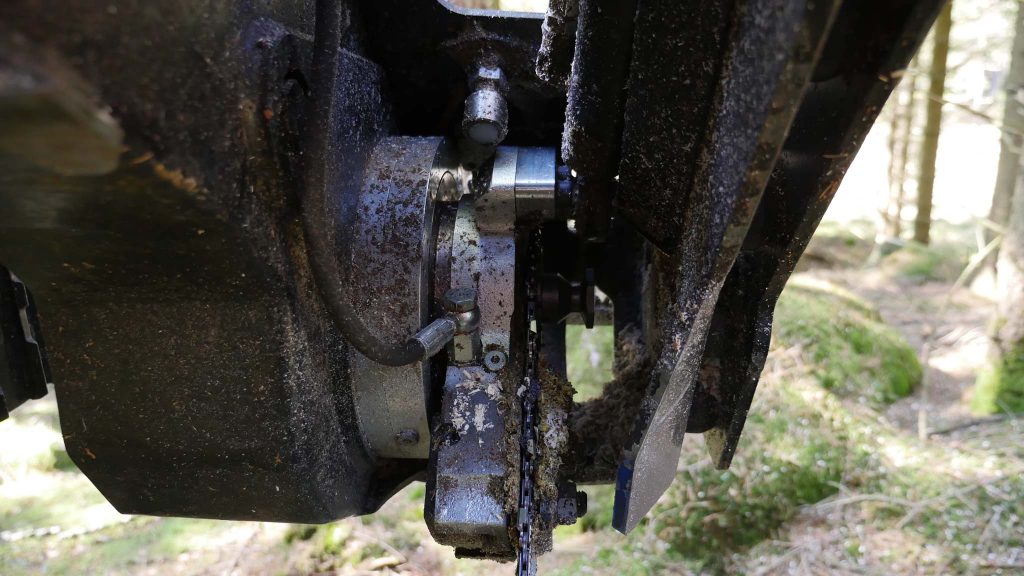 This is of course not a bad thing, more something interesting to discuss. But the fact remains – many chains that you as the driver would think can still be sharpened have to be tossed into the steel recycling bin.
Another very good feature, according to Krister, is the diameter setting to handle multiple trees. This is nothing new, of course, but is a good tip if you don't normally use it. A limit can be set to for example < 12 cm in the bucking computer. If the tree that is cut down is smaller than this, multi-tree handling will be automatically switched on. Krister says that he's experienced this multiple times, and it has served as a reminder to also bring another tree that was supposed to be taken down in the same corridor. A tree that otherwise would have been handled during the next round – a significant productivity improvement!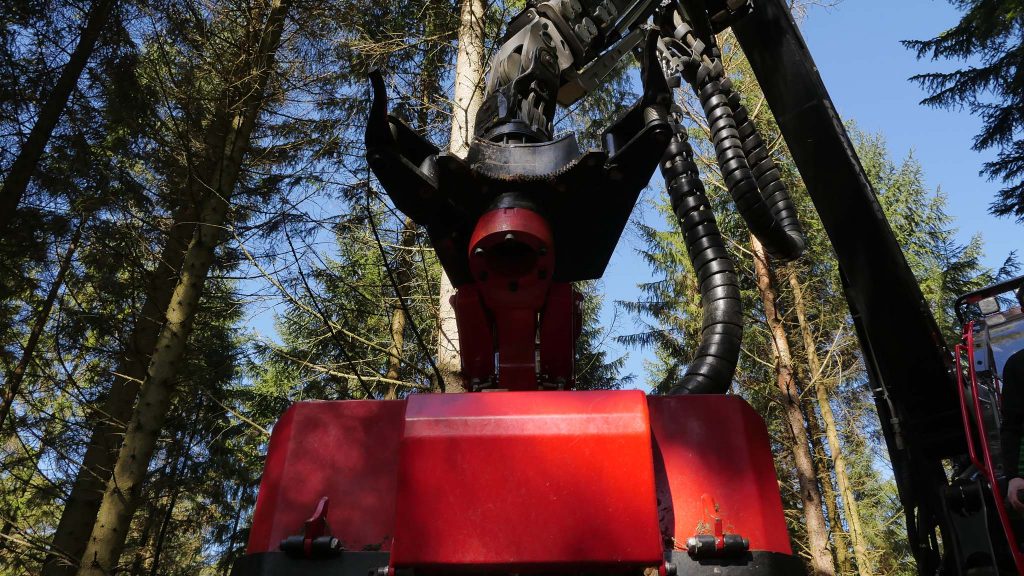 In terms of comfort, the 901XC is an improvement compared to the 911.4. The cabin is spacious with good visibility, and sound levels are low. Sometimes they even contemplate whether the engine is on at all and have to glance at the tachometer to ensure that that's the case. That's a great verdict and a massive leap towards the better. It must be noted though that this is true for most harvesters on the market – a recent significant change has taken place here.
Since Ludvigssons operate close to 100% thinning they worried a bit about the length of the new 901XC. That it wouldn't be as flexible as their previous 911.4. Their worries were proven needless, at least so far. According to themselves they overestimated how many "stick-ins" they did each year, and the driver of the forwarder can almost be positively surprised as the narrow twists and turns are now not nearly as noticeable. The 901XC is somewhat wider than the previous harvester, however Krister does not think of it as a problem. They're used to building strip roads and always perfect them prior to thinning. During my visit they were thinning fir trees in wonderful spring weather. Because of this they had chosen not to mount the tracks. It was a second thinning and there were not as much sticks or twigs, and the roots were particularly sensitive – lucky then that the machine is so stable!
And despite not having used any chains or tracks they are impressed with the accessibility – "The bogie wants to traverse the obstacles." Add to this that there are fewer bumps and strikes in the cabin, as we know a bogie will take most of that.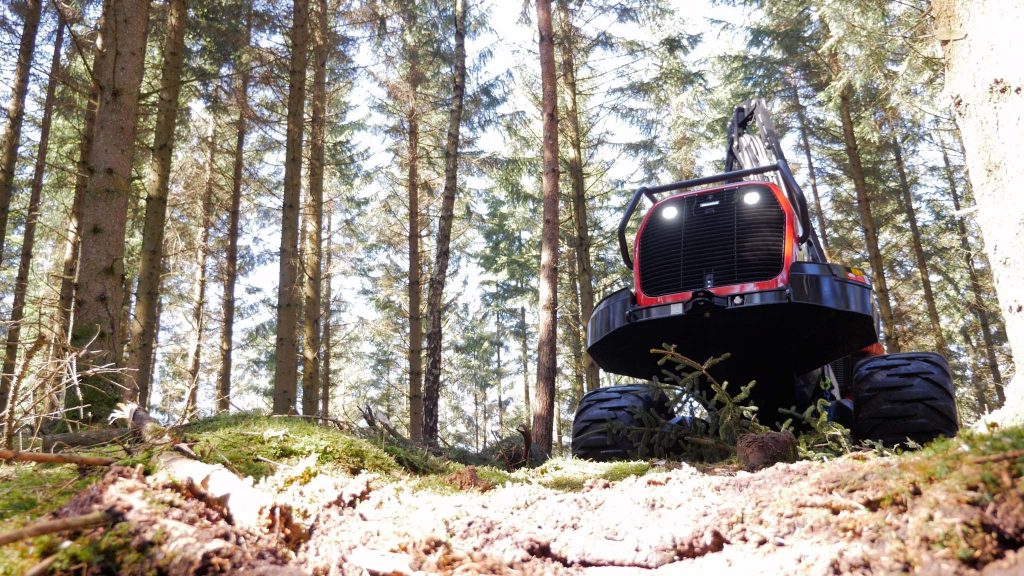 That they chose this new 8WD harvester is mainly based on the terrain they operate in. This part of Sweden is known for its nice fir areas, but also a wavy landscape with almost ravine-like terrain where massive mountains of ice once rampaged. This harvester is probably a great fit!
Video of 901XC
Here is a video from our visit.
Komatsu 901XC med S82 i gallring
Final words
The 901XC seems to be a massive hit (with 70 of them already ordered), and Komatsu is about to embark on their tour with the 901XC. This simultaneously to production gaining traction and a steady flow of 901XC's leaving the factory in northern Sweden.
It will be interesting to follow the development of the 901XC and also its competitors in the same segment. Have you tried it? Been to a showing? Do you have any opinions? Feel free to leave a comment!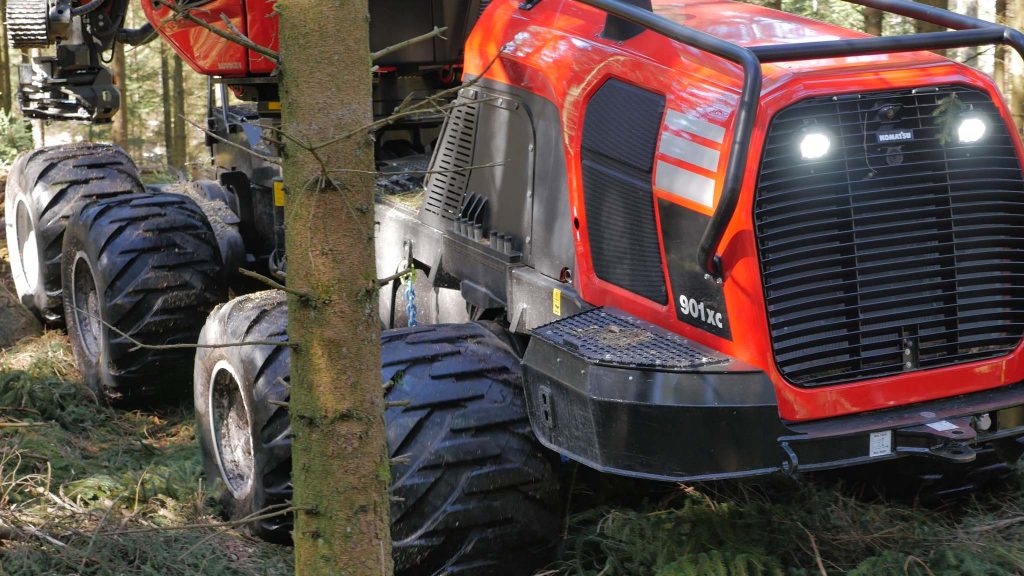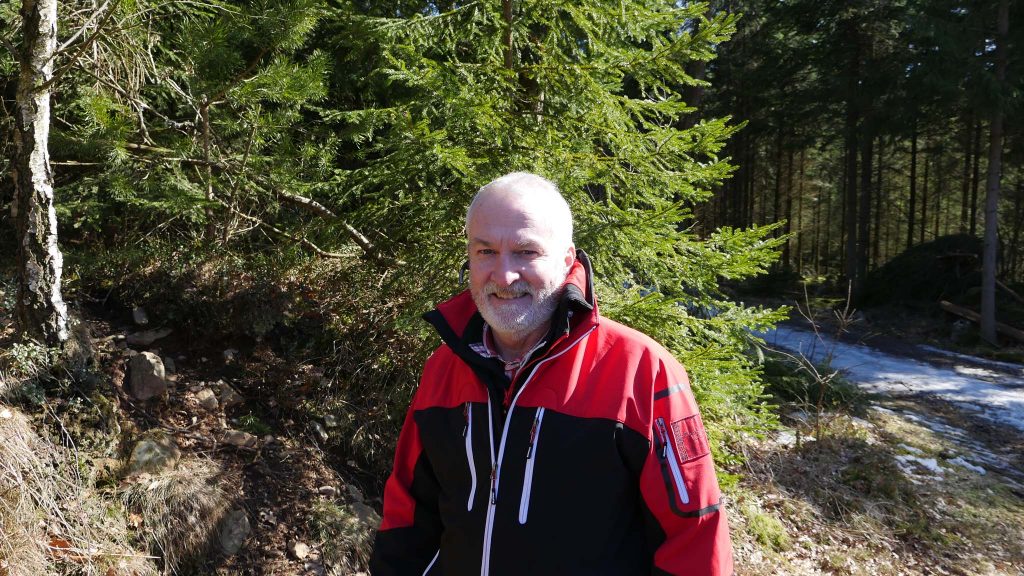 I'd like to end this by thanking Ludvigssons Skogsentreprenad and Torbjörn Sjunneson at Komatsu Forest for allowing me to visit. It's always interesting to talk with operators in the forest. One thing I learned this time was that intermediate manual felling with a chain saw during thinning projects with strip road harvesters is not entirely dead. Ludvigsssons are actually doing this; "You can't leave a thinning site un-thinned." All respect!