In south Sweden there is a company, or rather a family with several companies, who are specialized in processing oversized sawlogs. On their farm, there are three sawmills of which two are used for the sturdy logs – with diameters up to 180 centimeters (71").
This is an article signed Torbjörn Johnsen at the sister site www.skogsforum.se who also made the photos and films.
Processing oversized logs
The third sawmill is used to process normal logs that come from the family's own logging operation. Yes, they do that as well in combination with wood craft and arborist activities. This is for sure a family with a great love for forestry and wood.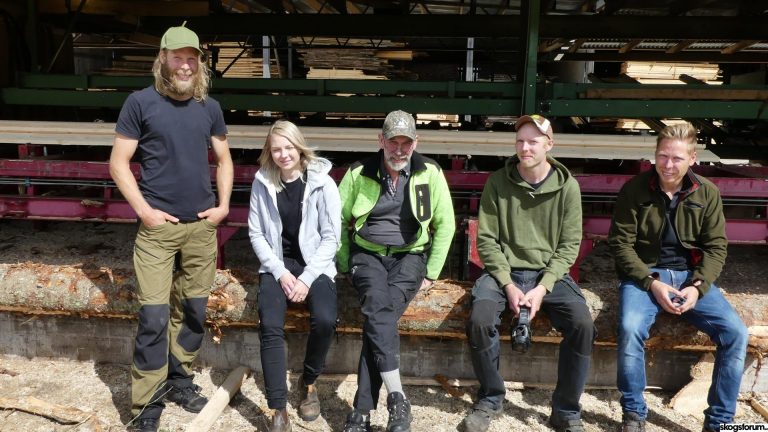 Specialized in oversized sawlogs
The backbone of the business is the company C-G Marinder Skogsförvaltning (Claes-Göran Marinder Forest Management). The father, Claes-Göran, and one of his sons, Joel, mainly work in this company which performs forest management services and buys standing timber. Much of the timber that is purchased is processed by the three family sawmills. Especially odd dimensions and wood for special purposes are of great interest.
Two of the sawmills can handle thick logs. The German band mill Serra Bavaria SL 130 can process logs up to 130 centimeters (51") diameter. This mill is prolonged to be able to handle logs up to 12,5 meters length (41 f). If the logs are too thick for the Serra mill, there is yet another option in the yard.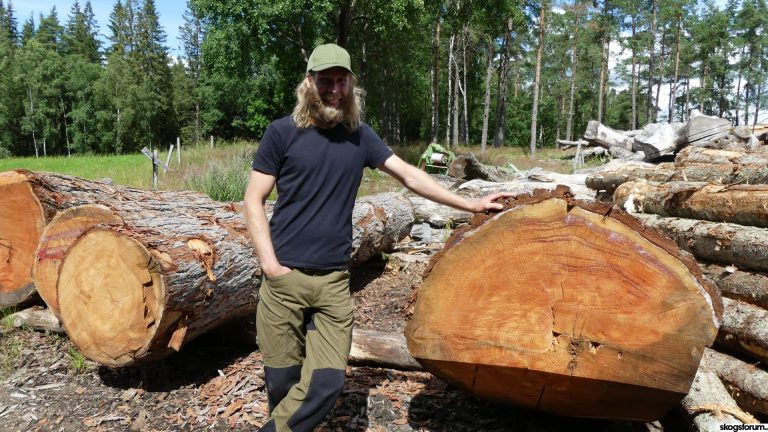 Homemade chainsaw mill that handles 180 cm logs
With a little help from the portable sawmill manufacturer KAMEK, Claes-Göran has built his own mill for the largest logs. Logs over 70 cm (27") are not wanted by the Swedish industry and quite often ends up as firewood. The Marinder family, however, see a great value in those logs. Theoretically, there is no log grown in Sweden that this homemade mill can´t process.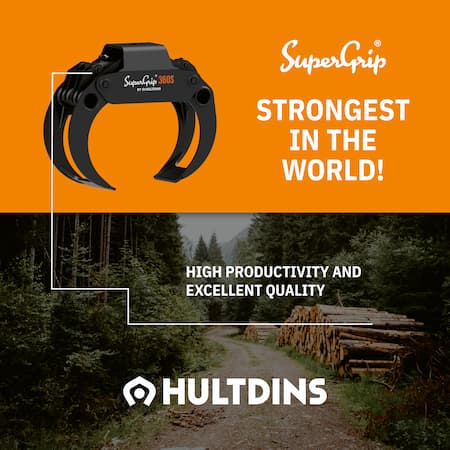 A 225 centimeter (88,5") saw bar, allows the mill to process logs at a max diameter of 180 cm (71"). The mill is powered by an electrical motor of 18 kW and has automatic feeding. The chain is lubricated from both ends of the bar.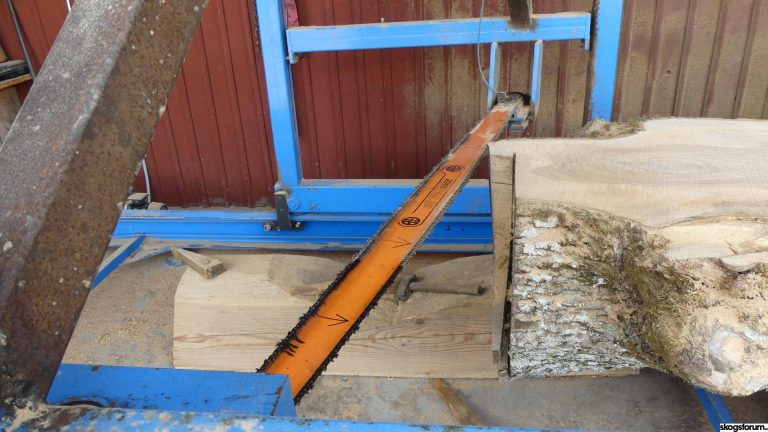 To put a log in the mill is very simple. Beams that are formed to fit the logs lies as a base. The logs that are put on the beams stays steady there by its own weight and won´t move. The saw bar can only be used horizontally. The unedged lumber is airdried for at least one year.
Some of the lumber is further processed by Marinder Wildwood, another company at the farm run by Claes-Görans daughter Moa. Thick and branchy hardwood logs are transferred into beautiful furniture and furnishings. Wide planks of oak, elm and ash becomes desirable tables.
Film processing a 165 cm log
Here is a film of the homemade sawmill processing a log that was 165 cm (65") at the widest spot. Unfortunately, the chain hit a nail or a small stone when it was halfway through and the process was interrupted. One can only hope that they didn´t have to sharpen the 88,5" chain by hand?
Hembyggd kedjesåg som klarar 180 cm sågsnitt
The speed of the process when the logs are over one meter is not fast. The saw bar drives automatically through the log in its own pace as the operator puts wedges in the saw track to avoid that the saw gets stuck in the log. This is necessary as the wide planks are heavy. Also, it makes it easier to remove the planks with a forklift.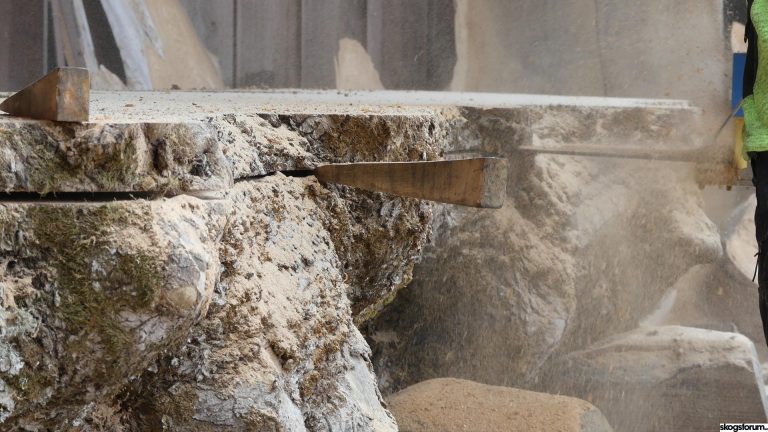 Oversized larch logs
The son Arvid Marinder runs his own arborist business. Every now and then he also contributes with sturdy logs to the mills. Recently he took down a larch tree in a city park. The root log measured 7 meters (23 f) in length, 120 centimeters (47") at the bottom and 90 centimeters (35") at the top. A normal Swedish sawmill won´t touch it, but at Marinder's it´s a perfect log for the Serra mill.
Long lengths with the Serra mill
As mentioned above, the Serra mill can process logs of 130 centimeters (51") diameter and up to 12,5 meters length (410 f). Normally, thick logs of Norwegian spruce and scots pine are processed in this mill, mainly unedged. The lumber is airdried one year and if it should be used indoors, it also is dried additionally in an indoors environment.
An obvious specialty is long lengths that is used for outdoor paneling and windshields. Also, long and thick beams are often requested.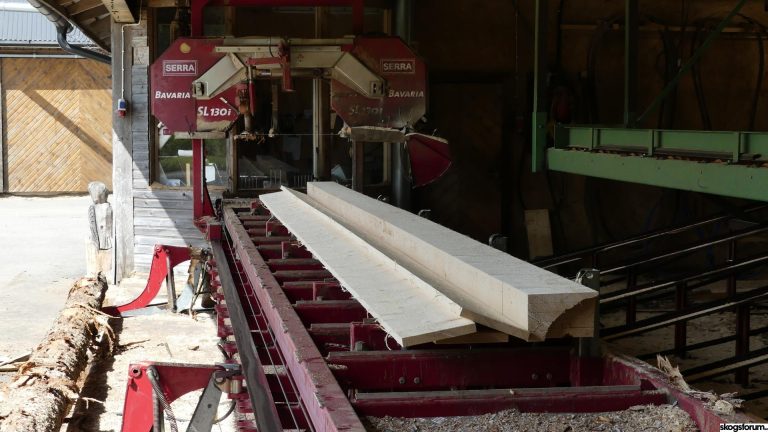 Normal sawmill for the purchased timber
Apart from the two sawmills for thick logs, the Marinder's also have a mill for (in Sweden) normal logs. This mill is modern compared to the other two mills in the family, but not as efficient as a big, industrial sawmill. As good as all standing timber that is purchased is processed in this mill.
Here is a film that shows the Serra mill, the modern mill and the lumber yard:
Serra såglinje för övergrovt timmer hos Marinder
Burned wood
In addition to all this, the Marinder's produce panel wood with a burned surface, charred wood. Yakisugi or Shou Sugi in Japanese. The interest in charred wood is increasing, so it gives a good possibility for the family to develop their business.
To visit a family like this is indeed inspiring in many ways. We haven´t mentioned the son Edward yet. He also works with burned wood, sort of. He is dealer in Sweden for Austrian ovens for firewood, pellets and chips. It´s all in the family.