Size matters – a presentation of an extraordinary logging company
The normal Swedish forestry contractor has 2 – 10 machines in the fleet, maybe two logging groups – 4 machines – in average. But for some, that is not enough. The Finnish company Metsäkonepalvelu Oy, MKP, have 115 machines in their fleet. We paid a visit to their Swedish subsidiary MKP Sverige (Sverige = Sweden).
MKP Group – an extraordinary logging company
Metsäkonepalvelu Group, from here on MKP, started off in Finland in 1970 with 9 forest machines from the start. Already then, they were the largest forest machine contractor in Finland. In 1973, the first harvester was purchased. From 1988 and onwards MKP has grown, partly by buying other companies.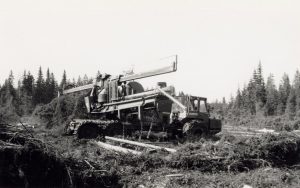 Until 2005 the company was active within several businesses: sawmills, forest estates, gas stations, heating plants, etc. Today, they are focused on forest machinery in Finland and Sweden. All together 115 machines are in the fleet which make MKP the largest forest machine company in Europe, and maybe the World.
MKP Sweden
A forest contractor of this size is something special. Therefore, I decided to visit them to find out more about MKP. Luckily for me, they have a subsidiary in Sweden not far from me.
The Swedish branch consists of 25 machines plus 5 more owned by sub-contractors. In their office located right in the middle of south Sweden, the CEO of MKP Sweden Mattias Ringström, met with me for a chat.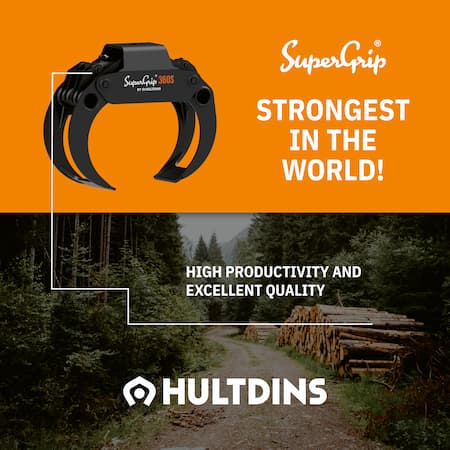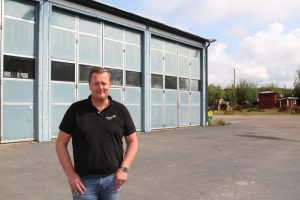 Mattias was recruited from a sawmilling company in 2019. He had no experience from the forest machine business and was able to see the company MKP and the forestry business from another, less traditional, angle. During Mattias' two years at the steering wheel, MKP Sweden has gone from loss to profit, and the turnover of the company (the Swedish branch) has increased by 50 %.
In 1985, Håkan Dunberg started the company that was to become MKP Sweden, or "MKP Sverige AB" in Swedish. He managed to build up a successful business and in 2011 MKP purchased the company. Dunberg stayed as CEO until 2019 when he left the company for other challenges and Mattias Ringström took over.
Size matters(?)
What´s the point in being so big as a company?
"With many machines of different types and sizes, you can offer a flexibility and width of services that is difficult for smaller companies", Mattias Ringström explains. "We also like to keep the machine fleet fresh and to buy a number of machines instead of one could affect the price per unit", he adds with a bad hidden smile.
The average age of the machines is 2 – 3 years. The oldest machines for the moment are from 2016 and are about to be replaced by new ones.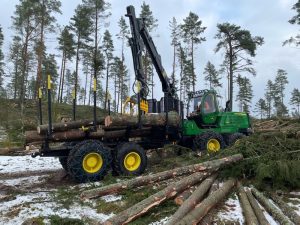 When looking at the history of leadership of MKP Group, I have noticed that there are, and have been, some people connected to Timberjack/John Deere in the company. Is there a connection between MKP and today's John Deere Forestry?
"No", says Mattias. "But of course, we are a good customer for them. About half the Swedish fleet are John Deere machines."
The other half are Ponsse, Komatsu Forest and Rottne machines. When it comes to choosing machines, the operators have a saying. After all it´s them who are to spend time in the machines for years to come so it´s important that they are involved in the buying process.
Keep the machines running
Availability of service and spare parts is also an important factor when machines are chosen. When a breakdown occurs, help must be close. MKP Sweden has an own workshop next to the office. But these facilities are only used for maintenance and service during the summer and winter holidays. The daily problems that may occur are taken care of by the operators in the forest or authorized service people from the machine suppliers. However, MKP do have two additional small workshops for saw chain grinding and storage of wearing parts for the machines, such as saw chains, lubrication, hydraulic oil, hoses, etc.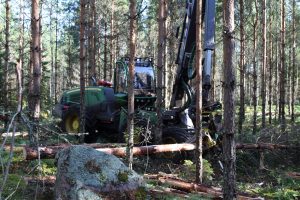 Every single machine in MKP Sweden is under contract with a forest company. 800 000 cubic meters are cut and forwarded to roadside in clear cuts and thinning annually by MKP Sweden. The customers are some of the major forest companies in Sweden and the forest owner's association (who also have both pulp- and sawmills). On rare occasions, small jobs directly for private forest owners are taken if it doesn´t disturb the normal business.
To keep the machine fleet young makes it easier to keep the company running and to avoid the need for spare machines.
Keeping the staff
A common problem in forestry is to recruit young people as machine operators and make them stay. The average age of forest machine operators in Sweden is high and many have reached the age to retire. In Sweden, foreign labor is common when it comes to manual work such as planting and pre-commercial thinning. As for operating machines, this has not yet broken through. MKP is an international company and one can assume that they have contacts in many places, not least around the Baltic Sea. Have they considered the option of using foreign staff?
"We only use local staff for our machines", Mattias explains, "we always get the people that we need locally. If nothing else, we have good contacts with the forestry schools whom we help by offering pupils to work for us as trainees during their education."
"In general, Swedish staff is well educated and/or experienced so we prefer to use those. It´s a matter of securing the quality of our work," he adds.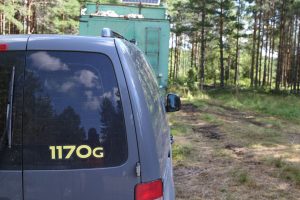 Looking forward
"The plan is to keep growing by getting new customer contracts and by buying other forest machine companies", says Mattias.
Mattias also pointed out the importance of marketing, to be visible and create an awareness of your existence among both potential customers and the public. Every opportunity to be seen in media should be taken care of according to him. This is something that all the forestry business should think about. Maybe forestry needs more people from other businesses, just like Mattias?
There is no doubt that there are many benefits by being big. The forest companies, the potential customers of MKP and other contractors, are moving towards having fewer but bigger contractors and service suppliers. It´s simply easier for them to negotiate with fewer parties. This is a development that has been going on for at least 30 years in Sweden. One-machine-contractors are unusual nowadays.
When I asked Mattias if there are any downsides at all being big, he simply said "no".
Facts and figures about MKP Group
Staff                                    180 (45 in Sweden)
Office staff                         15 (4 in Sweden)
Machines                            115 (25 in Sweden)
Felling volume                    3 million cubic meters (800 000 in Sweden)
Annual turnover EURO       33 million (7 million in Sweden)
Main owners                      The founding families