According to Stihl, the MSA 300 is the strongest battery-powered chainsaw for professional use on the market. "A new dimension opens up, especially when it comes to sawing operations in noise sensible locations," claims Stihl.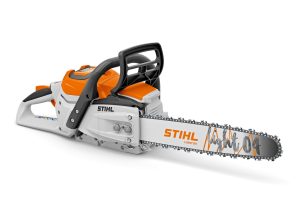 Stihl MSA 300
One thing that stands out on the new MSA 300 saw is a display that is placed at the front of the rear handle. The large LED display allows the operator to see the status of the saw, temperature, chain oil level, and chain brake status, always. The stop button is also easy to reach in every working situation.
New battery – Stihl AP 500 S
In combination with the new MSA 300 saw, Stihl also presents a new battery, AP 500 S. The technology in the new battery doesn´t only offer a good energy-weight ratio, according to Stihl, but it can also be charged twice as often as other batteries on the market, up to 2400 times.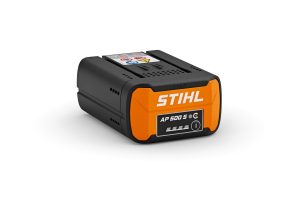 Stihl claims it´s the strongest battery-powered chainsaw currently on the market. The output is 2,5 kW. The weight is 5,4 kg with bar and chain, but without the battery which weighs 2 kg. The running time for the MSA 300 with an AP 500 S battery is approx. 44 minutes. Charging time, with the quick charger Stihl AL 500 is 40 – 55 minutes.
The Stihl MSA 300 is prepared for Stihl Smart Connector 2 A and can easily be connected to this cloud-based application. Also, the new AP 500 S battery can be integrated into the fleet management system.
Are we there yet?
There is no doubt in my mind that the battery saws are here to stay. In gardening, park management, and among arborists, they have already taken over. But in the forest …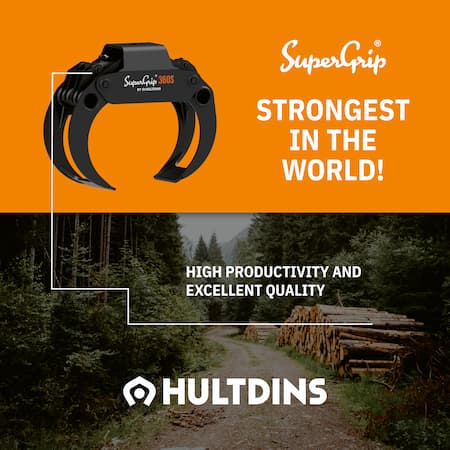 Even though the operation times of the batteries get better all the time (we are getting close to an hour) I don´t think we are there yet. For a full day in the forest, let´s say six hours running time, you must bring at least seven batteries. And those batteries are just as heavy when you go home in the afternoon as they were in the morning. To charge them overnight is probably no bigger problem if you have the charging capacity. That handling is not worse than handling the gas.
It´s up to you
Everyone must make up their mind about this. I wrote an article about gasoline vs. battery saws where I developed my thoughts on the theme. You can read that article here.