We are writing a series of articles about sturdy harvesters. We must not forget that it doesn´t matter how big volumes the harvesters produce if the wood doesn´t come out of the forest. So, which forwarders can match the biggest harvesters? Here is one …
Ponsse Elephant
Ponsse Elephant is a sturdy forwarder, but not the largest in the Ponsse range. There is another one that loads 2 tons more. It´s also an Elephant but a King as well. Ponsse has seven forwarders to offer. You will find information about them all here.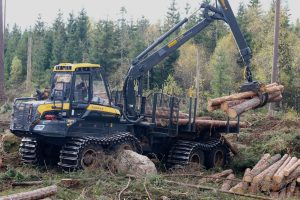 Forwarder – the forgotten machine
Well, maybe slightly exaggerated, but the fact is that a lot of the development of forest machinery has been about harvesters. When we talk about advanced technology for logging and forestry, harvesters are the ones that are mentioned. But honestly, what would a harvester be if the wood didn´t come out of the forest?
No major steps have been made in the development of forwarders in a long time. If you compare a forwarder from the 70´s with one of today, very much is the same. If you do the same comparison with harvesters, the difference is huge. It´s not the same machines at all.
In the last 10 – 20 years, the forwarders have however caught up to match the harvesters. But that has mainly been done by fine-tuning. Engines, hydraulics, electronics and computer power are what make the difference. They still have six or eight wheels (most of them). They still have a "tractor and a trailer". Crane, bunks and gates are more or less still the same.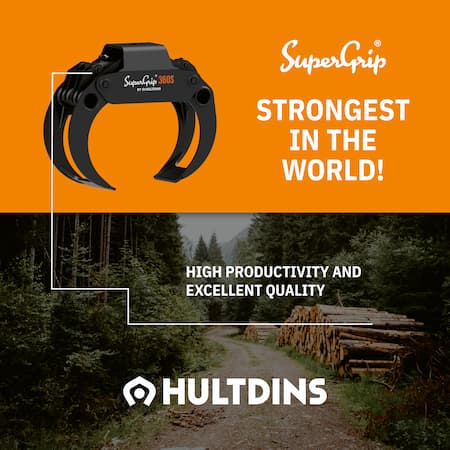 So, let´s focus on the forwarders!
Yes, let us do exactly that, and we will start with the above mentioned Ponsse Elephant. Here are some facts, photos and a film of one.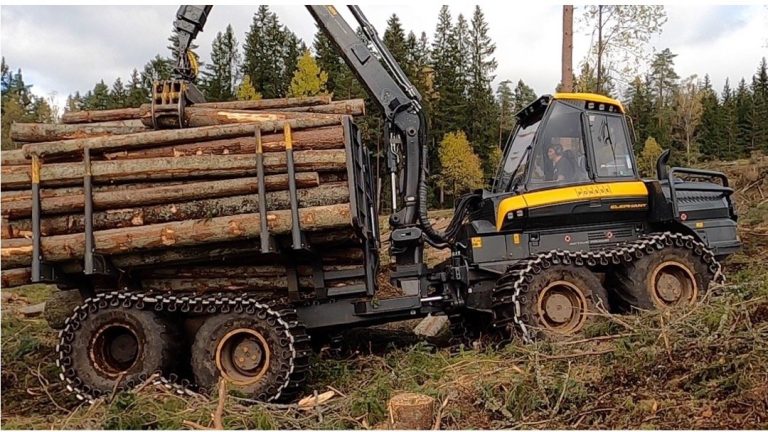 Source: Ponsse.com 
DIMENSIONS
Minimum weight              22000 kg (48 502 lb)
Typical weight                    22800 kg (50 265 lb)
Length                                10150 – 11060 mm (399,6 – 435,4 in)
Width                                 2990 – 3300 mm (117,7 – 129,9 in)
Ground clearance              800 mm (31,5 in)
Transportation height        3990 mm (157,1 in)
Steering angle                    ± 44 degrees
LOADER
K100 + K121
Slewing torque (gross)       48 kNm (35 403 lb-ft)
Lifting moment (gross)       195 kNm (143 825 lb-ft)
Crane reach                        8 m / 10 m (26,2 – 32,8 ft)
ENGINE
OTHER                                MB OM906LA EU Stage IIIA
EU                                       MB OM936LA EU Stage V
NORTH AMERICA
Name                                  MB OM936LA Tier 4 Final
Market area                       North America
Engine power                     210 kW (285,6 hp)
Engine torque                    1150 Nm (848,2 lb-ft)  (1200-1600 rpm)
Tractive force                     220 KN 49 458 lbf)
Driving speed                     0 – 20 km/h (0 – 12,4 mi/h)
Fuel tank volume               260 l (68,7 gal (US))
HYDRAULIC SYSTEM
Control system                   PONSSE OptiControl
Working pump                   190 cm3 (11,6 cu in)
Hydraulic oil tank volume  170 l (44,9 gal(US))
TYRES
Front tyres                          26,5″
Rear tyres                           26,5″
LOAD SPACE
Load carrying capacity       18000 kg (39 683 lb)
Load space cross
sectional area                     5.8 – 6.3 m2 (62,4 – 67,3 sq ft)
VLA                                     5.2 – 6.7 m2 (56 – 72,1 sq ft)
Load space length              4540 – 5450 mm (14,9 – 214,6 ft)
Glide bunk                          700 mm (27,6 in)
Log gate                              Can be moved hydraulically
Other Equipment
A broad range of optional equipment is available in addition to standard equipment. For more information about standard and optional equipment, consult your nearest PONSSE retailer.
Legal notes: The manufacturer reserves the right to make technical changes and improvements.
Film and more facts
You will find more information on the Ponsse website here.
And here is a film:
Ponsse Elephant forwarder in logging