In the history of forest machines, there are some pioneers that have meant more than some others. When it comes to mobile chippers, the name Bruks automatically comes to mind. It´s not just a company – it´s a man: Allan Bruks.
Allan Bruks – one of the pioneers in the forest
It started with a request from a contractor who wanted to chip brush and small stems from the forest. At this time, in the mid 70's, there were no chippers that could handle that kind of material. If you wanted chips for fuel or soil improvement, you had to go to the wood industry to get it. So, the target was clear; A chipper that could handle material direct from the forest, in the forest. The main market for the chips in this case, was gardening.
Number 1
The first chipper was a drum chipper mounted on a tractor trailer. It had a side tipping chip bin, that could tip directly into bigger chip containers. The Swedish forestry research institute Skogforsk, heard about the project and made a report about it. This ended, through a consultant at Jaakko Pöyry, up on the desk of someone at Aracruz in Brazil.
Aracruz was about to start using the brush from eucalyptus to chip and burn to serv their industries with heat and electricity. Allan was invited to present his project to Aracruz who bought 20 units of his chipper.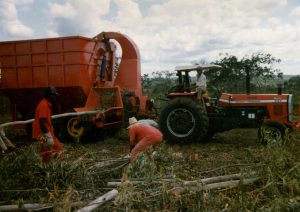 In Brazil, at this time, what Aracruz did everybody else did. This led to more business for Allan. Due to strict import rules in Brazil, manufacturing had to take place in Brazil. Some 100 of the chippers were later manufactured and sold in the country.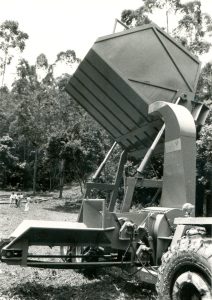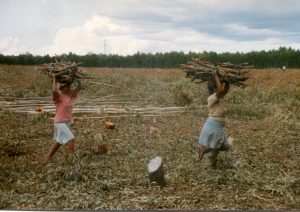 Back in Sweden
By the end of the '70s the forwarders had developed into possible base units for chippers. Combustion plants using chips were few, just three in total in Sweden, but there seemed to be a market for the combination forwarder-chipper. So, Allan decided to adapt his chipper to fit on forwarders to make them more efficient.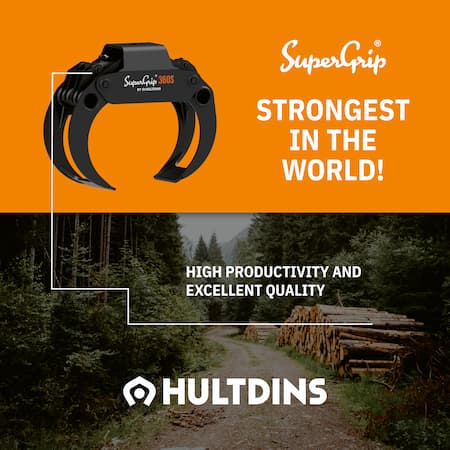 The market was small but growing. By the early 80's things started happening in the development of bioenergy use. Something the large forest industries didn´t like at all. They did not want "their" raw materials to go up in flames for energy, they wanted it for pulp production, so they tried to stop it.
Eventually, the forest industries realized that there was good business to be made in bioenergy. The first of the big ones to start a special energy company was the south Swedish forest owner's association Södra. SCA and the others followed shortly after. The industries also realized that if they wanted to control the raw material flow from the forest, they had to be involved also in bioenergy.
The ABC chipper
Allan started his business, manufacturing chippers for forest residue, together with Kresten Augsburg. The name of their company was ABC, Augsburg & Bruks Constructor.
By mid-70's Allan was asked if he could build mobile trough-debarking machines to be used in connection with timber floating, to debark pulpwood. He thought about it and in 1977 he could deliver the first trough-debarker to a timber floating landing. (The timber, especially pulpwood, had to be debarked before floating to avoid that the timber sank in the river).
The machine turned out to be very efficient. Five or six trough-debarkers were delivered. It could have been much more but as the road transports became more efficient the floating slowly disappeared. By mid-80's there was no floating being done and the market for the trough-debarker was gone.
A Brazilian forest industry man on vacation in Sweden saw the trough-debarker in action and wanted to buy one for eucalyptus debarking. This debarker was manufactured in Brazil, but only this one was made. By this time the competitors had come up with debarkers that were even more efficient.
Family business
Allan was born as Allan Eriksson and took the name of the farm where he was born, Bruks, as his family name in 1959. In the 60's his elder brother started a business making small tractor mounted chippers under the name "Bruks Mekaniska" (what today is Bruks Siwertell).
Allan and his brother were actually competing with each other. However, by the end of the 70's they made a licensing deal that gave Bruks Mekaniska the right to manufacture Allan's mobile chippers. In 1980 Allan sold his share of ABC to his partner Kersten Augsburg and moved on with his own business, partly together with his brother at Bruks Mekaniska.
Allans company, Allan Bruks AB, was founded around 1980.
Back to Brazil
During the Elmia Wood show in Sweden in 1981 or -83 Allan ended up at a dinner sitting next to the forest manager at Aracruz, Roberto Mesquita. During the dinner, the host, the Swedish export interaction group FORTEC and its chairman, expressed hopes that the Brazilian forestry was about to be mechanized and that Aracruz should be part of that development.
Allan and Mr. Mesquita had been talking, in bad English, to each other at the table long enough to become friends. So, when Mr. Mesquita was asked to comment on the theme, he said that "Aracruz have decided to start the process of mechanizing their forestry in cooperation with Allan Bruks."
Brazilian import restrictions
Export to Brazil in those days was very difficult due to Brazilian import regulations. That meant that machines had to be manufactured in Brazil. Allan purchased a two-axle Caterpillar chassis, mounted a Munk Jon crane on it, and converted it into a harvester together with the harvester head he had constructed. He spent six months in Brazil during this project and he was the first person ever to fell a eucalyptus tree in Brazil with a harvester. Unfortunately, that tree hit Mr. Mesquita´s car.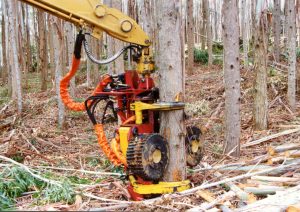 Nevertheless, Aracruz immediately ordered 10 harvesters. Totally 200 heads were sold during the coming years.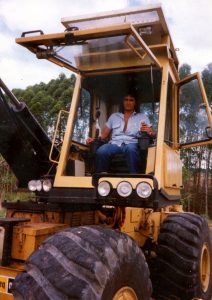 Another big forest industry in Brazil, Cenibra, wanted to debark the eucalyptus stems with the harvesting head. By designing the feed rollers so that they made the stem rotate during feeding, they managed to remove the bark in the delimbing process.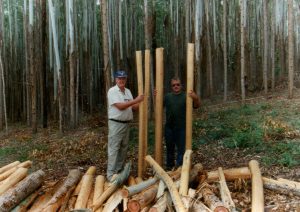 Hard competition from Valmet
Eventually, Valmet raised the competition. Allan ran into the marketing manager at Valmet who and said, very friendly with a glimpse in the eye, "Why don´t you stick to what you do best – chippers?"
The problem for Allan and his team was that they had no good base unit for the harvester head. Valmet had just that and for a while, they more or less gave away harvester heads in order to knock out competition. This made it impossible for Allan Bruks to continue with the heads. By the end of the 80's, after a discussion with the trading house Elof Hansson who had been involved all along, the harvester project ended.
Bundle delimbers
There is no doubt that Allan has been involved in lots of projects. During the 80's, when Allan was engaged with Bruks Mekaniska, a research project was initiated by the Swedish Forestry Research Institute, Skogforsk, in order to find methods for whole-tree utilization. Allan developed a chain delimber that could delimb whole tree bundles from thinning. The machine was meant to operate on terminals. The idea was to use as much as possible of the trees and to separate pulpwood from bioenergy rationally.
This project did however not last long as the development of harvester heads happened quite fast at this time. Eventually extra machines for delimbing was not profitable.
Chipping in DDR – East Germany
Another project that Allan talked about during our chat, was in former East Germany, DDR, where some foresters decided that they were going to start chipping pulp chips(!) in the forest. The idea was to bring out whole trees from the forest to debark and chip in one process on a landing in the forest.
Allan took on the challenge and mounted a chain delimber at the infeed of the chipper. This was supposed to remove most of the branches and bark from the stems so that the result would be pulp chips. However, when testing the first delivered unit, only about 10 – 15 % of the bark was removed which was not liked by the pulp industry people. In those days it was the foresters that made the decisions. They told the industry people to stop complaining and learn to live with it. Eventually, Bruks delivered 10 – 15 units of this chipper to the DDR.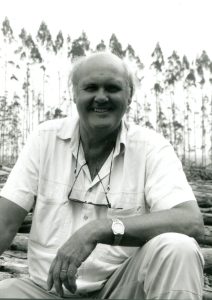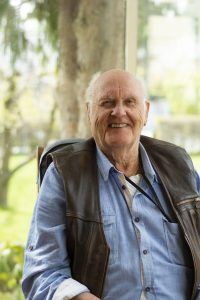 Allan today
Allan is nowadays stuck to a wheelchair. His son Anders owns and runs Allan Bruks AB who offers their own felling heads for biomass – "ABAB-klippen", another of Allan´s ideas. Allan Bruks AB is also the agent for Morbark chippers and grinders, and for Neuenhauser screeners in Sweden.
New ideas and thoughts are still popping up in Allan's head. Who knows – maybe we haven´t seen the last invention signed Allan Bruks just yet?
Thanks to Allan Bruks for a long nice chat over the phone (in corona times), and for the photos from the good old days.
Also, thanks to Kia and Anders Bruks for support, and Jennifer Bruks for the photo of Allan of today.