As we wrote in an article on April 17th, EcoLog and Gremo announced that they will merge. Now, only three weeks later, the very first Gremo machine is in place in the EcoLog factory, in its new color.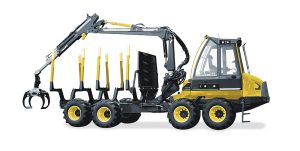 Gremo turns yellow
According to a press release from EcoLog on 14th May the preparation for the future production of the new combined product range. The press release informs that all machines in the new range will have the name EcoLog and carry EcoLog colors. It is however assured, that the content will be recognized regardless if you are used to Gremo or EcoLog.
With the adding of the small Gremo forwarder, the EcoLog forwarder range will be five models from 8,5 to 20 tons loading capacity. As for harvesters, the range will be completed with a small eight-wheeled model.
Read more about this in this press release from EcoLog.