This is the last article in our series about the two Echo testing days I and the colleague Torbjörn at Skogsforum.se did. You will find links to the previous articles at the end of this one.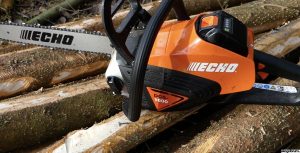 Echo DCS 1600
Echo DCS 1600 has a battery system of 50 volts, to be compared to Husqvarna and Stihl who uses 36 V-systems. The battery we used is called 560 and according to the specification it has 185 Wh (Watt hours) and 4,0 Ah (Ampere hours). It´s delivered with a 1,1 mm Oregon Micro Lite 90 PX-chain with 3/8-pitch and a 142 sawbar. We don´t know if it´s possible to have a 1,3 mm chain on it? On their (Nordic) site we can´t find that option.
Our experience is that the 1,1 mm chains wants to hop off when delimbing young spruce trees if it´s not properly tensioned. The competitors Husqvarna 540i XP and Stihl MSA 220 are delivered with 1,3 mm chain and bars as standard. If you are only cutting (e.g., firewood) it doesn´t really matter. During our testing, in young spruce, we made it without problems, maybe thanks to a well tensioned chain.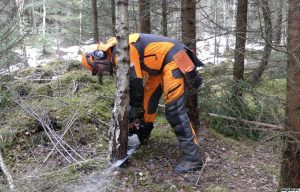 Echo DCS 1600 – a powerpack and a loaded gun!
The saw is quick and powerful. It easily corresponds to a 40-cc saw when it comes to power. With full oil tank, 14" bar and 1,1 mm chain the weight is 5,75 kg (12,7 lbs). That´s slightly more (0,15 kg/0,33 lbs) than the Husqvarna 540i XP and 0,3 kg (0,66 lbs) more than Stihl MSA 220. The chain sprocket cover is made of plastic. The chain nuts are attached to the cover so you don´t have to look for them when you have replaced the chain. Chain tensioning is also in the cover. The oil tank is transparent to see the oil level.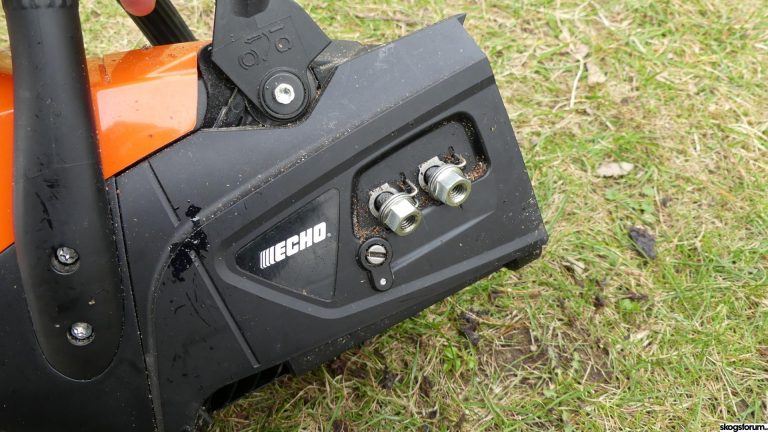 A start button must be pushed before you can use the gas handle. Also, there is a throttle trigger lockout that is placed on the left side of the handle. Apart from the location of the trigger lockout button, this is good. We can´t be clear enough about the danger of handling a battery saw during maintenance. On a normal chainsaw you can hear the engine, but a battery saw can be just as active without you hearing anything. So, treat the battery saw like a loaded gun. Be very careful, remove the battery when filing or switching the chain. You also activate the chain brake when you are not working with the saw. This saw is completely silent until you give gas.
Tight for the sawdust
One thing that has turned out to be a problem on many battery saws, like the Husqvarna 540iXP, is that the space for the sawdust outlet behind the chain sprocket cover is too tight. If you cut a stem cross the fibers it´s normally no problem. But when cutting along the fibers, so that you get long sawdust like when you remove buttress's, or when delimbing trees with lots of small dry branches, it´s easily jammed behind the cover and eventually you lose power in the saw.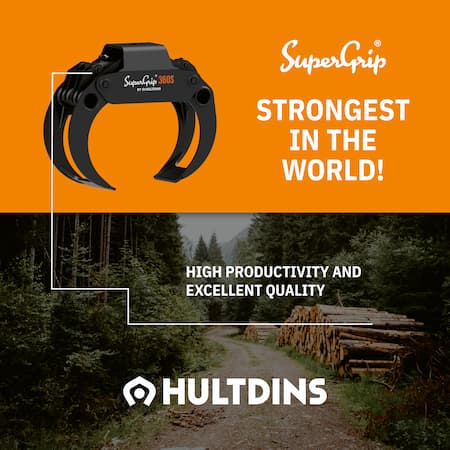 Unfortunately, the Echo DCS 1600 is no exception. The space for the sawdust is too tight and is often jammed. That means you have to clean it manually every now and then.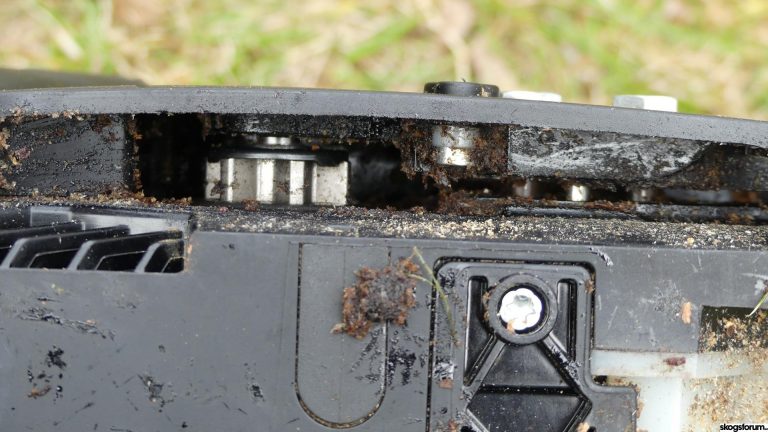 Easy to start
Apart from the easy starting, the battery saw work like any other chainsaw, but it is completely silent when it´s "idling". When giving gas you still don´t hear the engine but the chain seems to be noisier than on a regular chainsaw. That´s probably because the engine on a gas-driven saw overrides the chain. The noise from the chain is so high that you still need ear protection when you are working with a battery saw.
The lack of exhaust fumes is something very positive. You don´t really think about it when you work with your normal saw, but it becomes very obvious when you work with the battery saw. I guess this is something you can get used to.
The battery saw is easy to start as you don´t have to pull the starter rope. Just push a button and off you go. This is of course convenient but, it´s worth repeating, dangerous when you should sharpen the chain or do some other maintenance if you don´t turn the saw off. Best is to remove the battery, activate the chain brake or both before you do anything like that.
How long is a rope?
The answer to how long time a battery lasts is like if the question was "How long is a rope?". In other words, it depends. What type of trees are you cutting? Is there much delimbing? What´s the temperature? When we did our testing, it was February and around zero degrees centigrade. Under these conditions the battery lasted 35 minutes.
Last autumn, we were cutting pulleys with this saw. Then we could cut 30 pulleys of 20 – 25 cm (7,9 – 9,8 in) dry birch in a row before the battery ran out of power. If you intend to use the battery saw full days in the forest, without possibility to charge during the day, you will need quite a load of batteries. But if you do a kind of work where the saw isn´t used all the time, like park managing or gardening, the battery saw is a good alternative to use.
Film, more photos and articles
Here is a film about the testing:
Echos batterisåg DCS1600 testas i gallring
Here you can read previous articles about the Echo saws we tested:
and finally, two more pictures: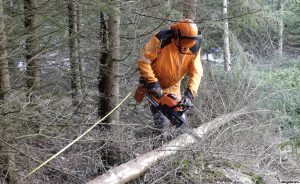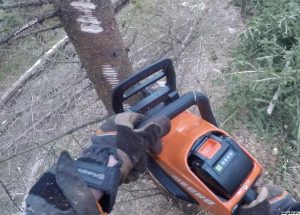 Film and photos: Torbjörn Johnsen