Forest machines are forest machines. Logical, but other types of machines are often more multi-purpose machines. With an excavator, you can dig holes, set up power line poles, harvest trees, plant trees and many other things. But forest machines … Can they be used for other things than forestry?
The blond tow harvester
You can actually use forest machines for other purposes than forestry, as the blond tow harvester. However, it´s not really usual to see them other than in the forest. In some places, it is being discussed what other uses there are for logging equipment. In Germany, as for an example, the current situation with lots of bark-beetle damaged forests that are being cut down right now, a discussion among the contractors has started about what to do with the machines when that is over. It could take long before forestry takes off again after such a disaster.
Examples
Somewhere in Germany, there is a harvester that was modified for mounting solar panels in the terrain. Quite a few forest machines in Europe are used for roadside maintenance of different kinds. So, there are definitely creative ideas about an alternative use for the machines. Let us introduce you to another one;
Rottne Blondin 780 Snoken -81
Older gentlemen like me remember the Rottne Blondin, "the blond". It´s not really blond. Originally it was blue, but this one is a red and yellow Blondin Snoken 780 harvester from 1981 that has been modified to help machines, tractors, cars and trucks to get out of self-caused trouble(?), or bad luck(?) from hard to reach places.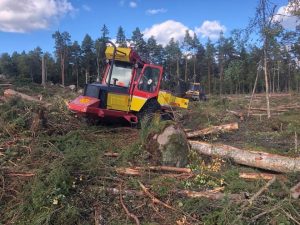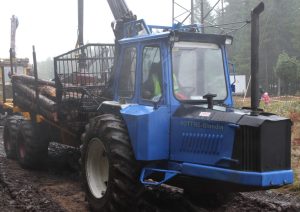 The south Swedish company RÅAB Bärgnings AB has a number of various tow-trucks for all kinds of towing jobs. But in some cases, it is difficult to get to help needing vehicles or to reach them from the right angle. So, by the mid-'90s they bought this machine and rebuilt it for the new purpose. Now, they don´t want to live without it.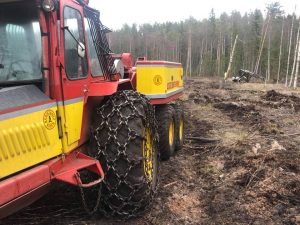 Forest machines in trouble
In the area where they are based, there are many forest machines operating. This has given RÅAB a reliable customer base for the Blondin. The short harvester chassis and good maneuverability make it perfect for the task. It can easily be loaded on to one of the large tow trucks and brought to the site where it´s needed. Also, in the terrain, the short chassis makes it possible to get all the way to the machine that needs help.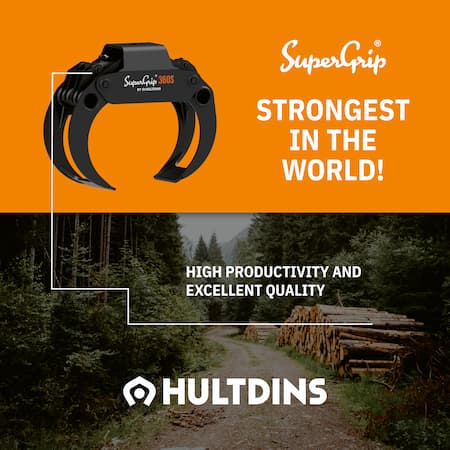 The blond tow harvester is equipped with two winches, one with 5 tons towing capacity and one with 20 tons. Also, all kinds of equipment you find in a tow-truck is there. It´s a complete tow-vehicle.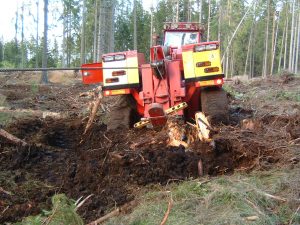 But it´s not only used to tow forest machines out of the mud. Sometimes a truck that hit the ditch could be easier to get back on the road from an angle where a normal tow truck can´t be parked. Also, construction machinery could have problems on sites where no normal tow-trucks can go.
Do you have any ideas?
It would be very interesting to hear about other ideas of how you can use unemployed forest machines. Do you have any ideas or know any interesting forest machines that are used for other purposes? Please share! Maybe we can help a forest contractor or two out of a troublesome situation.
Photos and information: Mathias Mattson, RÅAB. Thank you!