When you are an editor for a forestry news site, and generally interested in forest technology, you are constantly looking for news. Personally, I'm mostly interested in machinery news. Maybe because I'm a former machine operator. I'm aware my demands might be high. A couple of extra wheels on a machine are no news, neither is a ".d" instead of a ".c". Updated software could be ok. But where is the real news?
Where are the new technologies?
Let me put things into perspective. When the ax gave way to the chainsaw. When the horse was replaced by tractors. When the chainsaw was replaced by processors and harvesters. When the tractor was replaced by the forwarder. These are examples of what I call "news". Giant steps in the development of forest technology. I still claim that since the 70s, mainly fine-tuning has been done to a concept that was developed in the 60s and 70s.
I mentioned this to a representative of one of the major brands in the forest machine business when I met him at the Swedish Forestry Expo in June. He was very upset and began to count all the "news" his brand had on the show. I replied that all he mentioned was fine-tuning, no more no less. He was however right about one thing; The productivity of forest machines has increased a lot since the 70s – thanks to fine-tuning (my remark). 
The sad thing about the Swedish Forestry Expo, which in general was a good show, was that almost everything that was presented as news was already presented at the FinnMetko and the Elmia Wood shows in 2022. 
The shows tell (part of) the truth
The forestry shows are obviously good places to show and find new equipment and technologies. However, the major machine manufacturers are very good at presenting their news as soon as it appears, meaning that when it's shown at a forestry show, it has already been written and talked about.
This means that it's becoming more difficult to be surprised at a forestry show. You really must look for the "surprises" – the things you didn't know existed.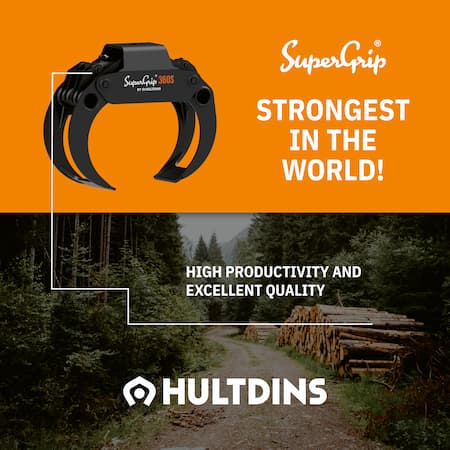 I recall when I was working for the Elmia Wood show that the most exciting machines and prototypes were made by small companies and even private persons who couldn't afford to exhibit at a forestry show. Most of them wanted to show their ideas if nothing else to test them and get a second opinion.
The inventors – machines that don't exist
So, now you know that the machines I find most exciting are the ones that don't exist other than as prototypes or on the drawing board. This is because I'm still waiting for the next "giant step" in the forest machine technology. What will it be?
I once wrote about Odd Machines that could have been something. Machines that were produced in one or just a few samples, written about and displayed, and then faded away. Some of those mentioned in that article were shown at the Elmia Wood show. Some might deserve a second chance. People like Christer Lennartsson will never stop thinking, so maybe one day … 
What we see today is remote-controlled and autonomous machines that are underway. Those are not yet ready for the market but let's hope their financers and engineers have the patience it takes to develop something "new" ("new" as those technologies already exist on other types of machines). 
Other machines that don't exist are the Portal Harvester and the Electric Pendulum Arm Harvester, both from Germany, and finally my favorite the Air Forestry drone harvester.
I hope I live to see one of those, or something similar stir up the forest machine market one day.