Recently we wrote about finding alternatives to selling timber at underestimated prices. Since then, we also have presented one alternative, to let the forest stand and get paid for it. Yet another alternative is to make your own lumber. But for that, you will need a sawmill of some kind. In this article, you will find a summary of the portable sawmills that we have written about here at NordicWoodJournal.com.
Do your own lumber
A forest owner that decides to start making lumber instead of selling timber through the normal channels will have lots of alternatives to choose from. A "portable", or a small, sawmill could be anything from a sawmill that you can move with a normal car from place to place to a plant that is more like industry, and not very portable. Requirements and budget are the issues that decide in the end.
Build your own sawmill
That is what the colleagues at the sister-site Skogsforum.se did. Well, almost, what they did was they purchased a portable sawmill according to the "IKEA principle". That means you must assemble the mill yourself. And that's what they did.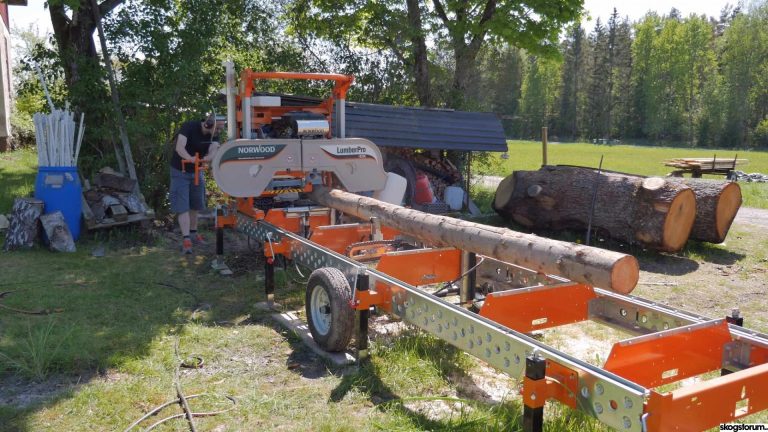 The model they chose, a Norwood HD 36, is a very portable sawmill. Adapted to move with a normal car and powered by a petrol engine, or actually two engines – one for the bandsaw and one for the hydraulic package that was optional but helpful.
After 20 man-hours of assembly, they could proudly see, touch, and feel their first self-made piece of lumber.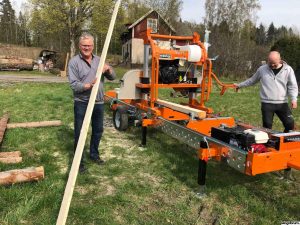 Here is an article about that project, including a film.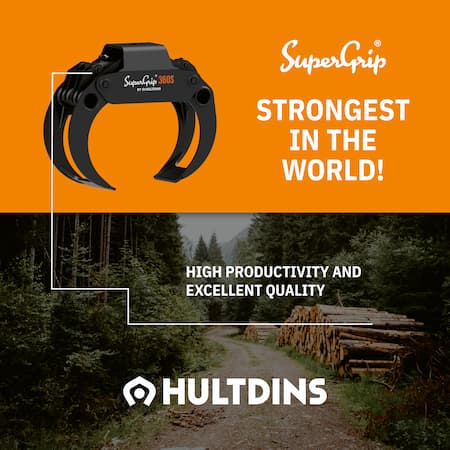 Ready-to-go solution
A similar concept, but a bit more advanced and probably more expensive, is one we had a look at two years ago. Christer Engström travels around to forest owners with his portable Woodmizer LT70 sawmill and makes their lumber in their own yards.
This mill is more professional, with a computerized control system and just one engine to power both the bandsaw and the hydraulic log handling. The capacity of the LT70 is approx. 1 – 2 cubic meters of lumber per hour with one man operating it.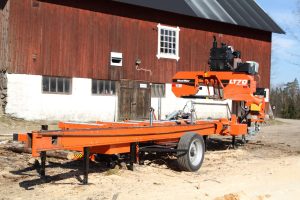 Here is the article from April 2020 about Christer and his Woodmizer LT70.
Stationary solutions
Even if it's called portable sawmills, a stationary solution could have its advantages. One downside with the mobility is that it could be difficult to set the sawmill up in every new place. It must stand level and preferably on solid ground so that it doesn't move during the sawing. Another downside could be the weather as you probably won't have a portable roof with you.
Alexander Wikström purchased one of the simplest portable sawmills, a Logosol B1001. He placed it in an old shed that had a solid concrete floor and a roof. As he must handle the logs with a wheel loader, even in the mill when the logs are too heavy to turn by hand, walls would just disturb the production. As the mill is stationary it's electrically powered.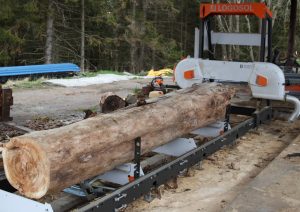 The Logosol B1001 is very simple. Everything is done manually. There are no hydraulics or computers, just a measuring tape. Not much could go wrong but still, the mill can handle logs with a one-meter diameter (39 in) (or 1001 millimeters to be precise).
Here is the article about Alexander and his Logosol B1001.
Kjell Ljungberg needed a sawmill for maintaining the family's rental cottages. He purchased a Norwood Lumbermate LM29 portable bandsaw and placed it in a shed with two open sides and room enough for storing the lumber to dry.
He wanted an easy-to-use sawmill, a robust and simple model without any complicated technology such as computers, etc. The log handling is all done by hand, lifting, rolling, turning, positioning, and strapping. The settings are made with help of a simple measuring table on the mill.
The Lumbermate LM29 offers both an electric and a petrol-driven engine. The latter was chosen in this case.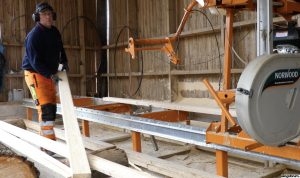 Here is the article about Kjell and his Lumbermate.
Also a chain will do as a cutting tool
The above-mentioned sawmills are all bandsaws. But chainsaws are also quite common on portable sawmills. In most cases, those are adapted to normal chainsaws that are easy to find on the market.
The colleague Torbjörn at Skogsforum.se tracked down a homemade chainsaw mill that can process logs with a 1,8-meter (70,9 in) diameter. The family that owns this mill, Marinder, has specialized in processing oversized logs. "Oversized" in Sweden is over 70 centimeters (27,5 in).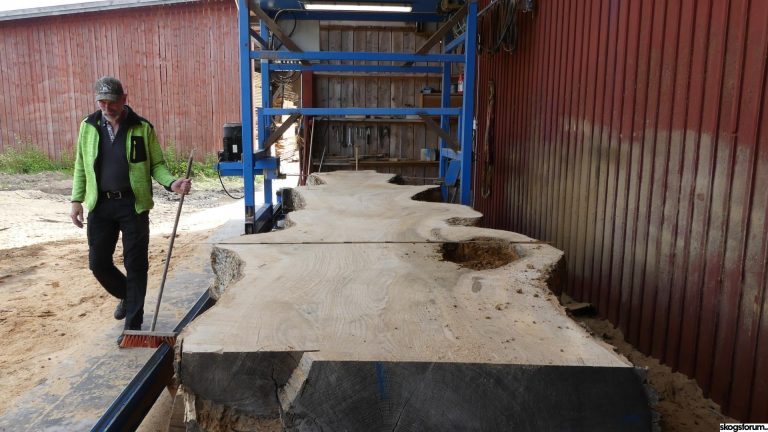 The Marinders also have a bandsaw mill from Serra with which they can process logs up to 1,3-meter (51 in) in diameter and lengths up to 12,5 meters (41 ft).
Here is the article about the Marinder family and their sawmills.
More options
In this article, we have presented some more or less professional sawmills. However, the range of portable sawmills to choose from seems endless. It's a jungle where I guess one can get lost. If you consider buying one, I suggest that you scan different forums to find the right level, financially and practically for you. Then of course it's always good to talk to people that have experience with the equipment you are interested in before you make your decision.
Is it profitable?
If you need lumber yourself, it's definitely profitable, especially when you look at today's lumber prices.
If you plan to sell the lumber it could also be profitable, but then you will need the right contacts. You must calculate on drying the lumber, which takes time if you don't have a drying kiln, and you must have room enough to store it indoors after it's dried.
If you are to compete with the normal DIY stores, you may have to plane the lumber as well. Many of the sawmill suppliers also offer planers so that shouldn´t be a problem. But you must take that into account in your budget when you invest.
Photo and film credits are mentioned in the linked articles