Today Komatsu Forest launches a new series of forwarders. One of them is a completely new 9-ton forwarder, the 825 TX. The other two are updates of the 835 and 845 with "TX", Thinning Expert" added to the model name. The 825 and 835 can be equipped with a tracking frame and special gate and bunks for thinning.
New forwarders
2020 was supposed to be a year when many of the major forestry fairs should have taken place. As we know now, that didn´t happen as we wrote in some articles. It seems as if the manufacturers were aiming for this year as there will be autumn news coming anyway. Valtra launched some new tractors in the G series, more on that soon, and today Komatsu Forest launched their new forwarders.
Modified AdBlue system
On the outside, the 835 and 845 look more or less like the predecessors. Only the motor hoods have a new design. An important improvement on the new models, apart from the fact that they all have step 5-engines, is that the AdBlue system has been updated. The AdBlue tank has been moved from the hydraulic tank at the back to the left of the engine. A better pump system with shorter hoses should improve operational reliability.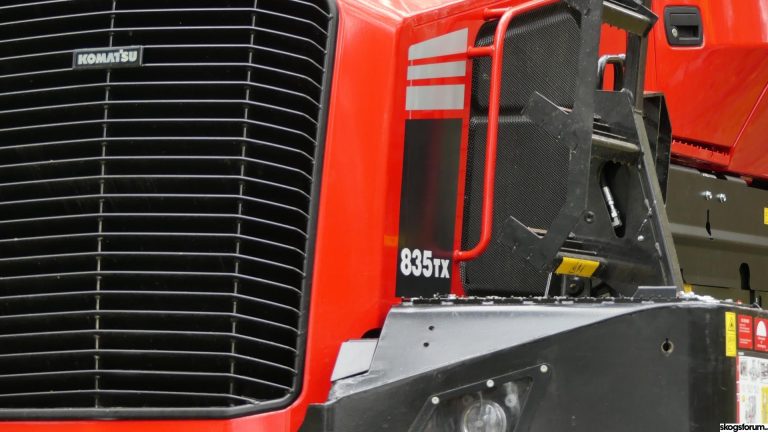 Tracking frame and load area for thinning
The two smaller models, 825 TX and 835 TX, could be equipped with a tracking frame and the newly developed loading area, gate and bunks, for thinning called Komatsu Thinning Gate.
The tracking frame is achieved by moving the steering joint approx. 20 cm backward, and also shorten the back frame by the same measure. This gives better tracking and gives the operator the possibility to take narrower routes between trees which is good in thinning.
On the Komatsu Thinning Gate both the gate and the bunks are angled 5 inwards (instead of 2 that is standard) at the top. This reduces the risk of hitting standing trees when the machine sways from side to side in uneven terrain.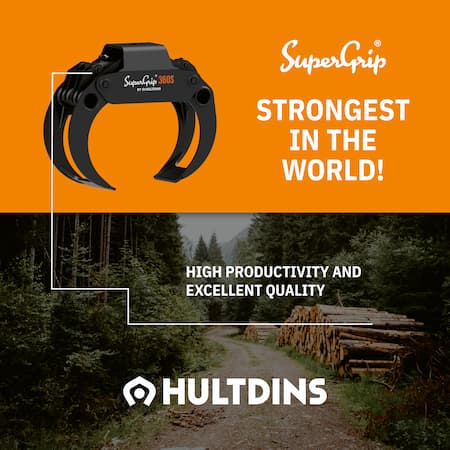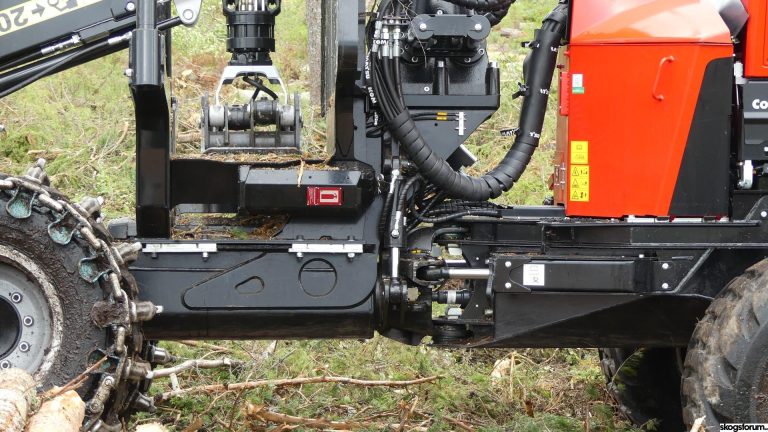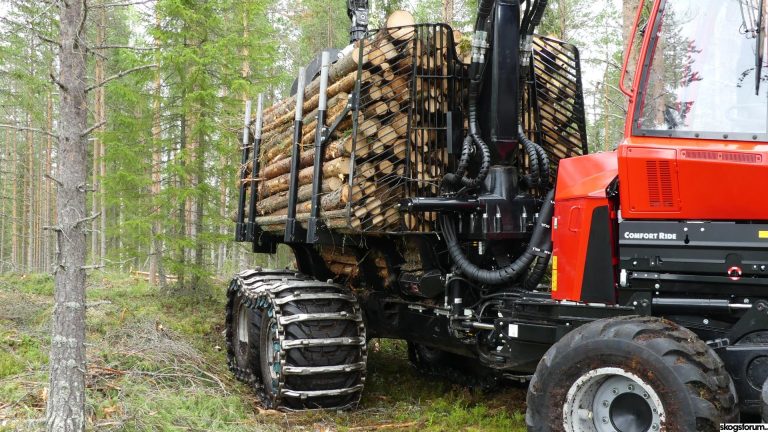 The Komatsu 825 TX – small and neat
The new 9-tonner Komatsu 825 TX has the same engine, hydraulics, cabin, frame and crane as the Komatsu 835 TX. Smaller wheels (22.5), smaller loading area and other bogies have decreased the weight by 1,5 tons. With 600-tires the width is only 2,6 meters.
The first peek
We had a look at the first machines that was built in the new series. A Komatsu 835 TX operating in a thinning. Here below is a film from that visit. We will soon also have a good look at the new 825 TX. So keep an eye here at NordicWoodJournal.com.
Komatsu 835TX - Ny gallringsskotare från Komatsu
Technical details