The number of registered* forwarders in Sweden has now been summarized by the sister-site iSkogen.se. The analyzes shows a sharp decline for 2021 compared to 2020, a decrease from 451 registered forwarders in 2020 to 332 in 2021. According to the machine manufacturers, the delivery capacity is the problem. The demand for forwarders is still high.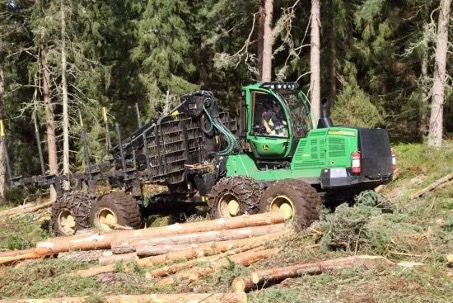 The Swedish forwarder market 2021
Last year we reported that the forwarder sales in Sweden reached record levels in 2020. In 2021, 26 percent fewer machines have been registered. It may sound like a vast degradation, but it really makes 2021 a normal year from a historical perspective.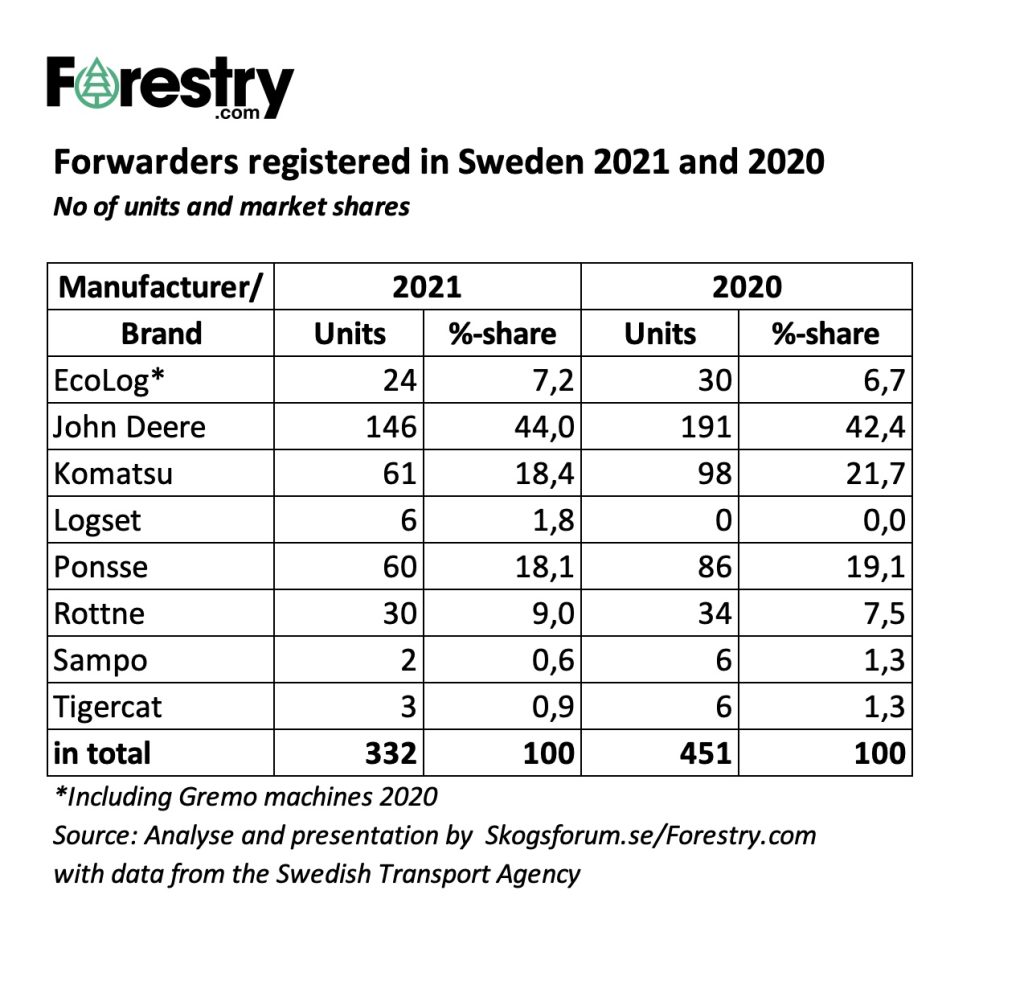 Global all-time-high for forest machine sales
Swedish forwarder manufacturers give a consistent picture of the situation. Henrik Johansson, CEO at John Deere Forestry Sweden, says that there has been a boom on all markets where CTL** (Cut-To-Length) machines are sold in 2021. Several of those markets were much calmer in 2020 which made it possible for John Deere and other manufacturers to deliver more machines to Sweden.
Russia increases and CTL enters new markets
Both John Deere and Komatsu Forest says that the demand for forest machinery has increased in Russia. Also in North America, and some countries in South America sales has increased.
According to Peter Hasselryd, Marketing Manager at Komatsu Forest, machines are now sold on new markets in South America and Asia, markets where no Nordic manufacturers have been active before.
Carl-Henrik Hammar, CEO at Ponsse Sweden, says that the Ponsse factory in Finland runs at full speed but deliveries are quoted between different markets. Sweden's share of Ponsse forwarders for 2022 is already filled. The sales orders received today in Sweden, are for delivery in 2023.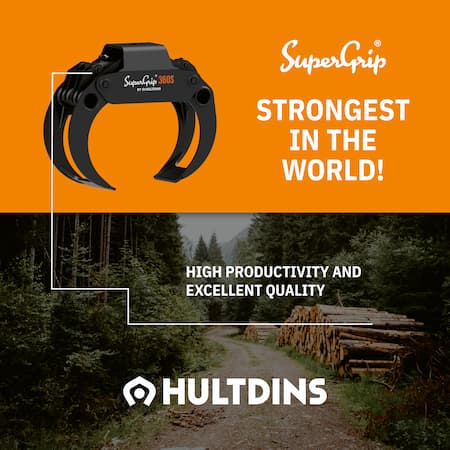 Bottlenecks in the production
Just as for other types of vehicles- and machine production, there is a shortage of components also for forest machinery. The manufacturers have been able to keep the production going, but some machines have had to be stored in the yard waiting for missing parts before they could be delivered.
As for Komatsu Forest, the move to the new factory has affected the production. During the move itself in August, the production was stopped completely. Also, during the start-up of the new factory there has been limitations, according to Peter Hasselryd.
The problem with component shortage and limitations among subcontractors is still there. But, according to most subcontractors, the situation has improved compared to how it was in 2021. If the positive development continues during 2022, the machine factories own capacity will eventually be the limiting factor. According to Carl-Henrik Hammar at Ponsse Sweden, the Ponsse factory in Vieremä, Finland already has reached its max capacity. To shorten the delivery times when the World market is peaking would demand vast investments in production capacity. Komatsu's new factory probably could ramp up the production speed, but it will take time, and there is a long chain of subcontractors that must speed up as well to achieve that.
Small changes in market shares
Looking at registrations for different forwarder brands, the changes in market shares are small. John Deere increases a few percent as Komatsu and Ponsse decreases slightly. The two latter have about the same number of registered forwarders in Sweden. The smaller manufacturers, like Eco Log and Rottne, doesn´t decrease as much in number of registered machines and increases therefore their market shares. It´s obvious that the smaller manufacturers manage to keep a more even delivery capacity over time than the large manufacturers.
Logset take market shares
One player that is back on the Swedish market is Logset. From zero registered forwarders in Sweden in 2020, six machines were registered in 2021. Provided that they can produce more machines at their factory in Finland, the growth might continue during 2022. Sampo, on the other hand, has decreased their registrations in Sweden during 2021.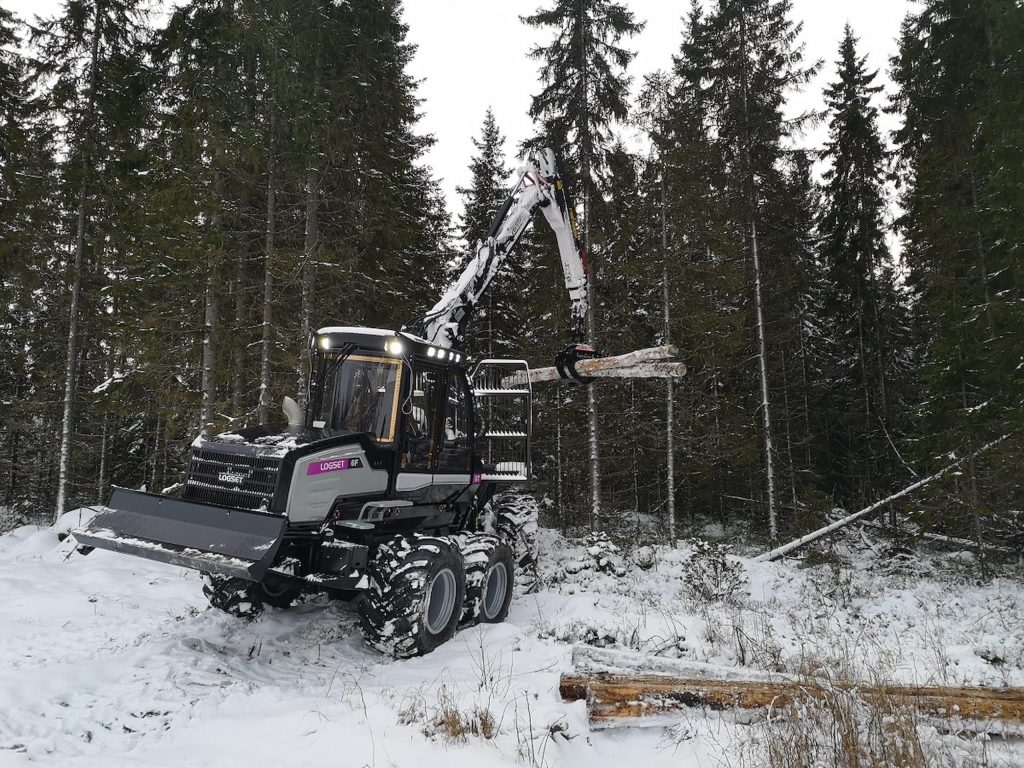 All green on the podium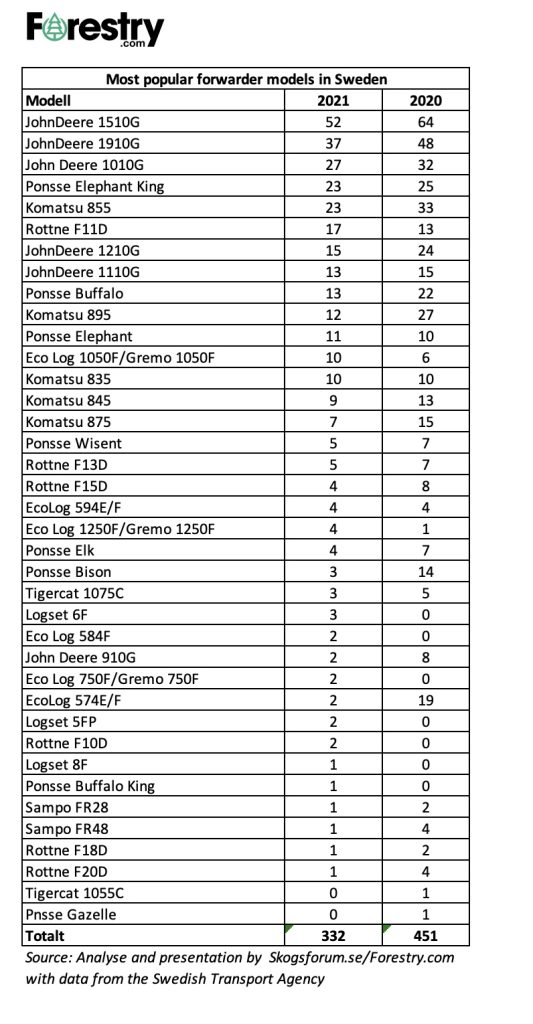 The three podium places for registered forwarders in Sweden in 2021 all goes to John Deere Forestry. The 1510G take the gold medal, followed by 1910G and 1010G. The John Deere 1010G has done better than the average in 2021 (27 forwarders in 2021 compared to 32 in 2020), as the John Deere 910G only had two registered in 2021 (compared to 8 in 2020).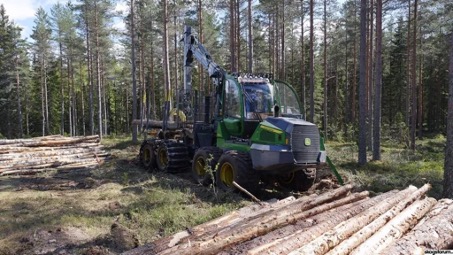 Machines that have had a clear decline in 2021 are Eco Log 575F (2 machines in 2021 / 19 in 2020), Ponsse Bison (3/14) and Komatsu 895 (12/27).
Smaller machines
Forwarders, that on the other hand, have increased the registrations in 2021 compared to 2020, are the ex. Gremo machine Eco Log 1050F (10 in 2021 / 6 in 2020), Rottne F11D (17/13) and Eco Log 1250F (4/1). The reason for this could be discussed, but the fact is that the average payload for registered forwarders in 2021 has decreased slightly. A development that we have seen some years now. If this is due to a market demand for smaller machines or if it is the type of machines the manufacturers have been able to deliver, we leave unsaid for the moment.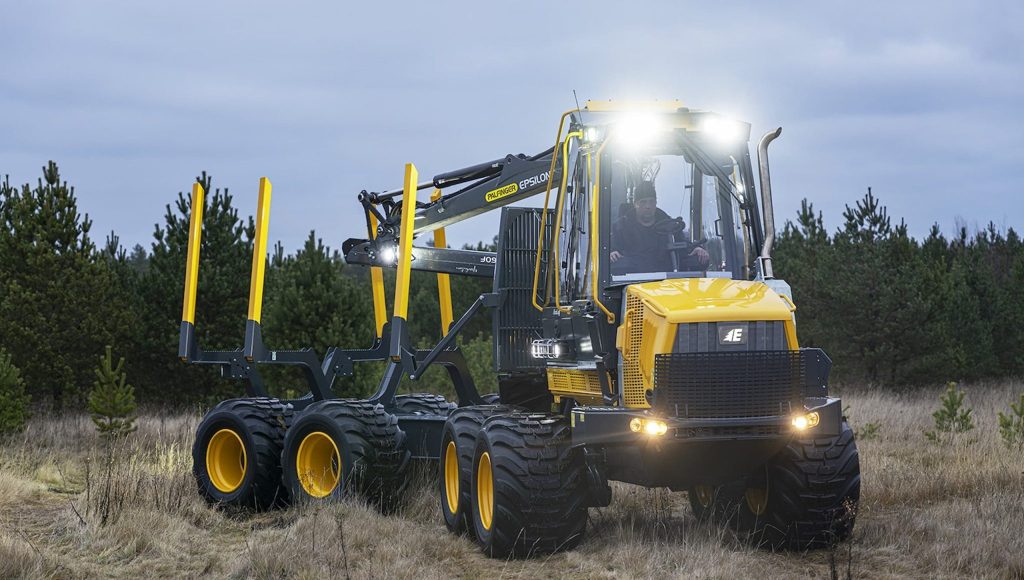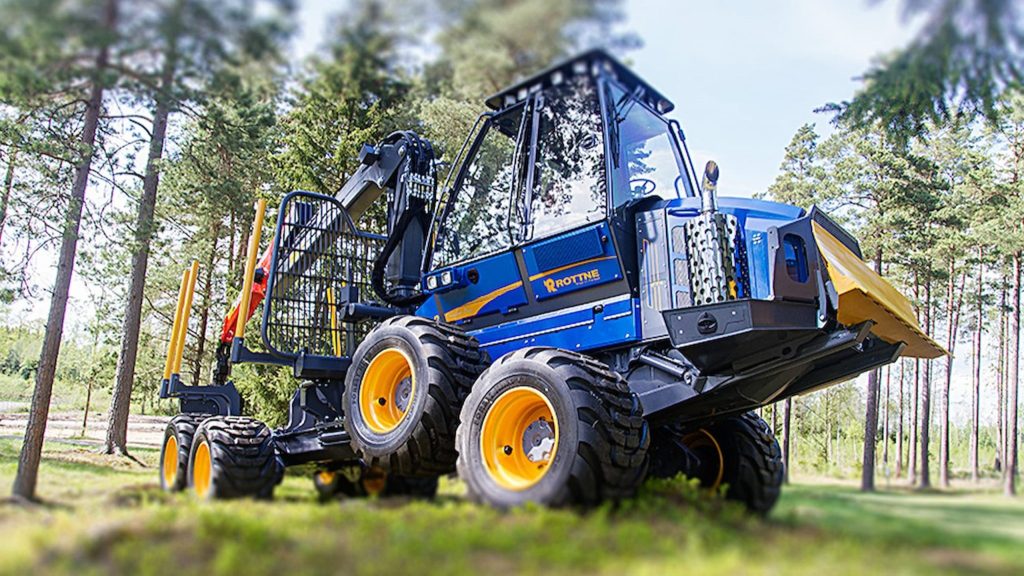 Long delivery times means later trade ins
During the last few years, the trend has been earlier trade ins of used forest machines. A strong international market for good used machines has made it attractive for contractors to trade in machines with some life span left. But according to Peter Hasselryd at Komatsu Forest, this trend seems to be turning, not least due to the long delivery times for new forwarders. Most likely, Peter says, the running hours on secondhand machines will increase from now on.
* In Sweden, all forwarders are registered by the authority Swedish Transport Agency (Transportstyrelsen) at delivery. As the Swedish market for CTL machines is the largest in the World (2021), those figures give a fairly good picture of the total market for CTL machines. The harvesters are, however, not registered by the Transport Agency, but the number of manufactured harvesters follows the number of forwarders in most cases.
This article is based on figures from the Swedish Transport Agency's forwarder registrations and has been analyzed and compiled by Skogsforum.se.
** CTL = Cut-To-Length is a system based on two machines: one harvester that fells and cuts the trees into lengths at the stump in the forest, and a forwarder that brings the timber to roadside. This is the type of machines that are manufactured and used in the Nordic Countries. The CTL technology is gaining market share globally and is today used in more than half of the World´s felling operations. Most manufacturers of CTL machines are located in Sweden and Finland.