During our trip to Finland we had an entire day in and outside the Ponsse factory in Vieremä in central Finland. It was a highly interesting and lovely day, and below you can read all about our thoughts on the visit. I'm confident that you'll find it interesting, so join in!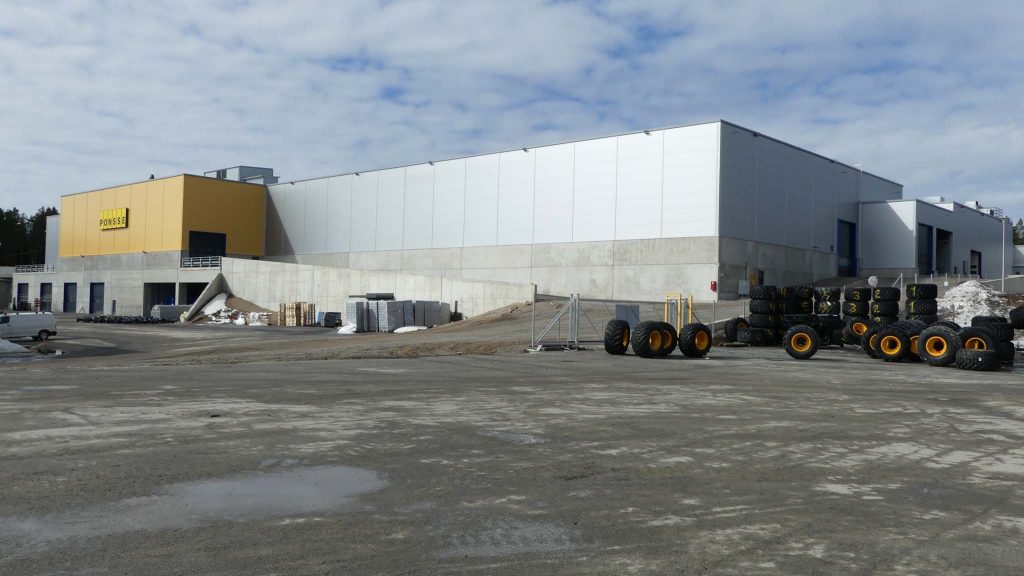 You can only be impressed by the journey Ponsse has been on since the start in 1970. The most impressive part must be that they're now one of the world's largest manufacturer of CTL forest machines, and the fact that they produce extreme volumes of the machines either in their own factories or in smaller factories in connection with Vieremä. As a comparison, it's a bit like the philosophy of Rottne manufacturer in Sweden only at a larger scale and in Finland.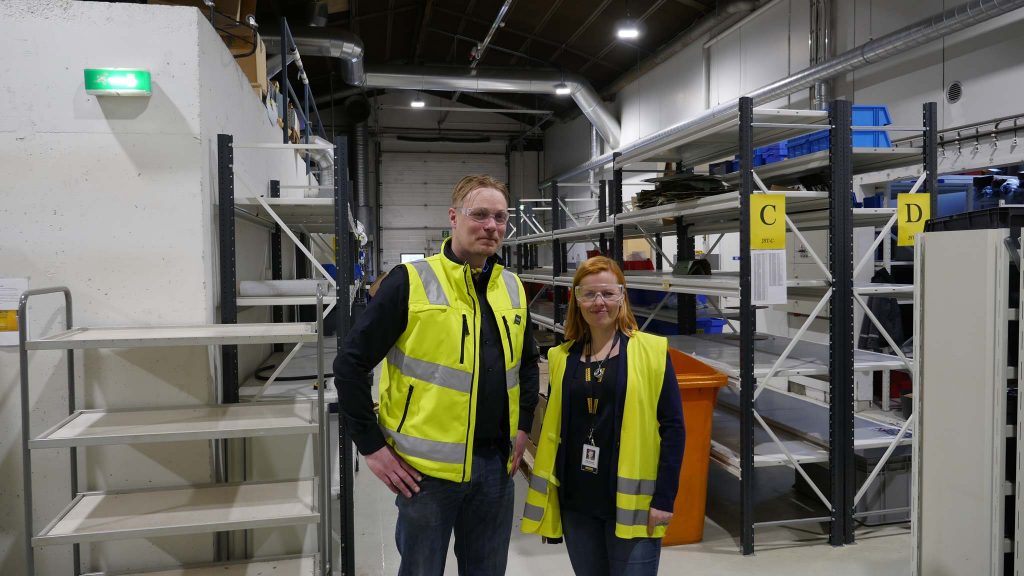 The next impressive aspect is the positive spirit which pervades the entire company. Sure, there's a boom right now and business is going great, but I still believe that the positive spirit is true even during less successful periods. Disciplinary fun, you could call it.
This spirit shows itself in particularly when the CEO of Ponsse, and probably one of Finland's most hilarious technical doctors, Juho Nummela, welcomes us to an AMA session. Plenty of jokes are uttered throughout the meeting without losing the seriousness of it. This is something that makes you leave the room in a great mood, with loads of information and even memories.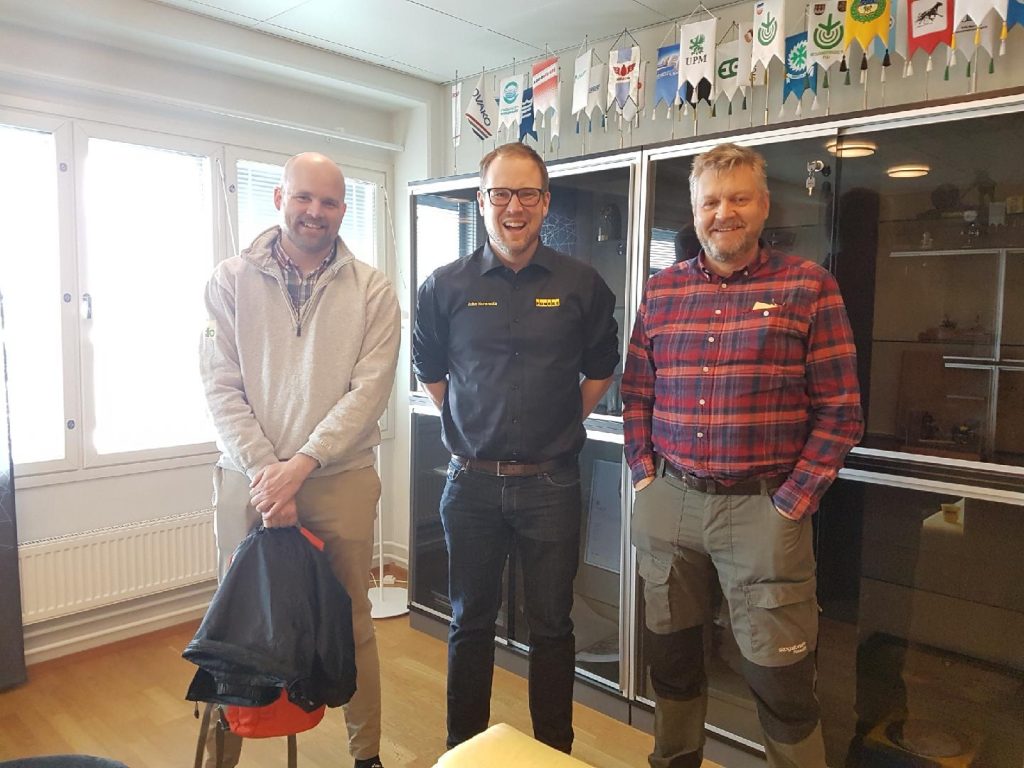 But then again, Ponsse are unique in the sense that they are a publicly traded group worth billions yet are still to a great extent family owned. The sons of Einari Vidgréns still own the majority of the company and are active in the daily business.
The Ponsse Way
As we talk to Ponsse we soon notice a focus that seems to be a core aspect of the entire business – listening to the customer, and honesty above all. In a text like this one this can seem obvious. If you don't listen to the customers, the risk is great that you won't have any customers at all. But of course, there are different dimensions to this, and Ponsse seems to work deeply with both.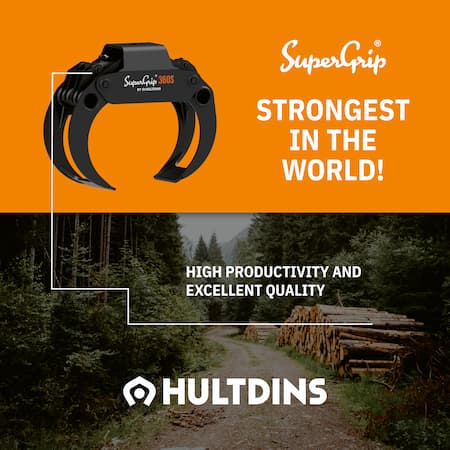 A proof of this is the test driving after each machine leaves the assembly line. It's probably pretty standard today that machines go through thorough quality checks to guarantee that everything is working as it should. Ponsse does this too, but then off they go to the forest…
15.000 cubic metres per Year
Each produced machine is trailered straight out to the Ponsse test forest for a thorough test drive. In total, around 15.000 cubic metres of wood is felled yearly in these tests. During our visit to the test forest they're testing a Ponsse Ergo to be delivered to a customer in Russia. I get to join for the ride which follows a pre-existing plan. Up to 100 trees are required before the test driver feels that the harvester acts like it should and all parameters in the computer have been set to something that can be called an optimal base level.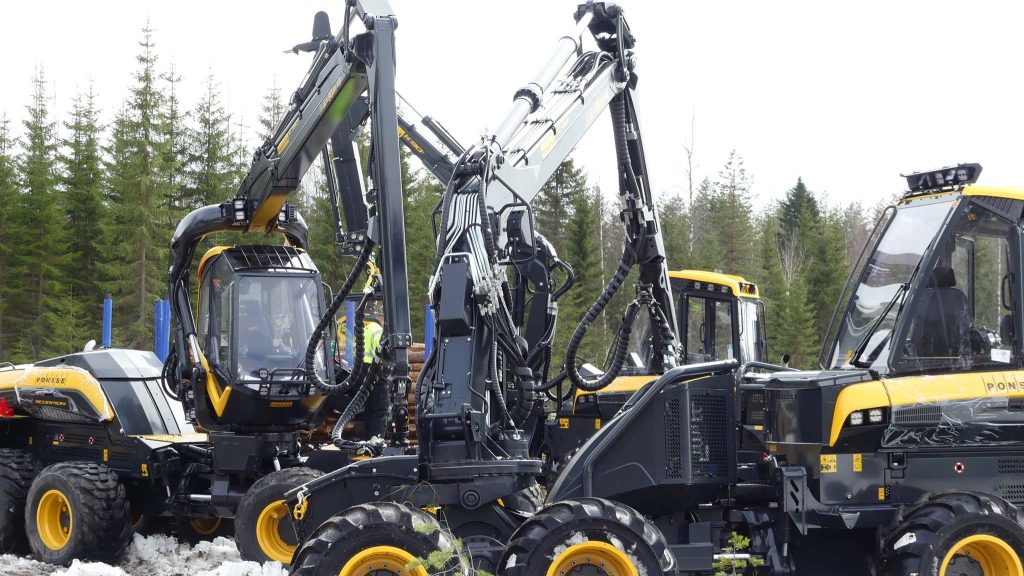 This is probably a quite costly way to check new forest machines. But Ponsse do not cut corners in this regard and this is a guarantee to them and to the customer before the machine starts producing for the customer.
After the vigorous testing the machine is trailered back to the quality control workshop. It is now checked a second time, and of course the machine is washed.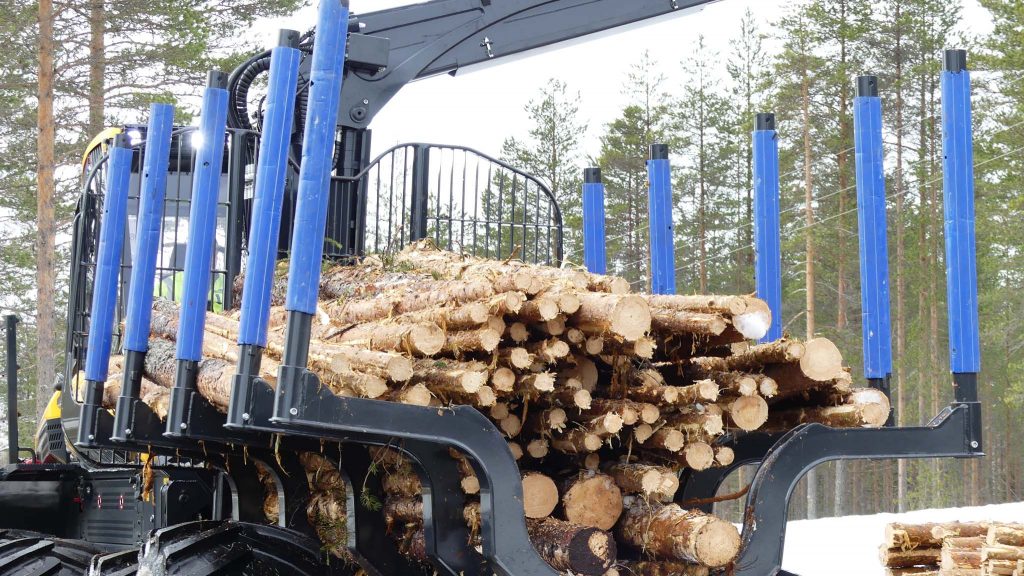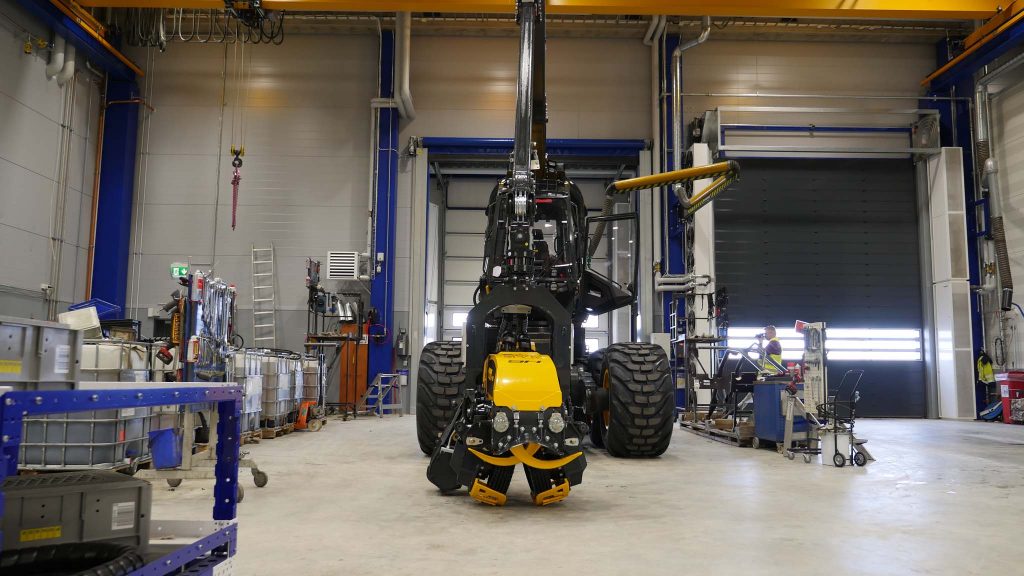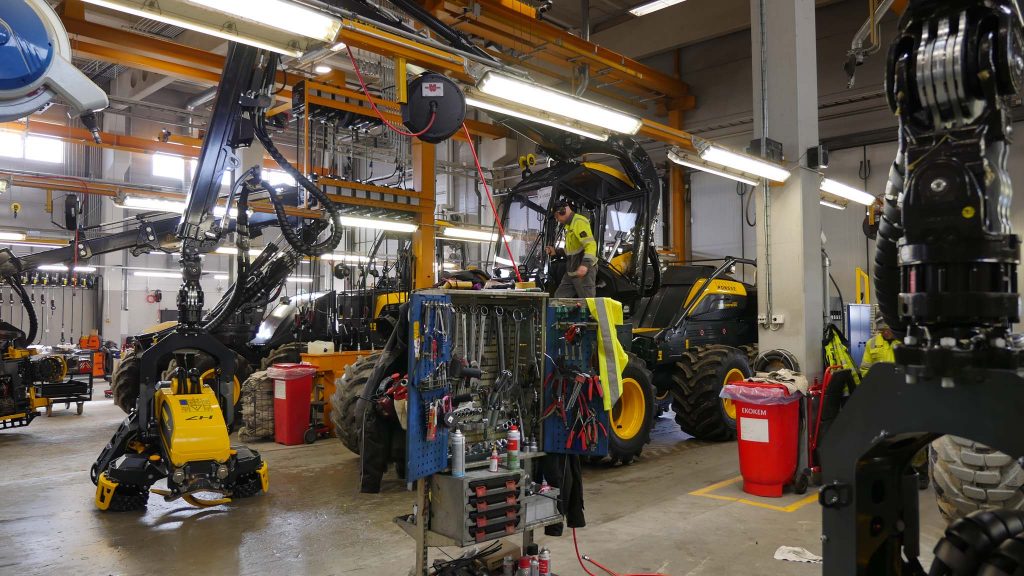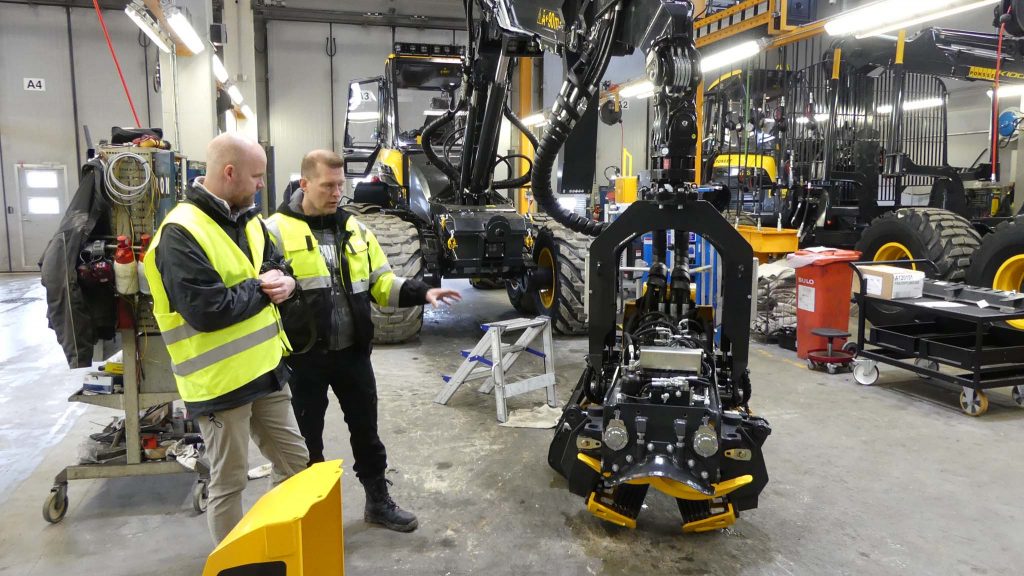 Future Proofed
At this moment Ponsse are trimming a brand-new factory to optimize the production and flow of forest machines, and it was highly interesting to see this process parallel to the ordinary manufacturing. The entire production is already LEAN-adapted and after the expansion the factory grounds will cover no less than four hectares. Using hectares is important when you're a forest company! Another new addition is solar panels that have been fitted onto the new roof to generate power.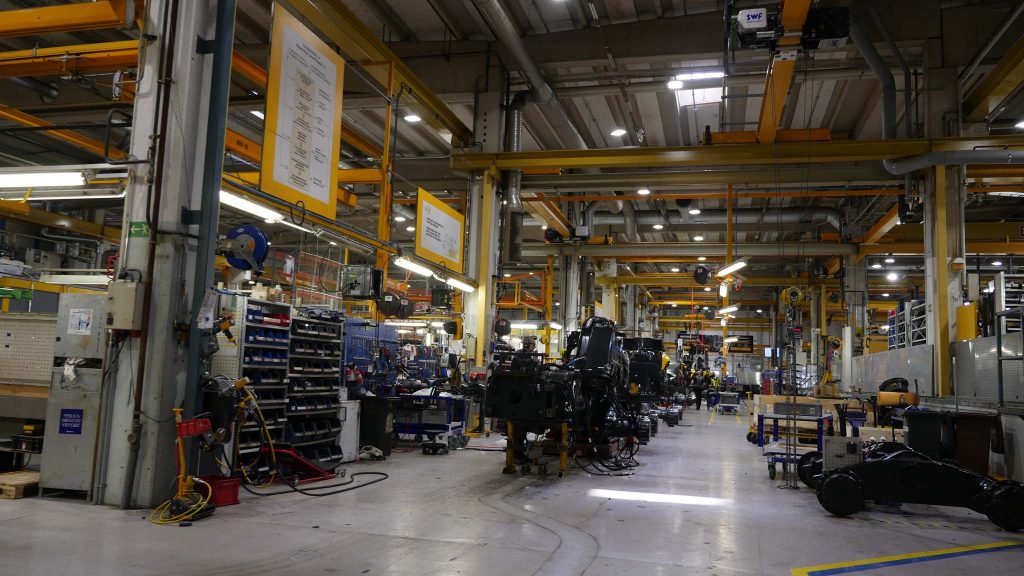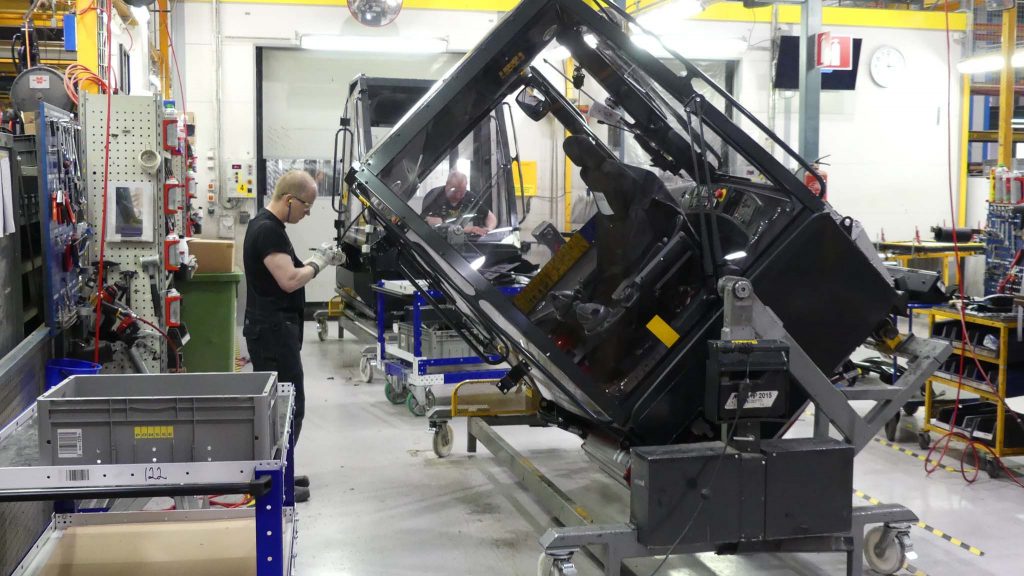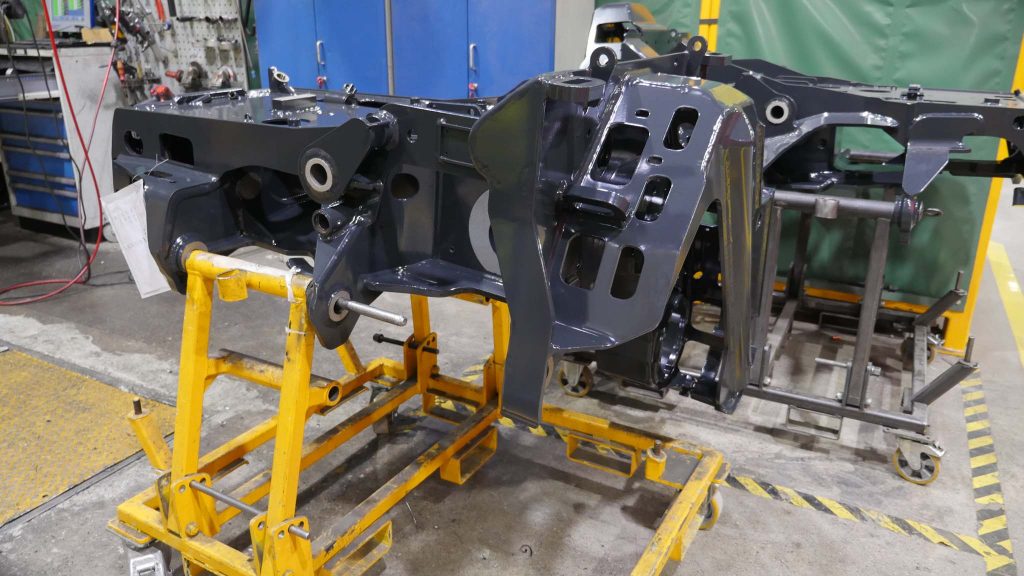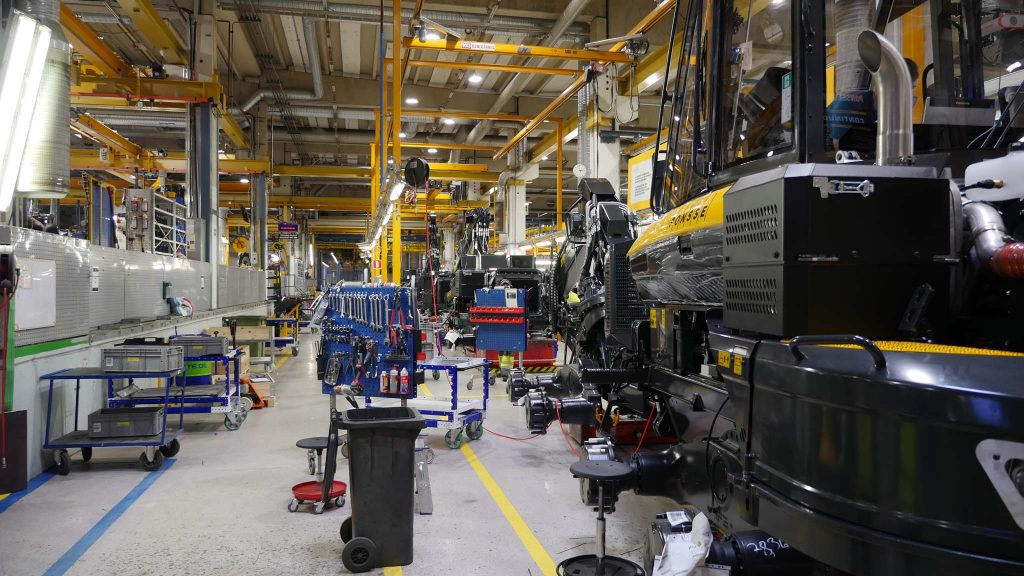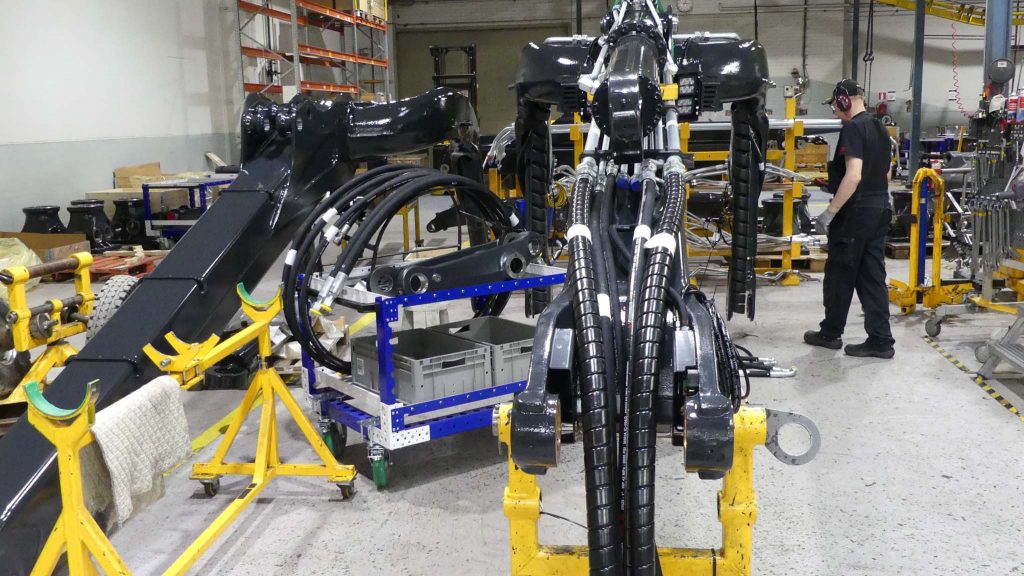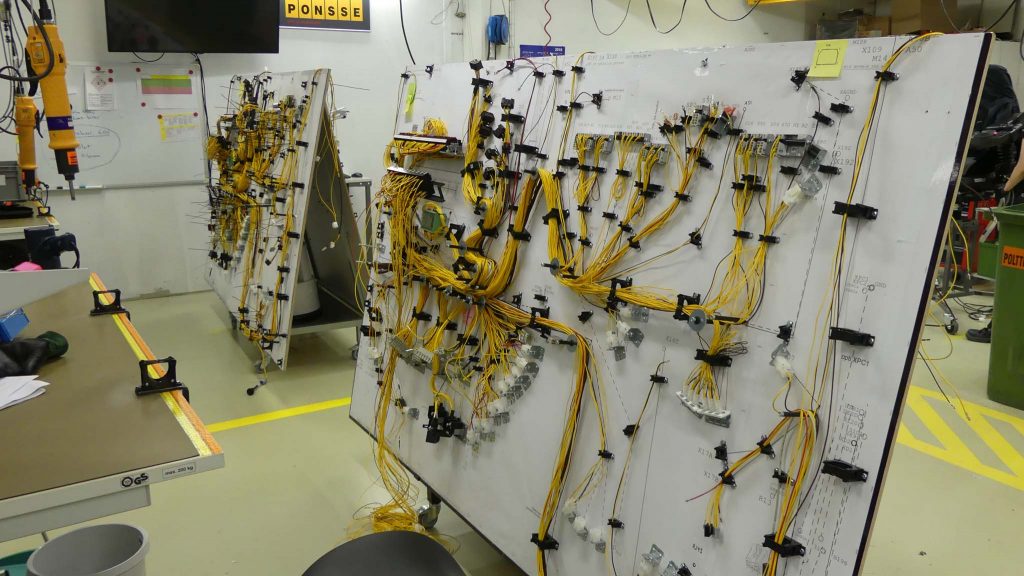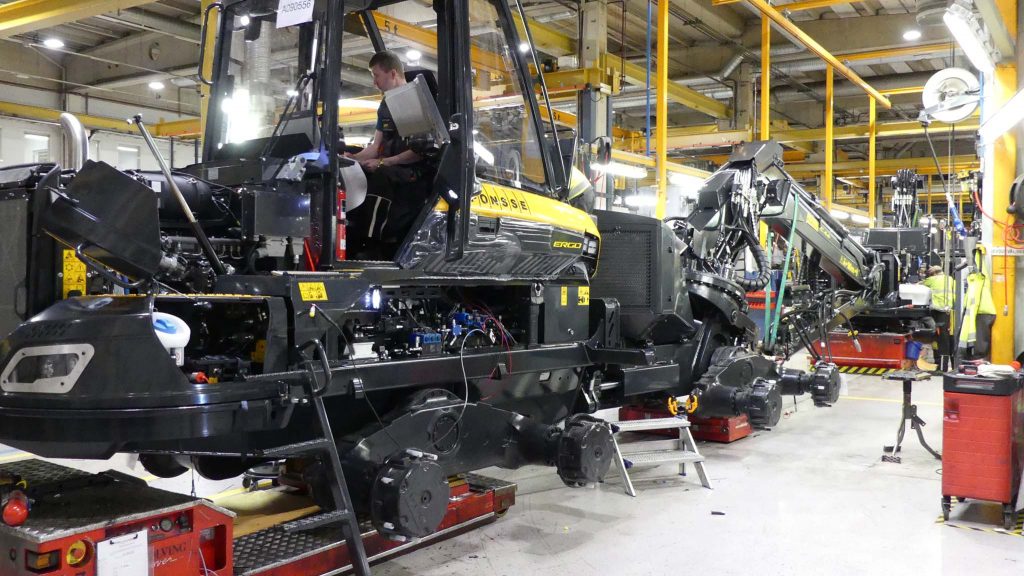 An era is left behind, an era with storehouses partly on the yard and a not fully optimized assembly line. Robotized storehouses and arrival halls for incoming goods are the new norm. Inspection tunnels bathing in light and with a sort of sky lift to inspect each machine thoroughly prior to delivery. And did I forget to mention the lower deck for tire storage and a robot delivering the tires to the assembly line? Impressive!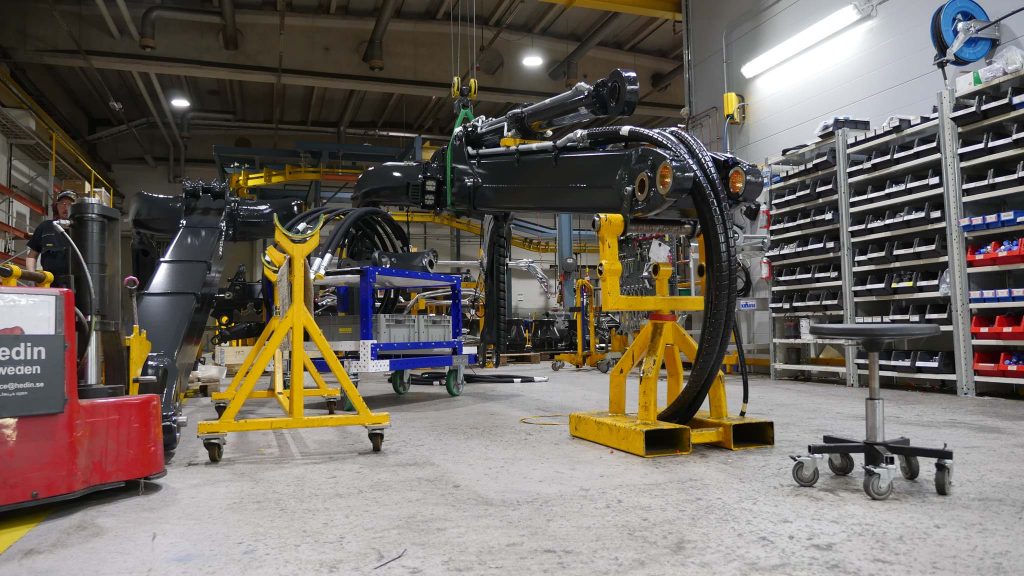 The standard of today for pretty much all manufacturers is laser cutting and bending, alternatively molding, and then spot welding. Once done the part ends up at the robot welder, completing all welds with perfection. Then, the metal part is transferred to a processing robot, you know the one that can swap between a dozen different tools to drill, mill, etc. based on a program. This is important as the processing machine prior to each part measures it to see how this particular unit is made – it can differ by a millimeter, after all.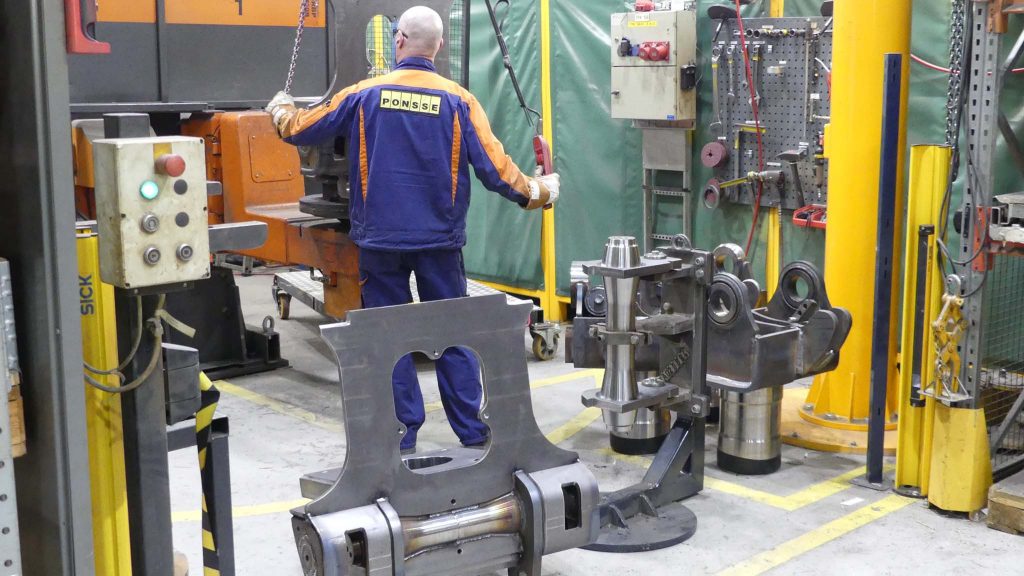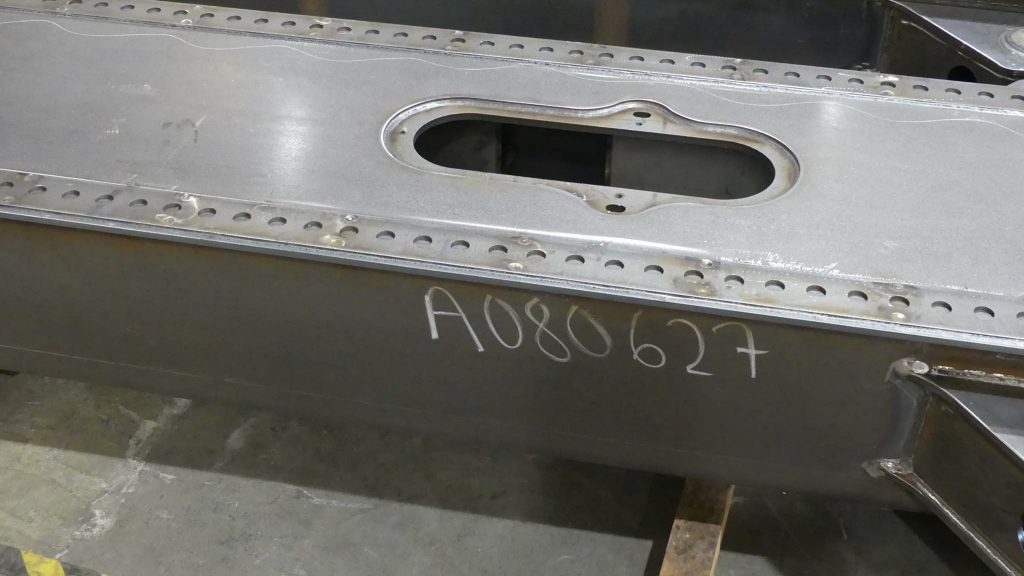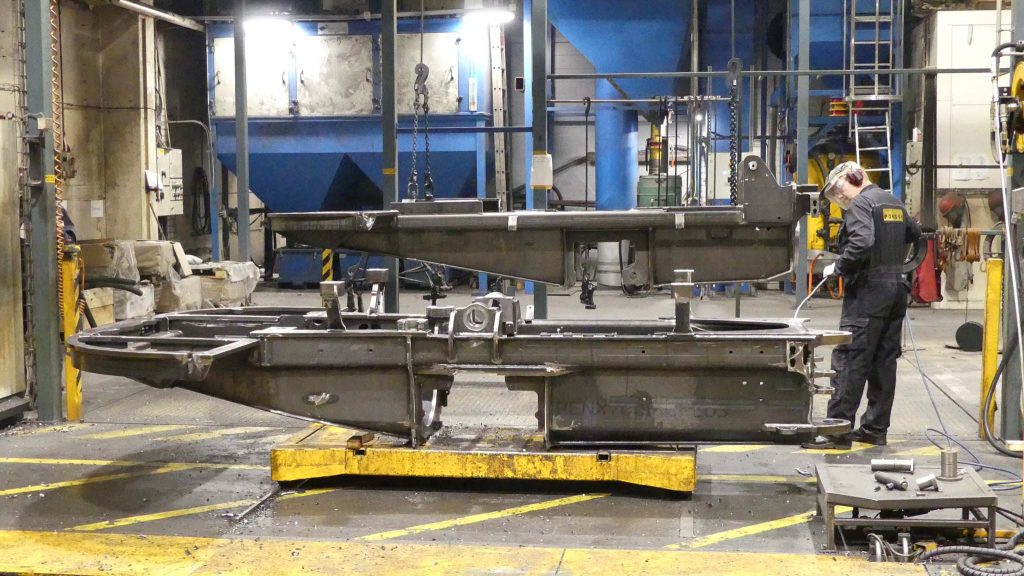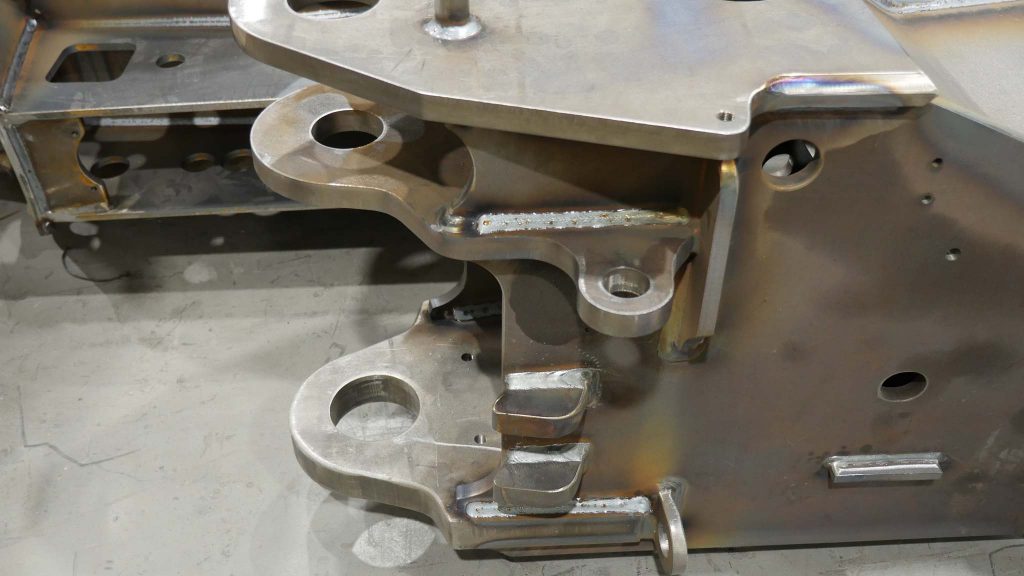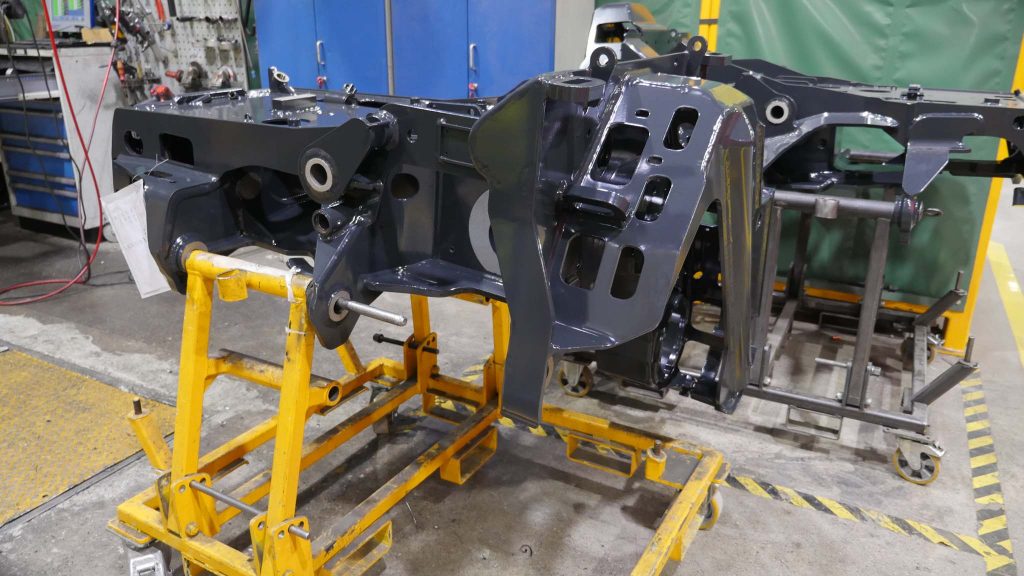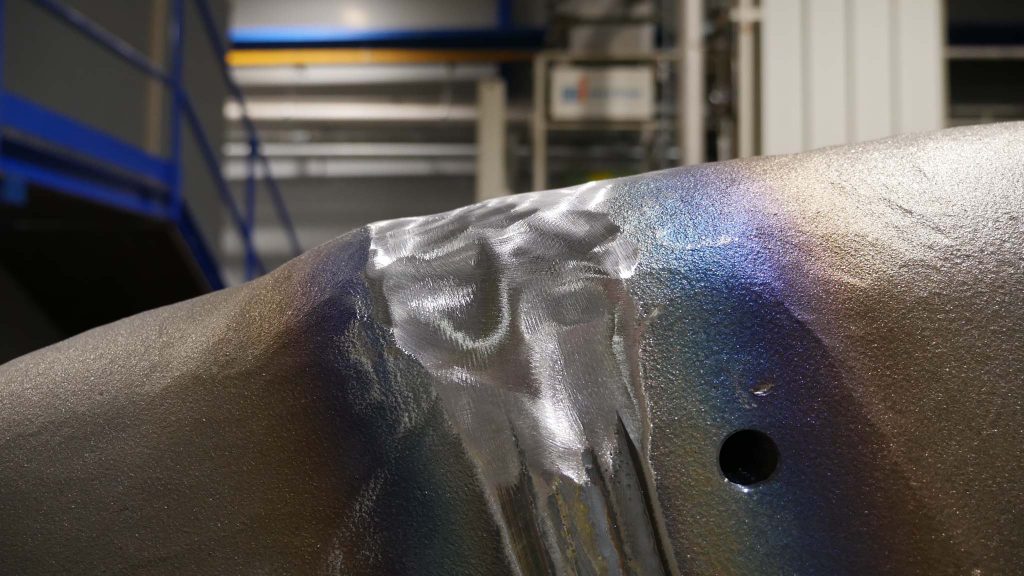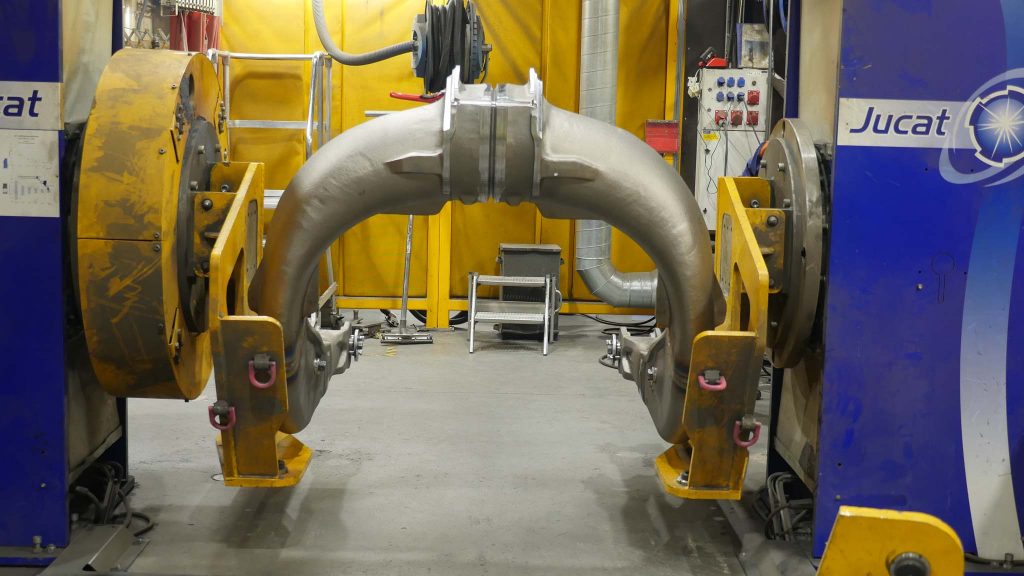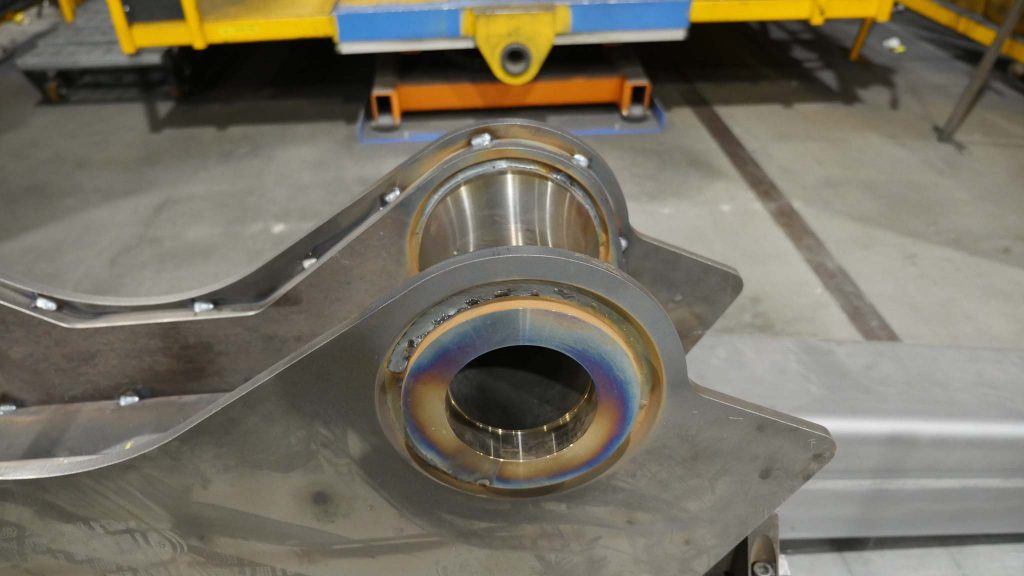 Welding has a tendency to change the material somewhat due to all the heat, and this is why milling is performed last – a shaft hole does not need to be at the exact center of a unique part, it is more important that it is in the center from a standardized perspective.
Once this is complete, cleaning and paintwork is next up, then the part enters the assembly line.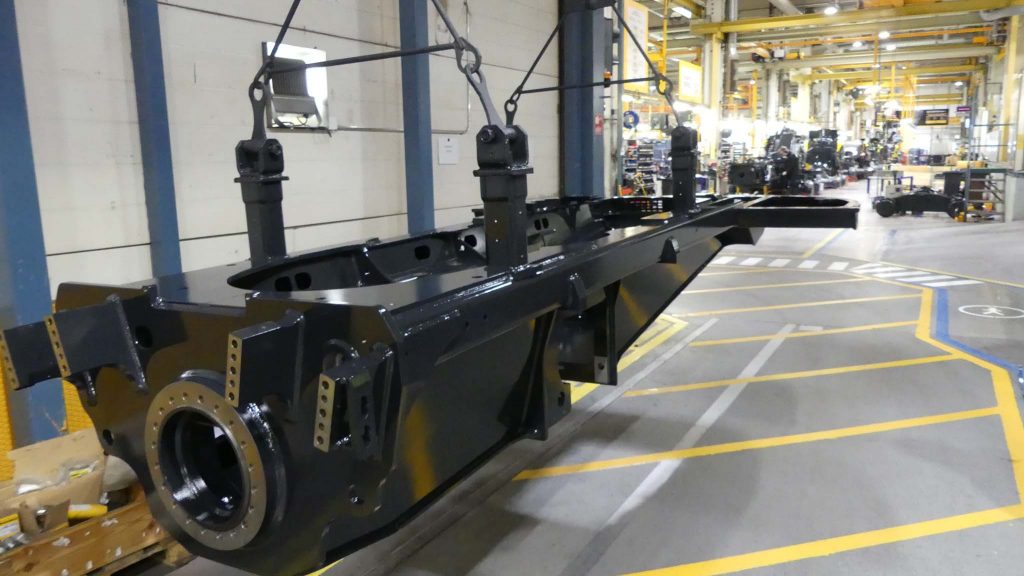 It is due to this that some parts of the assembly line have small mounting lines running from the main line – it is then possible to complete a part so that it is ready when it reaches the main assembly line and is mounted to a complete forest machine.
Swedish Steel – SSAB
Another interesting fact to bring up in this context is that, like NAF on the transmission side, Swedish SSAB has an extremely strong market share on all steel that goes into a forest machine. Wherever we go the steel seems to come from SSAB. This is a great testimonial for SSAB, they're great at making high performance steel!
Mercedes Power
All forest machines from Ponsse come with engines from Mercedes. Today it is Stage4 engines all the way, but within a year or so Stage5 will be a requirement. Ponsse are prepared for this since Mercedes run their "SCR-Only" in their Stage4 engines, so the transition will probably be relatively smooth and simple. Do you want to simplify things? Add a particle filter (DPF) and go!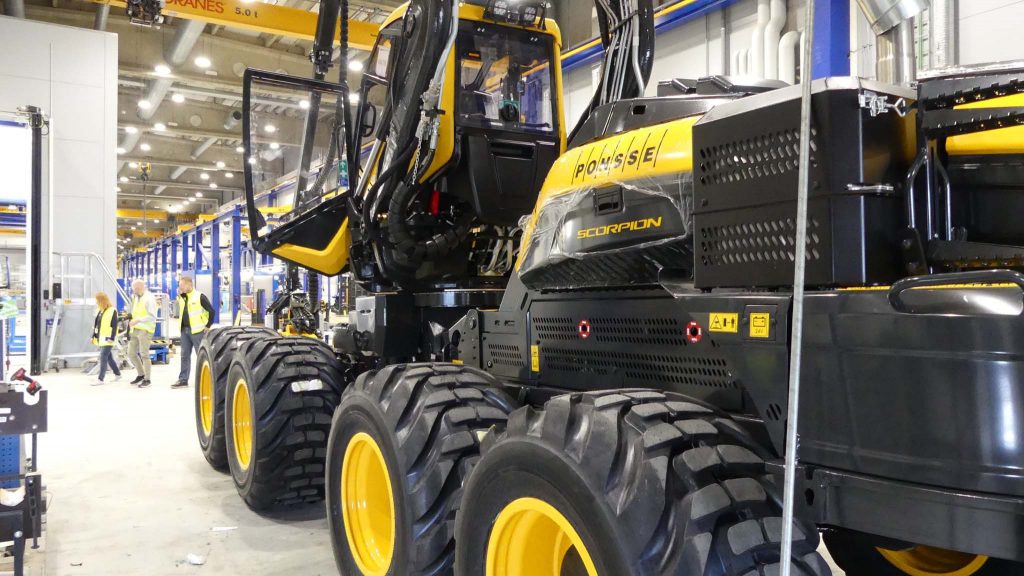 The Nordic Misunderstanding
Alright, this doesn't have anything to do with forest machines as such but is still quite interesting. We were given a tour of Ponsse Club during our visit. This is where customers are staying and receive theory training during their visits to Ponsse, and where visits to the smoke sauna are made in the evenings.
The facility is the old house of Einari Vidgréns. We ask which nationalities are the "wildest" during these nights. The answer is Swedes followed by Norwegians.
But here's the interesting part: the question is if this is not all one big misunderstanding? The Finns believe the Swedes and Norwegians to be the wildest – if you believe that, that's often what you'll experience. But the same goes the other way around. The Finns are the wild ones, we believe, and when visiting Ponsse we must show them what we're made of.
It could be that simple, that we're just triggering each other to escalate things to a level that could have been quite different.
The Train Departs to Russia
The same day that we visit Ponsse, another train set full of Ponsse machines leaves the station in Iisalmi. Iisalmi is the slightly larger town just south of Vieremä, and this is where one stays when visiting Ponsse and isn't staying at Ponsse Club. (A bit like Rottne and the Swedish city of Växjö.)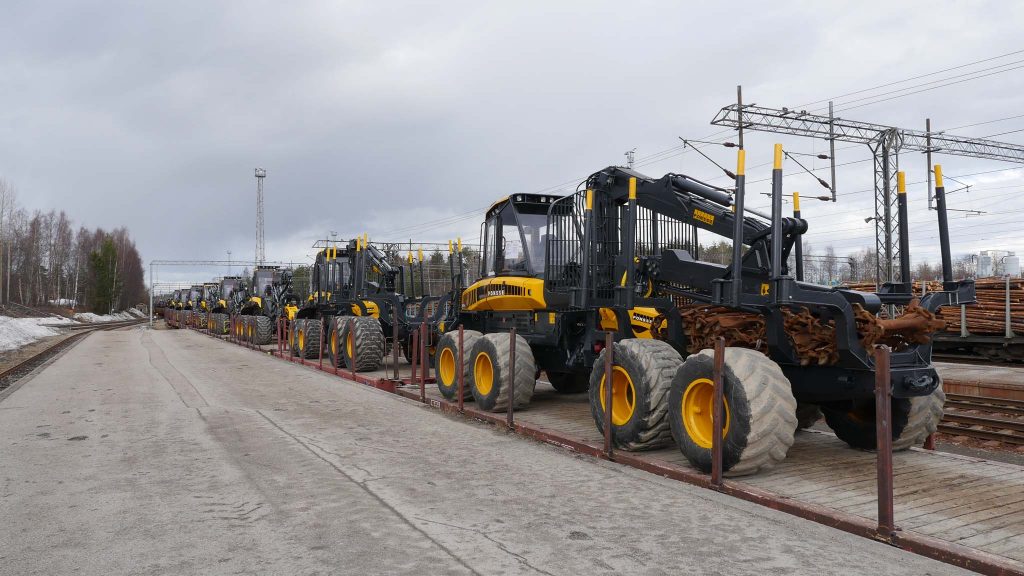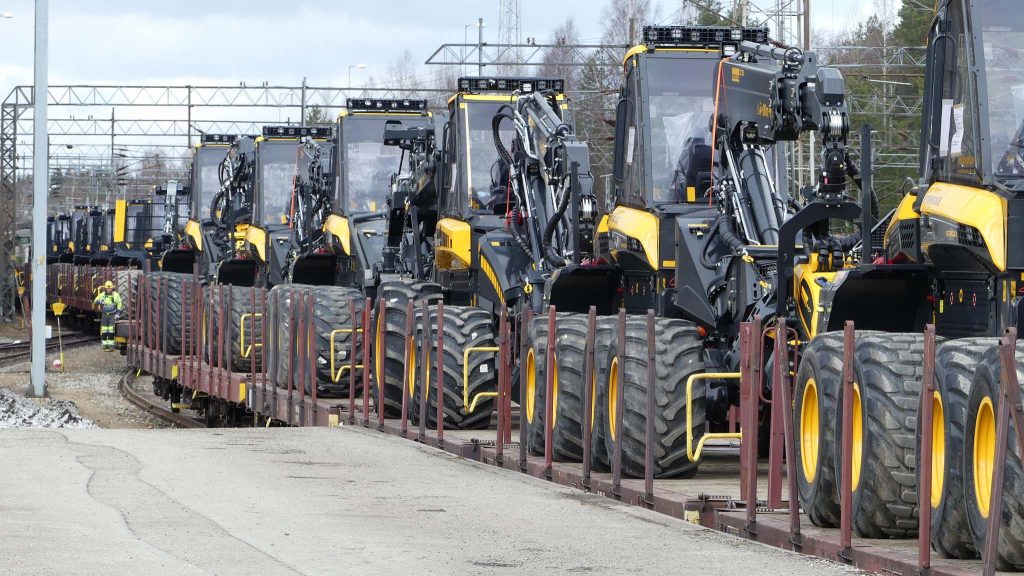 On each forest machine on the train – there are 19 of them – it is written where they are to be delivered to. Around 70% of them are headed to Russia. The bear has awakened!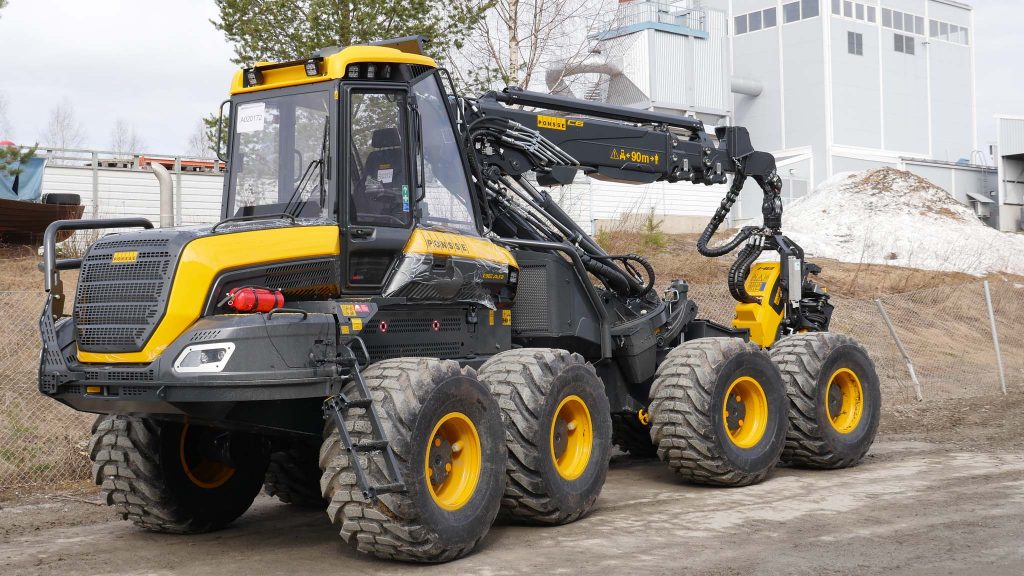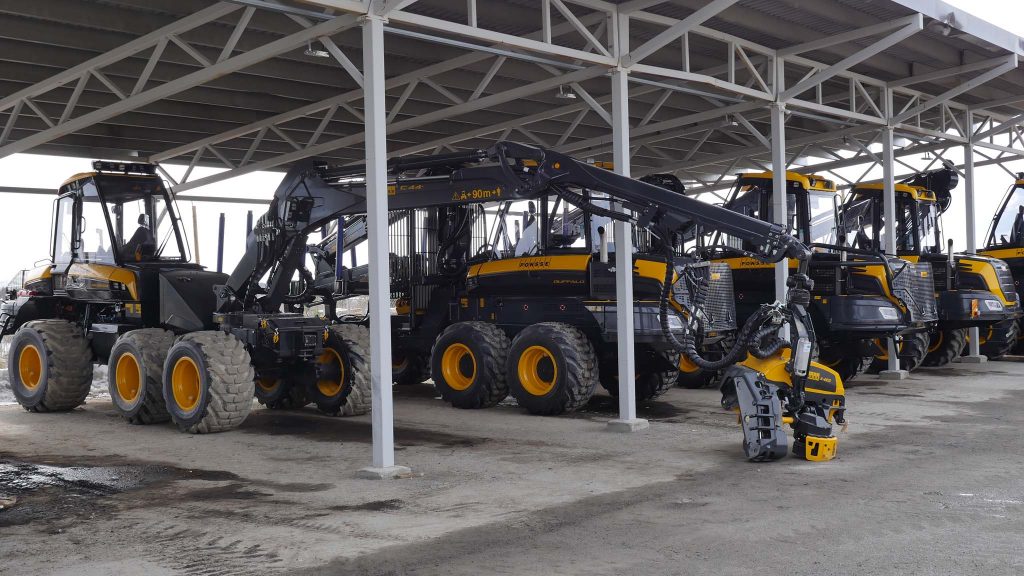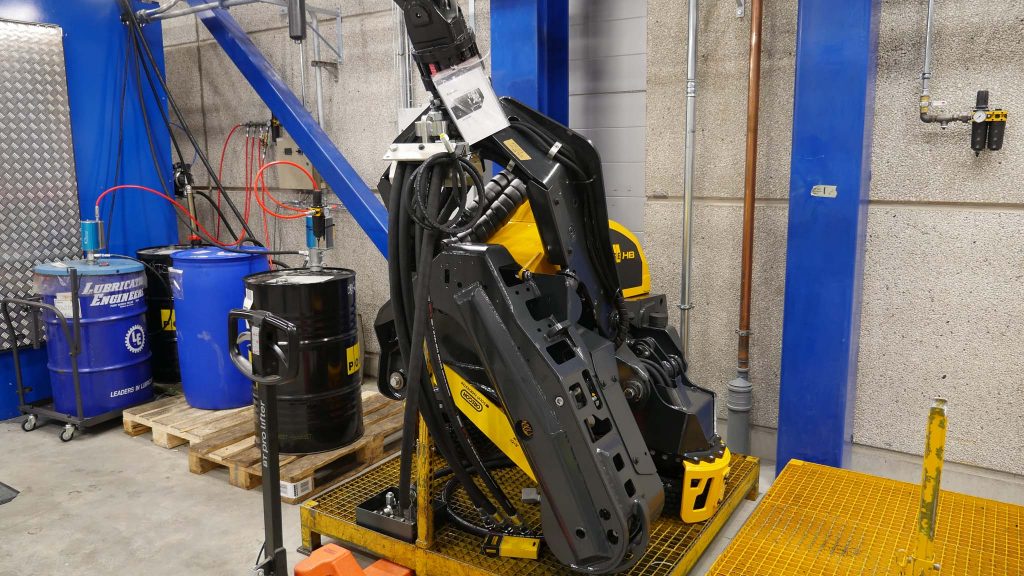 Conclusion
We leave Ponsse with a great deal of new knowledge. We hope that we through this text and the video below are able to share this knowledge – that's the whole point!
Vi besöker Ponsses nya fabrik i Vieremä
Another final interesting point to make is that Ponsse has lost market shares in Sweden lately, particularly in regards to forwarders. The question is why. If you have any ideas, feel free to reply in this thread. I have no valid reasons, but what do you think of the thesis that Ponsse Active Frame hasn't quite made a mark on the Swedish market, and that we through the Rottne "Comfort Line", meaning cabin damping, have made this an industry standard in Sweden? Can that be a valid reason?