On the 28th August, the Finnish tractor manufacturer Valtra launched a new series of tractors in the mid-segment. The new models are G105, G115, G125 ECO, G125 Std and G135. The G-series bursts in between the A- and the N-series. Valtra calls the G-series a "multi-purpose front loader tractor".
Technical data
All the new G-models come with AGCO Powers four-cylinder diesel stage-5 engines. They are all equipped with the power amplification function "Boost". The Boost gives 9 % more effect when driving in gear B5 or higher. The engine is designed for optimal use of front loader. Because of that, all models have a so-called "Step Nose".
| Model | Power (HP/KW) | Boost (HP/KW) | Torque, NM (Std/Boost) |
| --- | --- | --- | --- |
| G105 | 105/78 | 110/82 | 440/470 |
| G115 | 115/85 | 120/90 | 460/510 |
| G125 ECO | 115/85 | 125/93 | 518/555 |
| G125 Standard | 125/93 | 130/97 | 520/540 |
| G135 | 135/100 | 145/107 | 550/560 |
The G-series have a 24F+24R gearbox with four groups and six-speed powershift. Shifting between the B- and C-group and the C- and D-group is automatic. The parking brake is integrated with the forward-backward lever and the driver can program the transmission settings. The creeper gear gives a speed of 120 meters per hour, something that sometimes could be appreciated in the forest.
Fifth generation Valtra
The new G-series is the fifth generation of Valtra tractors. Like the N-series, the new tractors are available in Hi-Tech, Active and Versu models. The Active and Versu models can be equipped with Smart Touch armrest and like for the N-series those models have a load sensing hydraulic system that gives max 110 l/min.
A front loader tractor
Valtra markets the G-series as a multi-purpose, middle-sized tractor that is perfect for front loader work. As usual, Valtra uses front loaders from Ålö/Quicke. The Valtra tractors are also equipped with a panorama window at the front of the roof to make the work with a front loader easier. The total glass/window area for the G-series is 5,7 square meters.
The seat can be turned 180 and Valtra offers belly plates and a steel fuel tank for forest adaption. Unfortunately, Valtra does not offer Twin-Trac for the G-series. For us in the forest that´s a pity. If that was possible, quite a few probably would have chosen the G-series for logging. Now, if you want Twin-Trac, you will have to look at the N-series.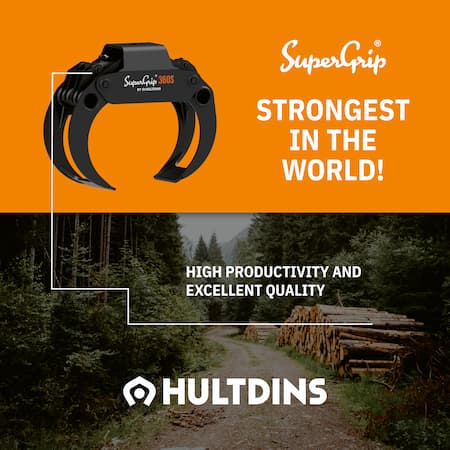 Photos and more info
Here below you will see some photos of the new G-Series. You can find more information on the G-Series here.
Here, you can see a big variety of log trailers for tractors that we wrote about here at NordicWoodJournal.com.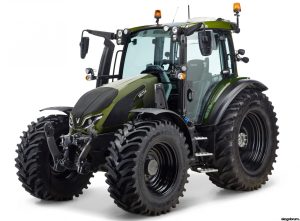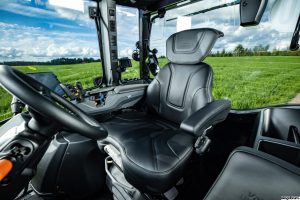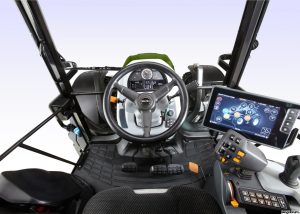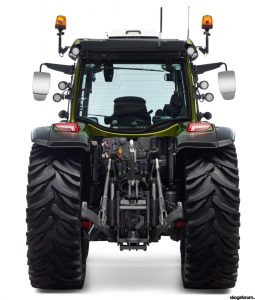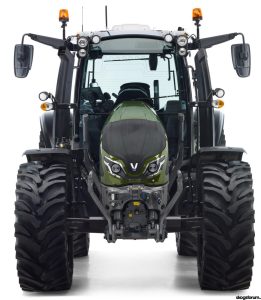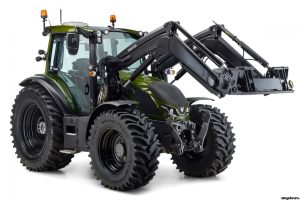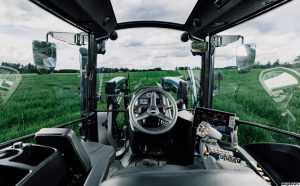 Photos and info: Valtra.com