In the series about sturdy harvesters, we have now come to the John Deere 1470G – the top of the line harvester in the John Deere range. This time, we managed to find a machine that had been in use less than a week.
John Deere Forestry
John Deere Forestry has a long and interesting history. For us older dudes, here in northern Europe, we still refer to John Deere as ÖSA, or even Kockums. Because the fact is that John Deere Forestry is a conglomerate of many brands.
What happened during the 70's and 80's was that the Finnish company Rauma Repola purchased Kockums, Lokomo, ÖSA, Mini Brunett, some more and eventually Timberjack. They all teamed up, first under the brand FMG (Forest Machine Group) and then Timberjack. In 2005 John Deere bought it all, lightened up the green color a bit and threw the Timberjack brand and the dark green color in the garbage bin. That was bald!!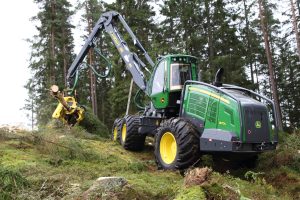 John Deere 1470G harvester
John Deere Forestry is one of the largest manufacturers of large-scale logging equipment. They are by far the largest manufacturer of machines for CTL (Cut-To-Length) Worldwide.
They have five wheeled CTL-harvesters in their range; 1070G, 1170G, 1270G, 1270G 8wd and the 1470G. You can read more about all their forestry ranges here.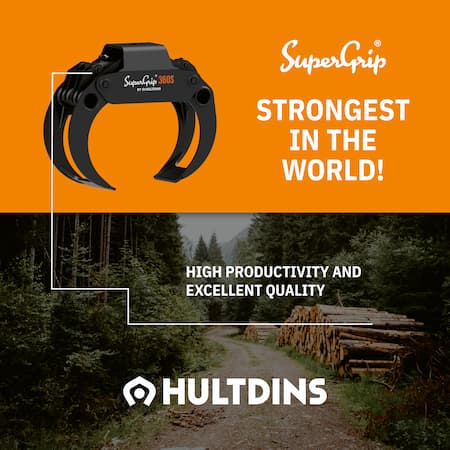 As mentioned above, the 1470G is the biggest of the JD harvesters. It´s competing with Komatsu 951, Rottne H21, Ponsse Bear and EcoLog 590 in the same segment.
The contractor
The owner of this 1470G is the company Stigssons Skogsservice AB (Stigssons Forestry Service inc.). A family-owned company with a long history that spans over generations. Today they have the 1470G, one JD 1510G forwarder and one JD 1910G forwarder that is mainly used for scarifying.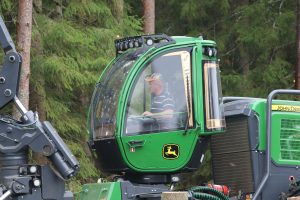 Facts and figures for the 1470G
Here are some figures picked out from deere.com:
Engine
Model                                                       John Deere PowerTech Plus 6090
Non-Road Emission Standards                 EPA FT4
Maximum Power                                      200 kW (268 hp) at 1 600 – 1 900 rpm
Maximum Torque                                    1 315 Nm (970 ft.-lb) at 1 200 – 1 400 rpm
Fuel Tank Capacity                                   450 l (119 gal.)
Diesel Exhaust Fluid Tank Capacity          23 l (6 gal.)
Transmission
Hydrostatic-mechanical, 2-speed gearbox
Tractive Force                                          200 kN (44 960 lb)
Travel Speed
Gear 1                                                       0 – 7,5 km/h (0 – 4,3 mph)
Gear 2                                                       0 – 22 km/h (13,7 mph)
Steering/Brakes
Proportional frame steering with mini lever
Turning Angle                                           +/- 44
Brakes                                                      Hydraulically actuated, oil-immersed, multi-disc service and working brakes; spring actuated parking and emergency brakes; automated frame-oscillation brake.
Axles/Bogies
Axles                                                         Hydromechanical differential lock at front and rear.
Front                                                         Balanced bogie axles
Rear                                                          Rigid axle
Electrical System
Voltage                                                     24 V
Batteries                                                   2 x 154 Ah
Alternator                                                 150 amps (28 volts)
Lights                                                        Halogen: 10 work lights; 4 boom lights and 6 thinning lights/LED lights optional
Hydraulic System
Load-sensing, power-adjustable, double pump system.
Pump Capacities                                      210 cm3 (13 cu.in.) and 180 cm3 (11 cu.in.)
Maximum Operational Pressure              28 MPa (4 060 psi)
Hydraulic Tank                                         300 l (79 gal.)
Boom
Type                                                         CH9
Maximum Reach Length (incl. head)       8,6 m (28,2 ft)/10,0 m (32,8 ft)/11,0 m (36,1 ft)
Gross Lifting Torque                                 225 kNm (166 ft.-lb)
Slewing Torque                                        59 kNm (44 ft.-lb)
Slewing Angle                                           220
Tilt Angle Forward/Back                          +28 / -18
Cabin
Levelling and rotation or fixed cabin.
Rotation angle                                          160
Sideways Tilt                                            17
Forward and Backward Tilt                      9
Measuring and Control System
Type                                                         PC/Windows 07-based TimberMatic H-16
Harvester Heads
Attachments                                            H480C, H270 Series II, H415, H215E and H290.
Dimensions*
Length                                                      7 945 mm (26,07 ft.)
Front Axle – Middle Joint                         2 250 mm (7,38 ft.)
Rear Axle – Middle Joint                          2 020 mm (6,63 ft.)
Wheelbase                                               4 270 mm (14,01 ft.)
Tires, Front/Rear                                      26.5-20/34-16
Width
600 Series Tires/650 Series Tires             N/A / Min. 2 990 mm (9,81 ft.)
710 Series Tires/750 Series Tires             N/A / Min. 2 990 mm (9,81 ft.)
Outer Turning Radius
710/750 Tires                                           N/A / Min. 6 930 mm (22,74 ft.)
Inner Turning Radius
710/750 Tires                                           N/A / Min. 3 690 mm (12,11 ft.)
Transport Height                                      3 910 mm (12,82 ft.)
Transport Length                                     12 280 mm (40,28 ft.)
Ground Clearance                                    750 mm (29,5 in.)
Min Machine Weight w/ Harvest head   22 900 kg (50 486 lb)
*Dimensions are guidelines only and may vary depending on production tolerances.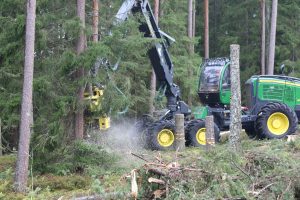 More info and articles
You can read about the big harvesters that we wrote about so far by clicking the links below.
Film
Here is a film from the visit to the JD 1470G.
John Deere 1470G harvester felling big trees