The forest machine manufacturer Komatsu Forest, who makes both harvesters and forwarders, launched a new crane tip controlled crane for forwarders on the 5th May. During the spring, Komatsu will arrange corona-safe demonstrations of the new crane control that is called Smart Crane. The first forwarders with Smart Crane control will be delivered in Sweden during the autumn.
Smart Crane – make life easier for forwarder operators
A few years have passed since John Deere Forestry launched their crane tip control through their IBC system for forwarders. Not long after, also Ponsse have joined the crane tip control train and now Komatsu.
Crane tip control can be explained as a computer-controlled crane. A positioning sensor helps the operator, through the computer, to position the tip of the crane. The operator then doesn´t have to use so many functions in the levers as e.g., the telescope is controlled by the computer.
Smart Crane and Smart Flow in cooperation
Smart Crane is a system that Komatsu has adapted together with the hydraulic system Smart Flow that was launched in 2018. The benefits that already exist in Smart Flow (softer, more precise and damped movements) is combined with the partly automated crane tip control into a functional unit.
The benefits for the operator are less vibrations and easier crane operation which means that he or she manages to focus on the job in a better way. It means wellbeing for the operator that also leads to better production.
Options
Smart Crane will be offered as an option for all forwarders in the Komatsu range. The cost for this option is not familiar to us today. Komatsu claims that you will get payback sooner than you may think.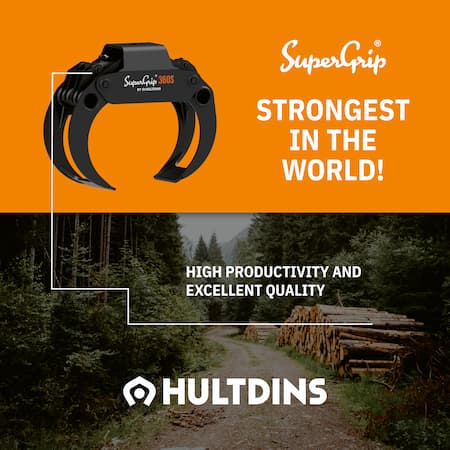 Smart Flow is also an option, a very popular one among the customers in the nordic countries. We have no exact figure but close to 100 % of the Komatsu forwarders delivered in this region are equipped with Smart Flow hydraulics. Komatsu believes that also Smart Crane will be a bestseller when the sales of the system start in the autumn this year.
Both beginners and old professionals will gain from the Smart Crane system, Komatsu claims. The beginners will learn faster and reach good production faster. The old pro´s can relax more due to the automatic functions, and on a yearly basis they will therefor produce more.
The sister site Skogsforum.se, who originally wrote this article, have promised to do a testing of the Smart Crane system as soon as they get the opportunity. We look forward to that. Keep a lookout here at NordicWoodJournal.com.
Read more about the Smart Crane at Komatsu´s home page here.