The major machine manufacturers didn't attend this year's Elmia Wood show as mentioned before, nobody should have missed that. But that didn't mean there were no large machines at the show. ProSilva, Profi, and Neuson were there.
Large machines at Elmia Wood
I saw in the exhibitor's list that a few manufacturers of professional "large scale" machines should be present. But I certainly didn't expect any live demo. It wasn't much, but still … Profi Production AB, nowadays located in Sweden, demonstrated their harvester the Profi 54 that we have written about before.
The Profi 54 weighs 14 – 16 tons depending on equipment. It's a small and smooth machine. Thanks to the waist lock and the low center of gravity and placing of the crane it's also stable in all types of terrain.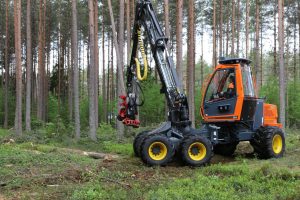 The Finnish machine manufacturer ProSilva was also present at the show. The show program claimed that the ProSilva S3 should be demonstrated on the show. I don't know, however, how much it was demonstrated. I only saw it parked on the stand.
The ProSilva S3 is a simple and robust 16-ton harvester. The model is available both in 4- and 6-wheel versions. The unique transmission controls the speed and torque on each wheel separately which makes the machine smooth and gentle.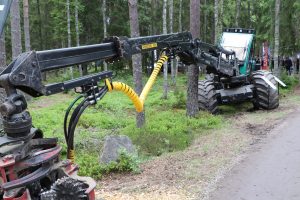 The tracked harvester from Neuson in Austria was also present in the Elmia Wood forest. Unfortunately, when I passed their stand, it was so crowded that I didn't manage to get a decent photo of the harvester. So, to see it please visit the Neuson home page.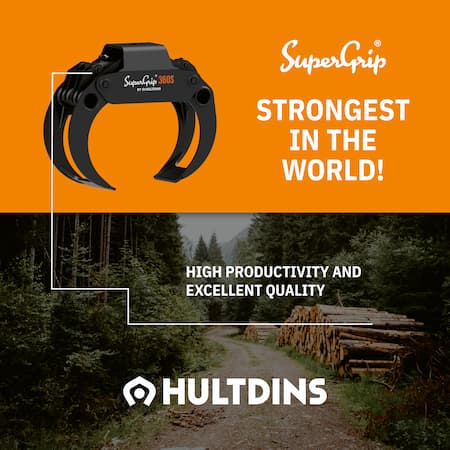 Apart from those three harvesters, there were several second-hand machines of all brands (also the major ones). Also, chippers of all sizes were there. So, the ones looking for tonnage couldn't have been disappointed.
To be quite honest, the two days I spent at the fair wasn't enough to cover it all.
Small scale vs. large scale – Where should one draw the line?
As being not only a Swede but also a former member of the Elmia Wood team I like to talk about large-scale and small-scale machinery. Here in Sweden, large-scale machinery is seen as a handful of large machines, like the most famous brands, or professional machines. In this terminology, Malwa, Vimek, Husqvarna, Stihl, and many others don't fit in under the expression "professional machines".
So, the question is: Where should the line between large- and small-scale equipment be drawn? Does it make sense to talk about large- and small-scale equipment? I have the feeling that those expressions are something that is only used in Sweden.
Large or small, professional, or not, we will get back to Malwa, Vimek, and some others in coming articles.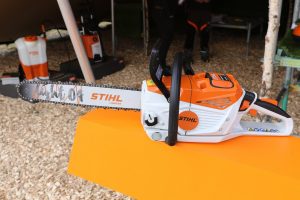 Photos: Per Jonsson