We keep looking at the sturdiest harvesters. After all, big machines have something that small doesn´t, for good and for bad, but here we look at the good things. Last time we wrote about the Rottne H21D.
Today we give you the Komatsu 951!
Size matters
I remember when the machines were "too big". The engineers struggled to get small machines out, like the Mini Brunett. Not much later, small harvesters turned up. The Lillebror by ÖSA, the 701 by Valmet and Rottne 2000 were all quite successful for a while.
My impression was that those machines were not efficient enough. The combination small, light and efficient didn´t work as well as the market wanted it to do. I recall a German contractor saying: "The ideal forwarder is 1 meter wide, has 15-meter crane and a payload of 15 tons." Well, that machine never saw the daylight.
The machines soon started growing again. Efficiency and economy ruled and is still ruling. Thanks to better/wider tires and better tracks the impact of a bigger machine is not so much worse compared to small machines. Of course, this depends on the soil conditions.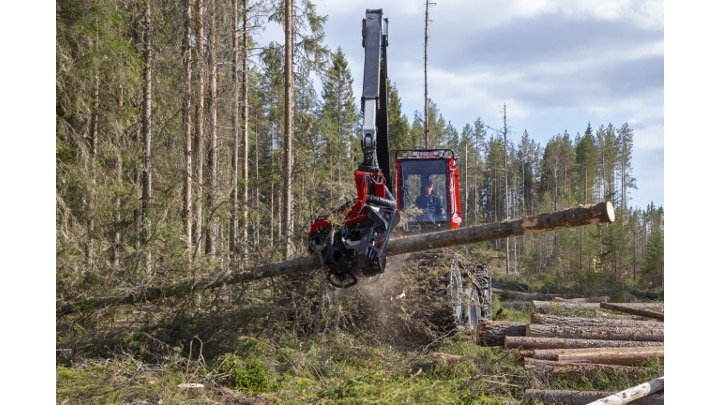 Komatsu 951 harvester
"The new Komatsu 951 is the largest harvester you can find on the market." This is the intro for today's machine at Komatsu Forests homepage. Well, I´m not going to argue with that, but they will have to prove it themselves if necessary.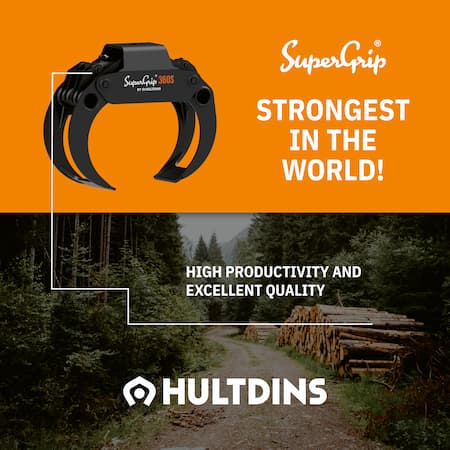 There is no doubt, however, that this machine is a giant in the forest. It definitely plays in the top league when it comes to both capacity and size. The manufacturer, Valmet/Sisu/Partek Forest/Komatsu Forest, has some history so there shouldn´t be any problems with quality either.
The Komatsu 951 in figures
(Source: komatsuforest.us)
Measurements & weight
Weight from 22,790 kg
Length, total 8,285 mm
Width 3,060 mm
Transport height 3,960 mm
Ground clearance 665 mm
Engine
AGCO POWER, 6-cylinder diesel engine
with turbo and intercooler. Conforms to the requirements of EU Stage V (Europe), Tier 4F (North America) and Stage II (other countries).
Engine type Stage V: 74 LFTN-D5, Tier 4F: 74 LFTN-D4, Stage II: 74 LFEN-A2
Stroke volume 7.4 l
Power, max Stage V and Tier 4F: 214 kW DIN at 1,850 rpm, Stage II: 210 kW DIN at 1,850 rpm
Torque Stage V, Tier 4F and Stage II: 1,280 Nm
at 1,500 rpm
AdBlue® tank 50 l
Fuel tank approx. 529 l
Power transmission
Hydrostatic-mechanical, controlled via MAXiXT. Transfer gearbox with 2 positions. Disengageable front-wheel drive.
Differential locks Front and rear axle. Mechanical electro-hydraulic control.
Driving speed 0 – approx. 24 km/h
Traction force 222 kN
Hydraulic system
Dual-circuit load-sensing system with variable piston pumps.
Flow 528 l/m at 1,600 rpm
System pressure 280 bar
Hydraulic oil tank approx. 250 l
Miscellaneous Pressure filter for hydrostatic circuit. Return oil filter for hydrostatic and working hydraulics. Hydraulic oil level warning.
Frame/axles
Axle, front Geared boogie "high clearance" type with portal axles housed in the rims. Differential with mechanical differential lock.
Axle, rear Swing axle with hub reduction. Differential with mechanical differential locks. Hydraulic stabilizer.
Brake system
Fully hydraulic multi-disc brakes. Brake pressure accumulators charged via automatic hydraulic accumulator charging valve.
Driving brake Four multi-disc brakes in oil bath on front and rear axles.
Working brake Same as driving brake. Automatically engaged when working.
Parking brake Spring-action brake with electro-hydraulic control. Emergency brake.
Braking performance Confirms to ISO 11169 and VVFS 2003:27.
Crane
270H
Reach 8.7/10.3 m
Lifting torque, gross 275 kNm
Slewing torque, gross 60 kNm
Head C124/S132/C144/V132E/370E/S172/C202/C202E
Steering
Hydraulic articulated joint with 2 dual-acting hydraulic cylinders.
Lever steering Load-sensing (LS) proportional steering from crane controls/rocker.
Electric steering Finger-controlled miniature steering wheel on right hand panel.
Steering angle +/- 40°
Ex. of other equipment Electrical limit damping.
Electrical system
Voltage 24 V
Battery capacity 2 x 180 Ah
Generator 2 x 100 A
Lighting
Working lights 13 lights on cab, 2 lights on crane, 3 lights on crane base, all halogen and 2 lights on the engine hood grille, LED.
Service lighting LED lights in service compartments.
Ex. of other equipment Working lights (LED). 9 lights on cab, 2 lights on crane, 3 lights on crane base and 2 lights on engine hood grille. Variations of extra working lights (LED). 2 roof mounted lights on cab (halogen).
Ergonomics
Levelling for good posture. Can coupled to swing axle. Crane and cab on horizontal, rotating platform. Hydraulic stabilization when maneuvering.
Horizontal levelling Longitudinal 22°/20° and lateral 16°.
Rotation +/- 180°
Ex. of other equipment Autolev – fully automatic cab and crane levelling. Crane damping. Cab suspension. Slewing damper.
Cab
Tested in accordance with ISO standard. Levelling. Thermal and acoustic insulation.
Seat Several alternative seat options. Ergonomically designed with headrest, armrests, hand controllers and waist safety belt. Depending on seat selection, different options are available for individual adjustment of the seat cushion, backrest and lumbar support. Also available as a rotating seat.
Windows Polycarbonate windows throughout.
Heating/Ventilation Combined heating and cooling unit or climate control. Filtered intake air via allergy filter.
Noise level As per ISO standard
Vibrations As per ISO standard
Other Manual tilt. Windscreen wipers and washers on windscreen.
Ex. of other equipment Swivel seat, Smart radio/DAB radio, MediaZone, Electrically controlled platform under cab.
Here is a film of the Komatsu 951 in action in a spruce stand: