The small forest machine Terri is one of the fastest-growing brands in the forest machine business. To meet increased demands, especially from export markets, a brand-new factory was built. The moving-in of production, stock, and office to the new facilities started in June this year. The opening party was on the 25th of August.

Terri moves to a new factory
The story about Terri started in the early 70s at Valmet in Finland. It was a small, tracked machine that gained success for its light weight and low impact on the ground. In 1995, Terri became a Swedish brand. After different ownerships, the Terri brand ended up in the southern Swedish company Alfing i Älmhult AB. 


After one year of planning and intensive work, the moving-in to the new, modern facilities started in June. The new factory has 3200 square meters of stock, production areas, and offices.
"The timing is right for our gentle machines and therefore we decided to build a new factory. With the new facilities we are ready to meet the increased demands," says Claes-Göran Claesson, CEO of Alfing i Älmhult AB.

Increased demand for smaller machines
In Sweden increased pulpwood prices and a greater interest in thinning contribute to increased sales of small machines, suitable for thinning. In thinning, especially young thinning, smaller machines are always preferable, and with higher pulpwood prices, forest owners can afford to hire those.
"We notice an increased interest also from other countries than Sweden," says Arne Isaksson, sales, and marketing director at Terri. "We receive requests from all over the World. A good product and a growing awareness of the importance of managing the forest correctly is one explanation to the success," he concludes.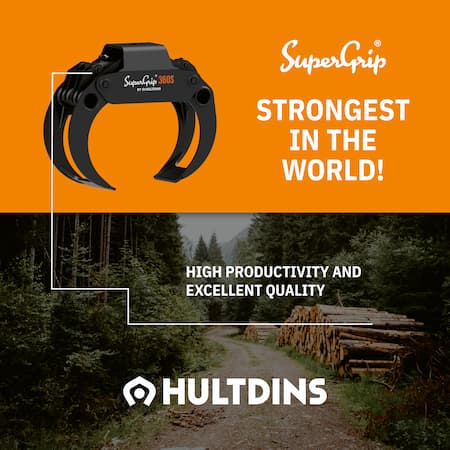 The interest from other countries may be more difficult to explain. But the general discussion is a lot about the damage being done in forestry actions, often caused by large machines. Then it's logical that smaller machines gain more interest.
What's interesting is that none of the major forest machine manufacturers have any small machines in their range, as they used to have. E.g., the Mini Bruunett, the JD 810, and the Valmet (today Komatsu) 820. The trend has changed over the years but somehow, large machines have always come back. Efficiency and economy have been the explanations.
Will we see a battle between small and large machines in the future? Are the small machines here to stay this time?
Grand opening at Terri with an international touch
On the 25th of August Terri invited to an official housewarming party in the new factory. The 150 guests were customers, suppliers, and dealers from Sweden and different parts of the World such as Estonia, Latvia, Ukraine, and Scotland. A tight schedule, good food and drink, activities, and entertainment made the event memorable.
Key suppliers like Poclain, HydX, LogMax, Caterpillar, and Olofsfors were displaying their equipment at a small exhibition. Outdoors, a forwarder competition took place where the participants picked up footballs and placed them in barrels. An ax-throwing competition was also a part of the program.



Later there was a dinner party with celebrations, speeches, and gift-giving, and a party that lasted until late. According to a present person, spontaneous singing came to be a part of the entertainment. Surprising perhaps, but one participant explained "There is not much else to do when you sit alone in the machine all day." 
Another reflection, made by the same person, was that the Terri customers seem young. A good sign for the forestry business where the average age is getting high. Young, enthusiastic, and a modern view of smaller machines makes it look optimistic.
Congratulations Terri! May your future be long, bright, and successful.
More about Terri
You will find more about Terri on the company's homepage here. 
You can read an article and see films about two machines in the Terri range here.