So, we are here. Tomorrow the Metko show in Finland starts, but we had a walk on the fairgrounds already today. Just to give a hint about what will be shown – here are a couple of teasers. 
FinnMETKO 2022
There will be news presented at this year's Metko for sure. Ponsse will show their new Mammoth forwarder and the Scorpion Giant harvester. And, of course, the electrical concept machine EV1.
But that's not all. They will also present another piece of equipment for the first time at the Metko. You can see it in the photo below. But what is it? More on that later …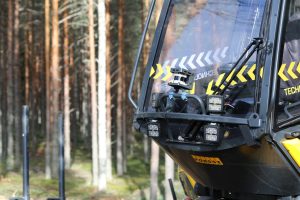 More to see
Completely new forest machines seldom turn up. But on this year's Metko a new forwarder will have its premiere. The brand is familiar, but the machine is new. In the photo below is just one detail revealed. You'll get the whole picture later.