Once upon a time, in Vindeln by Umeå in northern Sweden, the brothers Rune and Allan Jonsson came to the conclusion that wire cranes were outdated, and hydraulic cranes were the future. The rest is history. 
In late 1960 the first Cranab crane was delivered to a customer close to Vindeln. In the first years, every crane was customized due to each customer's demands. The "drawings" that Allan and Rune used, were chalk sketches on the workshop floor. Nevertheless, the cranes seemed to work and business developed.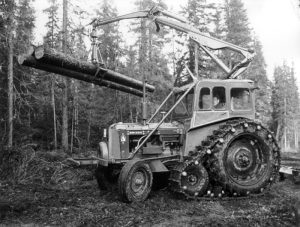 Hand in hand with the forest machines
At about the same time as Cranab´s first cranes entered the forest, the first modern forest machines started to be seen. "Modern" in the way that they were custom made for forestry and not modified agricultural tractors anymore (as on the photo above). So, one can say that the Jonsson brothers had good timing – they were there when it started and Cranab has taken an active part in the development of forest machines up to today.
Today´s range
The product range today consists of hydraulic cranes for forest machines, trucks and stationary cranes for sawmills and recycling industry. A range of grapples for the cranes, also fitting other crane brands, is also manufactured by Cranab.
Roadside clearance machines under the brand Slagkraft is also a part of the Cranab company. This system consists of a crane (Cranab we guess), a power pack and a control system to be mounted on a wheel loader or similar base unit.
Celebrations
The jubilee year 2020 will be an eventful year for customers, employees and partners. This will be seen at the factory in Vindeln, different customer meetings and fairs during the year.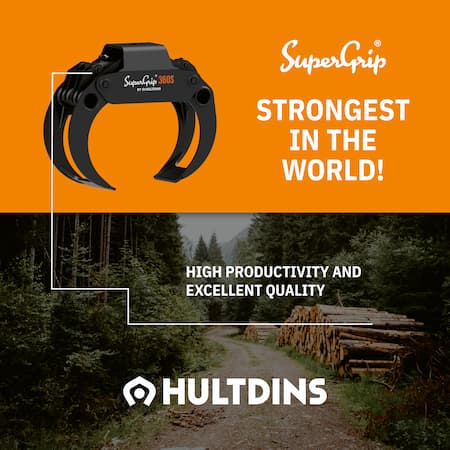 Happy Birthday Cranab!
Cranab AB is part of the Cranab Group, which consists of four leading brands, Cranab, Slagkraft, Vimek and Bracke Forest. Cranab manufactures cranes and grapples, Slagkraft grasscutters and brushcutters, Vimek small forestry machines; Bracke Forest manufactures units for ground preparation, seeding and biomass harvesting. Cranab AB is owned by the Fassi Group.