What´s the difference between today's chainsaws compared to the ones we used 20, 30, 40 years ago? I should know as I was a logger back then and am a (halftime) logger of today. The problem is that I decided to work with my old equipment – until now. Come along on my chainsaw trip from the 80´s classics to the flavor of the week.
I used to be a full-time logger in the early 80´s, working with my chainsaw every day, in every weather all day long. I consumed at least one chainsaw per year, and I liked the sturdy ones. I used Husqvarna 162 and the following 266. Heavy, strong and reliable. You could set the rpm so high that it was as if every second could be the last for the saw, and once it actually was, but only once as the rpm was so high that the piston got stuck and exploded. That was some crash. The colleagues working 50 meters away came running wondering what the hell happened.
Different chainsaw brands
I tried different brands of chainsaws, Jonsered, Partner, Stihl and Echo. Some of them were ok but I had a very good Husqvarna dealer who gave the best service and prices, so I stuck to the orange ones.
Somewhere around 1983 – 84 the dealer said that there was a new, modern model coming. One that was as strong as the 266 but much lighter. I tried one for a few days and had to buy one after that.
A new generation of chainsaws – talking about my generation
The Husqvarna 154 was light, strong, had a thinner chain but … it had an rpm controller! Why?! It was no longer possible to set the saw to run like every second was the last, meaning that it also consumed more fuel.
As mentioned above my dealer was service-minded. He showed me and the colleagues how to disconnect the rpm control with a small piece of paper. Everything forgiven, now I could give gas again and the 154 ran like a dream.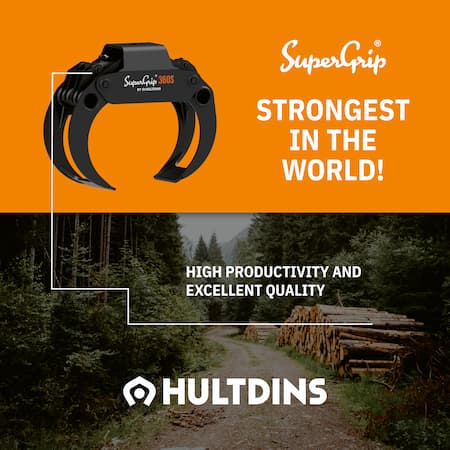 Life changes
By 1986 the demand for manual loggers was very low and, honestly, I was tired of running around in the forest. So, I sold my chainsaws and stepped into a machine. Many years later I bought a second-hand saw, now it was a 254 that was very much the same as the 154. More on that below.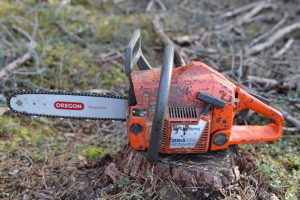 After leaving the chainsaws behind I tried quite a lot within forestry. I operated machines, harvesters, processors, forwarders, chippers, scarifyers and even, if so for a very short time, timber trucks. I also studied, became an educated forester and studied marketing that brought me into trade fairs and machine sales business´.
Into the roaring twenties
By the end of 2019 three things struck me:
I had done almost everything you can do within forestry.
I had been sitting on my ass for 35 years.
It was time to make up my mind …
I could have gone back to operating chain- & clearing saws fulltime again, but my age … well, maybe it´s better to start a bit easy. I managed to transform the offer I had to be a fulltime editor here at NordicWoodJournal.com to a halftime job. The other half – yes, you guessed right: Out to the bushes, to cut them down!
Back where it started – with a new chainsaw
But of course, I have tried it all so if someone should know what´s the best job in the forest it is me and I know for sure that working manually in the forest is the best. Let´s face it: Machines and trucks are for old ladies and wimps!
Manual forest work in Sweden 2020 is very much about pre-commercial thinning, PCT, with a clearing saw, which I do. However, I have managed to find some first and second thinning and so far mainly worked with the old Husqvarna 254, but I eventually reached a point where I felt that – it´s actually 2020 and not 1986. So, I bought a new saw.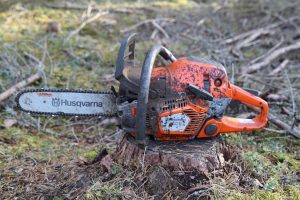 Auto Tune!? What is that?!
As mentioned above I have always liked to set the carburetor according to my demands, that is it should run like every second was the last. Maybe you can imagine the shock I got when I realized that on the new 550 XP Mark II Auto Tune, you can´t do anything on the carburetor. It´s controlled by a computer!!! On a chainsaw! What the …??!
I bought it anyway, mainly because I hate it when people say that everything was better in the old days (it wasn´t) and I wanted to give this modern stuff a chance.
I have no regrets, the 550 runs (almost) like as if every second was the last. I am very pleased with it. The only problem is that it´s lazy. Every time I put it on the ground it lies down, meaning that when I am to pick it up, I have to bend down more. It´s very annoying but easy to understand when you look at the design of it. The 550 is narrower than the 254, which makes it better to handle when delimbing.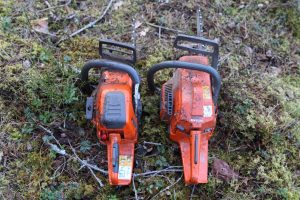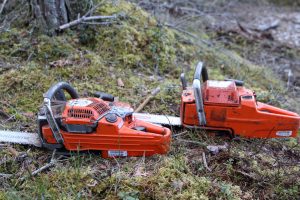 I actually haven´t checked the weight of the two saws, but the 550 feels lighter and easier to maneuver. Maybe it´s the design itself that gives that feeling. Anyway, apart from the laziness, I have to admit, it´s a pleasure to work with the 550. I was hoping that the fuel consumption would be lower on such a modern saw but, in a first thinning of spruce, with a lot of delimbing, the 550 wants at least as much fuel as the 254.
In general, I would say that the 550 is quite a big step forward. One can expect that after some 30 years, it´s called development … But I´ll never lose my beloved 254!