At the beginning of this year, I wrote about my (so far) 14 chainsaws, of which three are still in my fleet, in the article chainsaw biography. It´s interesting what you discover when you start thinking of it. I never realized I had so many chainsaws. The other day I started thinking about how many machines I operated. That was even more …
Forest machine biography
I started as a logger, working with a chainsaw for a sawmill in the early 80s (1980s). This was at the very beginning of the machine revolution in south Sweden. At this point, there were not so many harvesters and processors running but they were just around the corner. Soon, the logging work we did more and more turned into felling for processors.
That felling operation was profitable but boring. I started dreaming about getting into the processor instead of chasing the trees with my chainsaw. In this case, the processor was owned and run by a contractor who was hired by the sawmill. That processor was interesting as it was a Hultdins processor.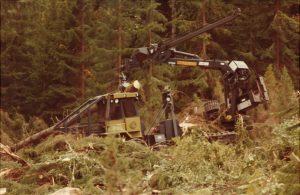 Yes, Hultdins produced a processor for a short while. Or to be precise, they restored old base units, mainly Kockums machines, and transferred them into two-grip processors and harvesters with their own processor units and felling heads or grapples.
That machine caught fire and the contractor gave in. So, the sawmill decided to buy a processor of its own. Here was my chance.
Rottne Blondin Snoken 810 FD
My boss at the sawmill was aware of my desire to become a machine operator and offered me to be the "spare operator" of the new machine, meaning that I got to operate it at times when double shifts were required. The new machine was a Rottne Blondin Snoken 810 FD 1985.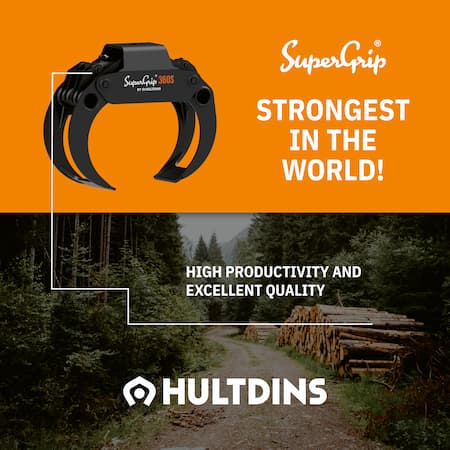 I spent approx. half the time in the processor and the other half with the chainsaw. In retrospect, that was a good combination. However, by 1985/86, I was tired of the chainsaw and wanted a full-time job as a machine operator.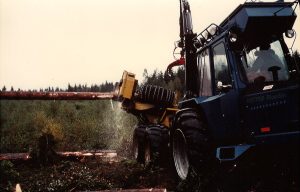 New job – old machine
For the first time in my life, I started using a tactic that I have used many times since – throwing out "baits". I made sure people got to know that I was available for offers. It didn't take long until I was contacted by a contractor who offered me a job to operate a similar processor as the previous one, but a little older. I took the chance.
This contractor had a wide range of machines, meaning I got to try forwarders, chippers, and scarifiers apart from my main job operating the old processor. I also got to try different brands such as Kockums, ÖSA, Lokomo, Volvo, and Mini Bruunett. But the brand I got used to was Rottne Blondin and the machine I mainly operated was Rottne Blondin Snoken 780 -1981 with six-lever crane controls. Luckily for me, I that was the system I learned from the start – in school.
This company still exists. Today it's run by the grandson of my former boss, and they have one harvester and one forwarder. I visited them recently and wrote an article about them.
More to come
It's interesting to dig into this kind of history. If nothing else, it makes you realize that you're starting to get old.
When I listed the machines I operated, I counted to approx. 20 machines of which about half were at the contractor mentioned above. I can't cover all of that in one article, so I must come back in future articles about my machine history.
Stay tuned!