It´s summertime, and that means vacation time for many. I never owned a machine myself but have often thought about how expensive it is to just stop the machines for a week or two. Not to mention the Swedish summer vacation that normally is four weeks.
Vacation
I have no machines and no loans, but that doesn´t mean that I stop thinking. The forest machine contractors are more and more under pressure here in Sweden, and I guess in many other places. I sometimes wonder why anyone goes into that business at all. The major forest companies seem to have that strategy in common, to put their contractors under pressure and force them to work cheaper. "There is always another one if you don´t take the offer."
To be able to offer yourself and the employees some vacation, you must work hard the rest of the year.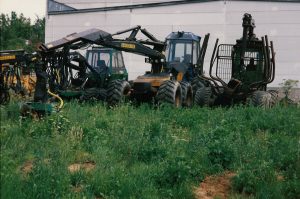 Hard to relax
For me the summer vacation has always been boring. Four weeks is way too much to just hang around doing nothing. I recall, when I was a machine operator, calling my boss after one week or two asking to come back and work.  It´s better to get a job that is so fun and interesting that it makes the vacation less important. If you really need a long vacation, you should get a new job if you ask me.
So, as you may have understood, I am working this summer too. In the forest, by the computer, in the car or whatever turns up. But of course, I will have time for a beer or two as well. That goes for all times of the year.
Have a nice summer out there!