The sister-site Skogsforum.se has had a "mini-chainsaw" for testing for a few months. Echo CS2511 WES is a 25-cc saw that only weighs 3,5 kg (7,7 lbs.), ready for the forest (RFF = fuel & oil tanks full, and bar and chain mounted). This is a summary of the (non-scientific) test. 

Making firewood
Recently Skogsforum.se tested the Echo CS2511 WES together with two Stihl saws for firewood making. The impression during that comparison was that the little Echo was quick and ambitious but weak when the stem diameter got close to 20 centimeters (8"). One of the testers, Torbjörn, wanted to try the Echo 2511 in a really thin forest, a late pre-commercial thinning. A job normally done with a clearing saw. 
Prices and demand for firewood may open a new market for this type of chainsaw. So, why not try it in this kind of forest? In any case, the weight of the saw suits that kind of stems and old men like Torbjörn (and myself).
Tangible weight
The weight is the most obvious difference between the Echo CS2511 WES and the most common saws for forest owners, the Stihl MS201 and Husqvarna 550XP. The difference in power is of course also noticeable. The Stihl 201, RFF (Ready For the Forest) weighs 5 kg (11 lbs.), and the Husqvarna 550XP Mk II 6,8 kg (15 lbs.) with a 15" bar. The small Echo is in other words much lighter than the two other "farmer saws". A noticeable difference if you wish to work full days and don't need the extra power a larger saw provides.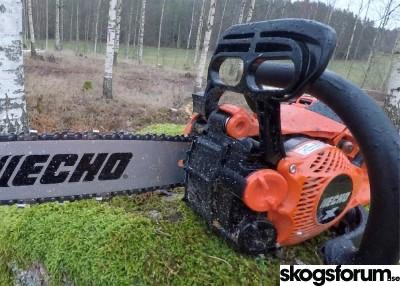 Fuel efficient
Another essential difference is that the Echo 2511 is very fuel efficient. The fuel tank holds 0,19 liter (6,4 ounces) but lasts almost an hour. Torbjörn managed to produce 45 logs per tank, nicely piled up. 1 liter (34 ounces or 0,26 US gallon) of fuel lasts for five hours including a break or two. 45 (thin) logs per tank for five hours turned out to be approx. 2,5 cubic meters of fine (but thin) birch firewood. The thinned area during this time was approx. 0,2 hectares.
The chain must be sharp!
The test saw was delivered with a 1,3-mm, 3/8"-pitch Oregon 91 PX chain, and a 12" bar. Many experiences that the chains on small saws hop off, Torbjörn is one of them. But with this setup, he didn't manage to cause that problem even once. The chain also stayed tight during the test.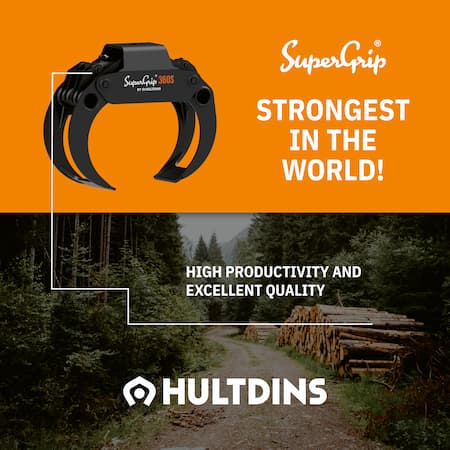 However, the chain must be kept sharp. The slightest sign of losing sharpness and you must sharpen it. The weak 25-cc engine doesn't allow other than a razor-sharp chain.
The clutch cover is attached with a normal 13-mm nut that is attached to the cover. The chain tensioner is easy to handle on the cover.

Easy to start but small choke
Like everything on this saw the choke is very small and hard to handle with gloves on. Apart from that, the throttle trigger and the stop button work as expected. When the saw is running the impression is that it's quick and reaches top rpm fast. The Echo CS2511 WES has no automatic carburetor setting like M-Tronic or Autotune, but the test saw was perfectly set from the start.
The vibrations are not disturbing but the anti-vibration feels a bit soft. Probably something you get used to and no major problem. According to Echo, this saw is "pro-quality".
Slim design but a notch in the top handle
The Echo CS2511 WES has a low profile and as mentioned before is very small. The balance is good and it's easy to work with. Maybe that is mainly due to the low weight more than the design but it's nice to work with and easy to handle.
One detail was however a bit disturbing. That was a notch on the top handle, placed to the lower left where there is a sharp corner where the hand gets stuck when turning the saw from e.g., felling to delimbing position. A small but annoying detail.

Is it worth the effort to make firewood in thin birch?
It may seem inefficient to make firewood of such thin stems. Many may not have patience enough for such work. But as a matter of fact, Torbjörn had great fun working with this. Not least due to the impression to make good twice – do pre-commercial thinning and produce firewood. It's a way to create more value from the forest during its life circle.
One way of seeing it might be to let the Echo CS2511 WES be a middle step between a clearing saw and a "real" chainsaw. In any case, this saw is a pleasure to use in the right type of forest.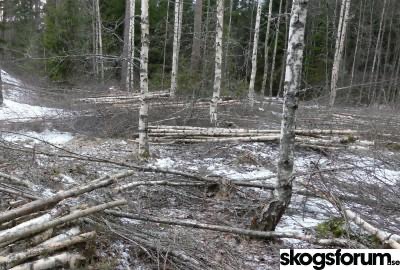 Photos: Torbjörn Johnsen