There has been lots of discussions about self-driving, or autonomous, forest machines lately. The forestry business is looking at this to meet increasing difficulties to recruit operators to forest machines. There are ideas, we have written about some of them, e.g., an autonomous machine platform developed by Luleå Technical University, LTU. But how far have other types of vehicles come in this development?
Self-driving vehicles
The technology for self-driving cars is already here, and in use in some places. Self-driving forklift trucks have been used in warehouses for at least 30 years. Also, in airports there are autonomous vehicles used. Not to mention trains, here I´m surprised that driver-less technology haven´t been used more than it has. After all, a train just follows the track, doesn´t it? (I guess train people will have some remarks about this – if they read NordicWoodJournal.com)
What´s happening outside the forest
Sometimes you have to look outside your own little World to get inspiration. So let´s see what a quick Google-research has to say on the subject.
Self-driving truck
Stora Enso in Finland started testing a self-driving truck a year ago. By the test-run, Stora Enso has collected information on what environmental, safety and cost benefits can be achieved when driving around at the mill grounds at Uimharju pulp and sawmill in Finland.
"The use of the automated truck has considerably increased safety in the mill area, particularly in the vicinity of wood chip piles and warehouses. The use of automation has also reduced emissions. Testing has gone well, and the truck does the right things in the right places. The test was planned to last for one year, but we have decided to continue it in order to gain a more comprehensive experience of how the truck works in the different seasons," says Lauri Kuusisto, Director of Operations at Stora Enso Wood Supply Finland.
The idea is that the operator should sit in a remote-control room. The automated truck is expected to reduce emission by optimizing engine operation and route selection. The truck has six "senses" that help observing the environment around it.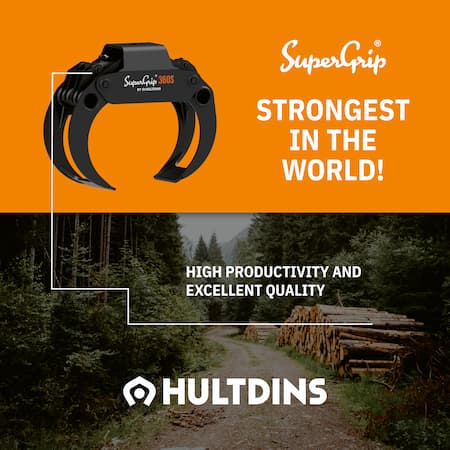 Read a press release about the self-driving truck here.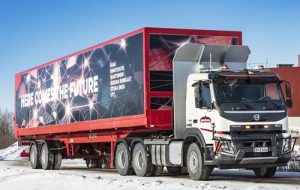 Construction machinery
in 2018 a project was launched to run remote-controlled machines at Volvo CE's R&D facility in Eskilstuna, Sweden. It was a cooperation between Volvo CE (Construction Equipment), Ericsson and Telia (Swedish Telecom) to run Sweden's first 5G network for industrial use. The aim was to develop remote control of construction machinery and fully automated solutions. Read the press release from 2018 here.
In March 2021 Volvo CE announced that they will open a new test and demo area dedicated to sustainable power, connectivity and autonomous solutions. Focus on the new demo site will be on the TARA autonomous transport solution from Volvo autonomous solutions for defined sites, such as quarries and mines.
"We are excited to demonstrate our complete TARA solution to customers, including how to set up and run the site, how to charge and store the TA15 electric autonomous haulers, and how we manage the control room and surveillance operations – everything in a brand-new state-of-the-art facility" explains Calle Skillsäter, technical specialist in connected machines at Volvo Autonomous Solutions.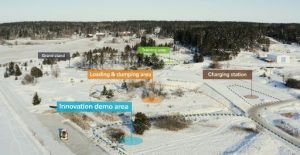 The new demo site will open by autumn 2021. Read the Volvo press release here.
Cars
The technology of self-driving cars has been around for some years now. The question is if they are reliable enough to let loose in the traffic? According to an article in The Guardian in January -21, the international taxi company Uber has parked their plans for "robotaxis" as the challenge was bigger than expected. In the article, Professor Nick Reed, transport consultant, summarizes: "The technology worked … people had the sense, it does the right thing most of the time, we are 90% of the way there. But it is that last bit which is the toughest. Being able reliably to do the right thing every single time, whether it's raining, snowing, fog, is a bigger challenge than anticipated."
Read the article in The Guardian here.
When looking at Tesla's home-page there seems to be no problems at all to let the car do all the driving. Well, maybe laws and regulations have another opinion about this.
Conclusions
I must confess that I thought that this development had come much further than it has. It seems that it´s still on a research stadium meaning that no actual breakthrough has occurred yet. As Professor Reed puts it; It´s the last 10 % that is difficult to solve. On the other hand, 90 % is done, why not go for the last 10 % when you´re at it?
Somewhere in the Google-jungle looking for facts about this I saw a comment about what the consequences may be if self-driving vehicles becomes the normal way. As those cars are much safer (?) workshops and insurance companies will suffer as there will be fewer accidents. Also, some specialized lawyers etc. will run out of jobs. Parking companies will suffer as the car can go park itself miles away from where you are and come back to pick you up when you call for it. Taxi drivers and train operators will no longer be needed … well, not as much as now anyway.
On the machine and truck side there will be less need for drivers and operators. In this case it might be a good thing as recruiting young people to this kind of jobs is difficult in many places.
It´s an exciting development indeed. We will follow this, especially within forestry. It will for sure come sooner or later. We just have to wait and see.
Sources: Stora Enso, Volvo CE, Ericsson, Tesla and the Guardian