The Finnish manufacturer Sampo Rosenlew may be most famous manufacturing combined harvesters for agriculture. They have, however, produced forest machines for many years as well but the company has not focused so much on the forestry branch, that is, until now.
Three new forest machines at FinnMetko
Many visitors at this years Finnish forestry fair FinnMetko are going to rub their eyes passing Sampos stand. The company now shows three completely new forest machines never seen before. NordicWoodJournal.com is on site reporting from the fair, and here is what we know so far.
How is this possible?
In 2017 Sampo Rosenlew bought the remains of the bankrupt company Logman. Logman was an manufacturer of forest machines based in Finland and there was some discussions why on earth Sampo bought this company. Now we know why. Representatives at Sampo told us today that two of the new forest machines (HR86 and FR68) are based on blueprints that followed with the purchase of Logman. Adaptions where by Sampo and now we can see the result. The prototype machines Sampo is showing in their stand are built by personell in the old Logman factory in Kurikka in the middle of Finland. When production start, they will move the manufacturing to the main factory in the city of Björneborg a couple of miles south of Kurikka.
Sampo HR86
This is a brand new eightwheeled harvester from Sampo. It weighs in closed to 20 tonnes and with its crane from Mesera it's going to be well suited for CTL Final Fellings. This is a big step for Sampo. Never before have the company competing in this segment and it's going to be interesting to follow this harvester when it reaches the market.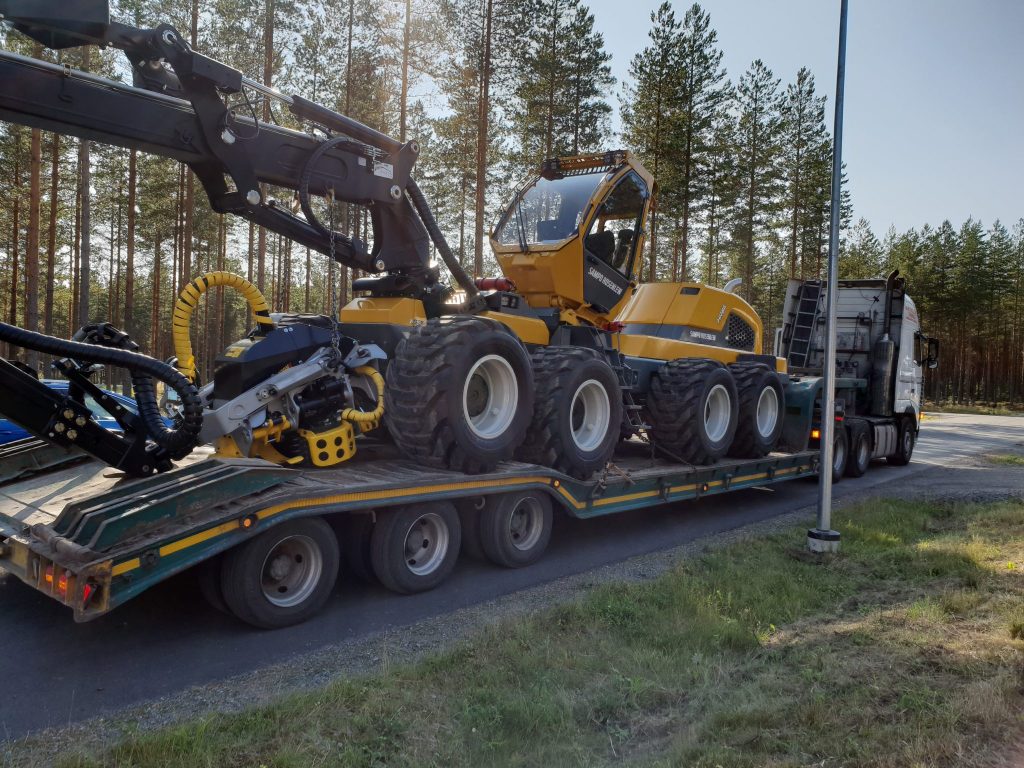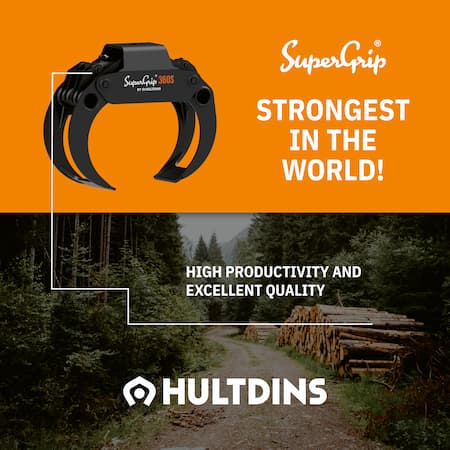 Sampo FR68
This is a completely new forwarder based on Logman blueprints. It comes with a swiveling cabin and has a loading capacity of 14 tonnes. Machine weight is set to 18 tonnes and it comes with 26,5″ wheels and a Mesera 92F forwarder crane.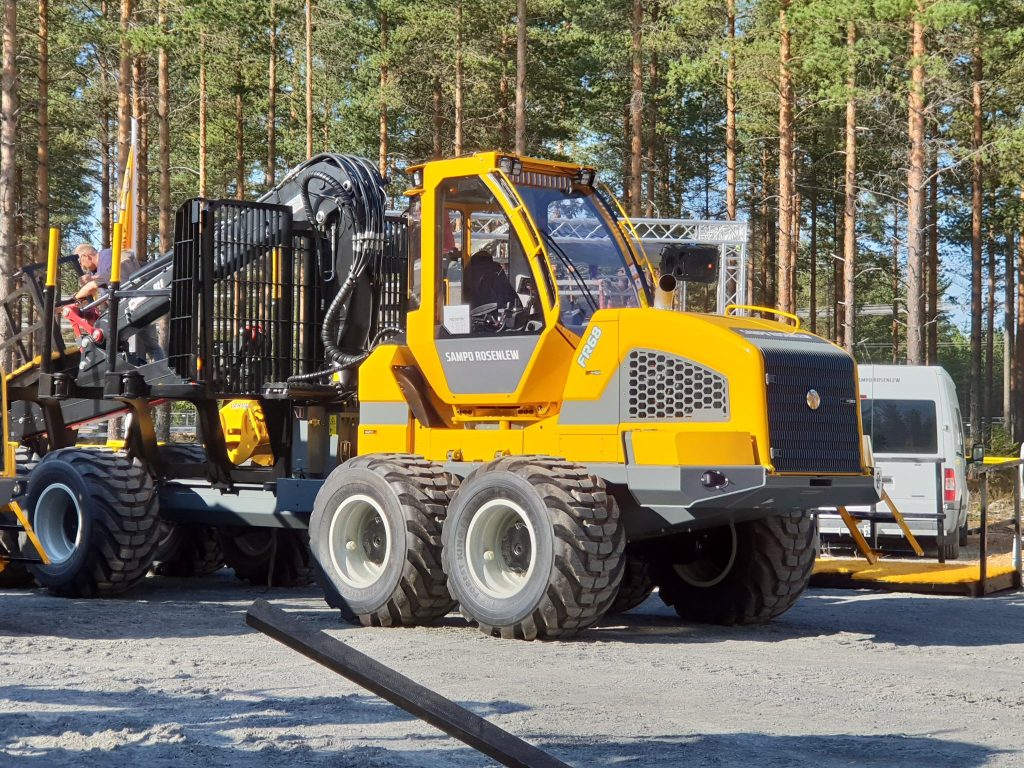 Sampo FR48
Most probably based on the little brother FR28, Sampo is now showing a 12-tonnes forwarder in the middle segment. The FR48 does not have a swiveling cabin and by seeing it in the stand it looks like a scaled-up FR28.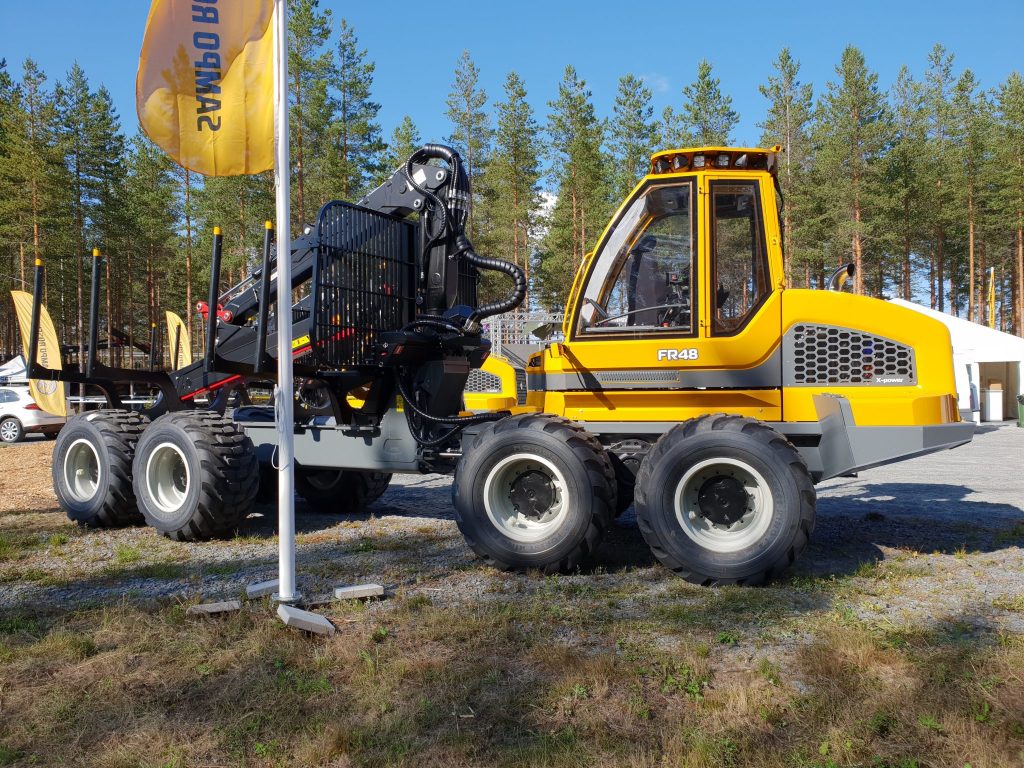 Sampo with a serious focus on CTL
No doubt, Sampo is investing heavily in CTL logging from now on. And this is interesting. Sampo Rosenlew is today a global group with strong owners. If they are ready to focus on the forestry segment, things will happen. This is not a small start-up company with santa claus as it's neighbour. This is a strong company with alot of synergy from their combined harvester segment. If they want, they will be a player to count on!
Below are some videos from Sampo stand.
New Sampo HR86 8WD harvester
First video of Sampo FR68 Forwarder Swivel Cab
All New Sampo FR48 Forwarder, 12-tonnes?