Since 1991, German company Pfanzelt Maschinenbau has been manufacturing tractors and equipment for agriculture and forestry, in Rettenbach am Auerberg in Bavaria, Germany. In addition to tractors, Pfanzelt makes, among other things, forest trailers up to 19 tonnes, with three different types of operation, as well as forest cranes of up to 10 meters with double telescope.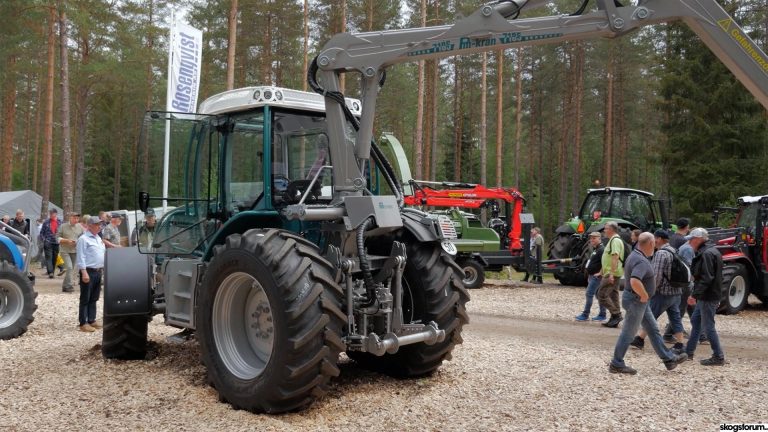 All purpose tractor in two versions
Now their new "all-purpose" tractor, the PM-TRAC version 3, has arrived in Sweden through Rosenqvist Maskin, and at the South Sweden forestry fair SkogsElmia, which took place back in June 2019, they showed off the tractor at their booth. We got a quick showcase of it.
PM-TRAC version three (III) is the new model of PM-TRAC, originally released in 2004. The tractor is a framework for being able to operate in the forest, on roads and on the fields. The idea is to attract the many multi-entrepreneurs out there, who may be ploughing snow, working in the forest or ploughing fields.
PM-TRAC seems to be very well thought-out, with quality through and through. You might even say that it has German attributes. PM-TRAC III is available in two editions, the 2380 and the 2385.

Engine and transmission
Both have Step 4f (AdBlue) motors from Deutz, of 133 and 174 kW respectively. The transmission is stepless up to 50 km/h via an S-Matic CVT from ZF, and as standard for the operating hydraulics there is an LS hydraulic pump of 140 liters per minute @ 210 bar (one more can be fitted as an optional add-on, adding 120 l). Automatic hydraulic locking of the front axle for stationary work, an automatic parking brake for stopping, and an electric swivel chair with accompanying pedal rack is also included as standard.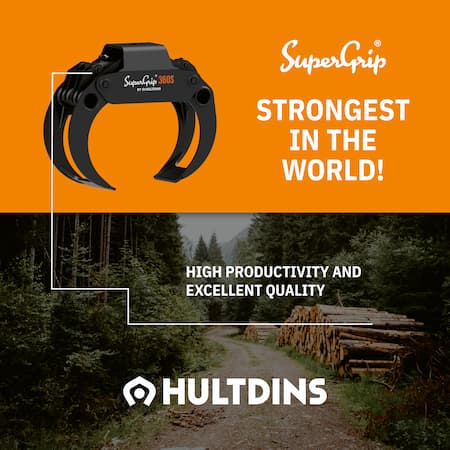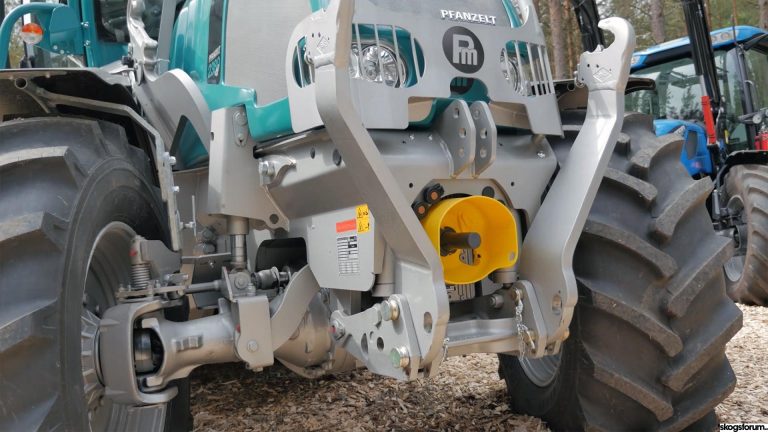 Details
They come with their own quick-attach bracket for forest cranes above the rear three-point lift (yes, it also has a front lift as standard) and factory-mounted brackets for a front loader, LED lighting that can tackle a dark November night in Sweden, and a generous forestry ceiling that allows you to see both the crane, the tree tops and the front loader.
One quite interesting detail is that the PM-TRAC has a frame. Thus, transmission and motor carries none of the tractor's weight. The disadvantage is the weight, but the advantage is a very strong construction that is rigid and can handle very hard work. Another advantage of both frame and weight is, according to Rosenqvist, that you never have to think about support legs when working with a crane. The tractor stands firmly where it stands. Quick-fit for the rear fenders allow you to leave them behind when entering the forest. When entering the tractor, you can easily do this via a pneumatically foldable footrest.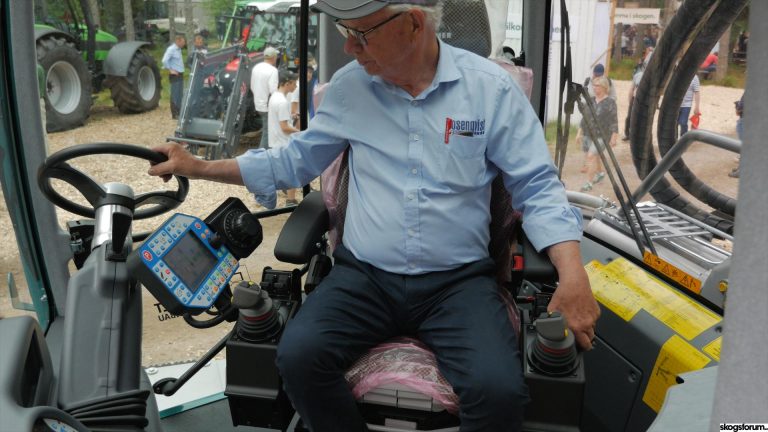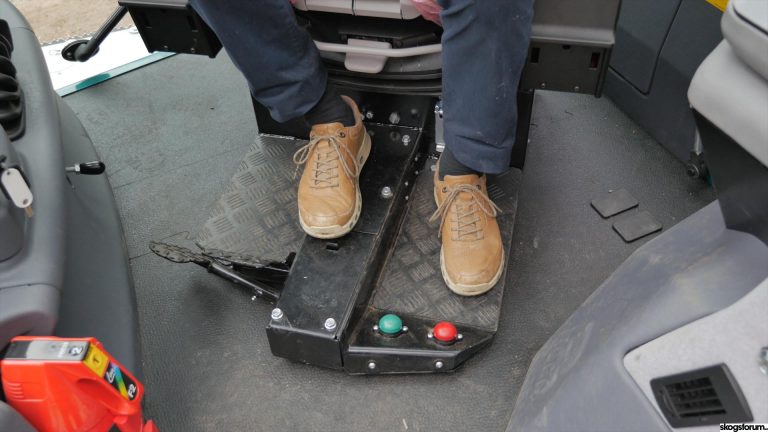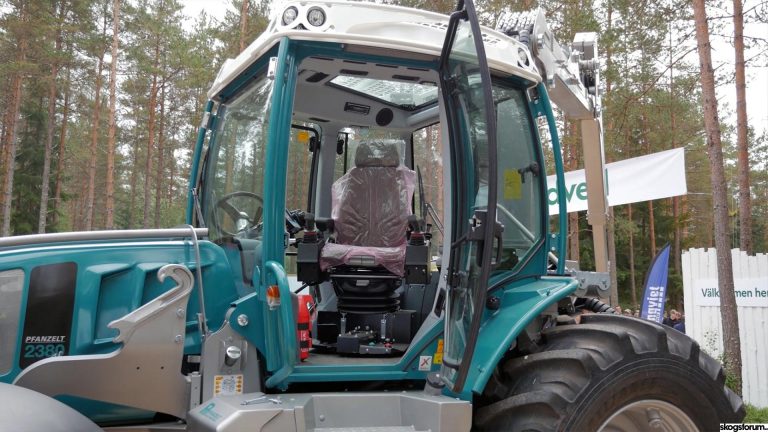 A pricy wet dream?
The above may be like a wet dream to many. The disadvantage may be the weight of just over 8 tonnes, and that the purchase price will be high with "extra everything" from the get-go. The tractor shown at Elmia had a list price of ~2.8 million SEK (~273 000 USD).
But Rosenqvist Maskin is convinced that there are many potential customers, and they are targeting multi-entrepreneurs who do most of their work with a single tractor. Maybe the purchase price is within budget for a profitable business?
Here's a short video from SkogsElmia:
Pfanzelt PM-TRAC III 2380 4f på Skogselmia 2019
Find out more on the manufacturers home-page.